Modern exterior shutters are versatile and cool. They aren't merely small-sized doors for your windows, but rather an additional design element for the facade. Architects are using them in all sorts of ways both practical and decorative. For example, some shutters increase exterior appeal and others help regulate light and air flow. Today many shutters are being used as window treatments, gates or doors. Some work as brise soleil and even sun awnings. Just take a look at how many ways there are to use shutters in architecture.
Inspired by sliding barn doors and gates modern exterior shutters come in a variety of sizes, shapes, and styles. There are slim and tall shutters, square and rectangular ones. Made of different types of wood and metals shutters can really upgrade the look of your house. Some of these will simply blow your mind.
Modern Exterior Shutters That Increase Curb Appeal
Wolveridge Architects has constructed El Rancho Relaxo for a young family in Australia. Its timber cladding is interrupted with a frame and built-in sliding shutters. These are perfect for such a huge window that allows a ton of sunlight in.
Irvine Terrace No. 1 is a house by Eric Olsen Design that features shutters inspired by the sliding barn doors. The vertical rail allows a single shutter panel close one of the two facade windows at a time depending on where the residents require more privacy.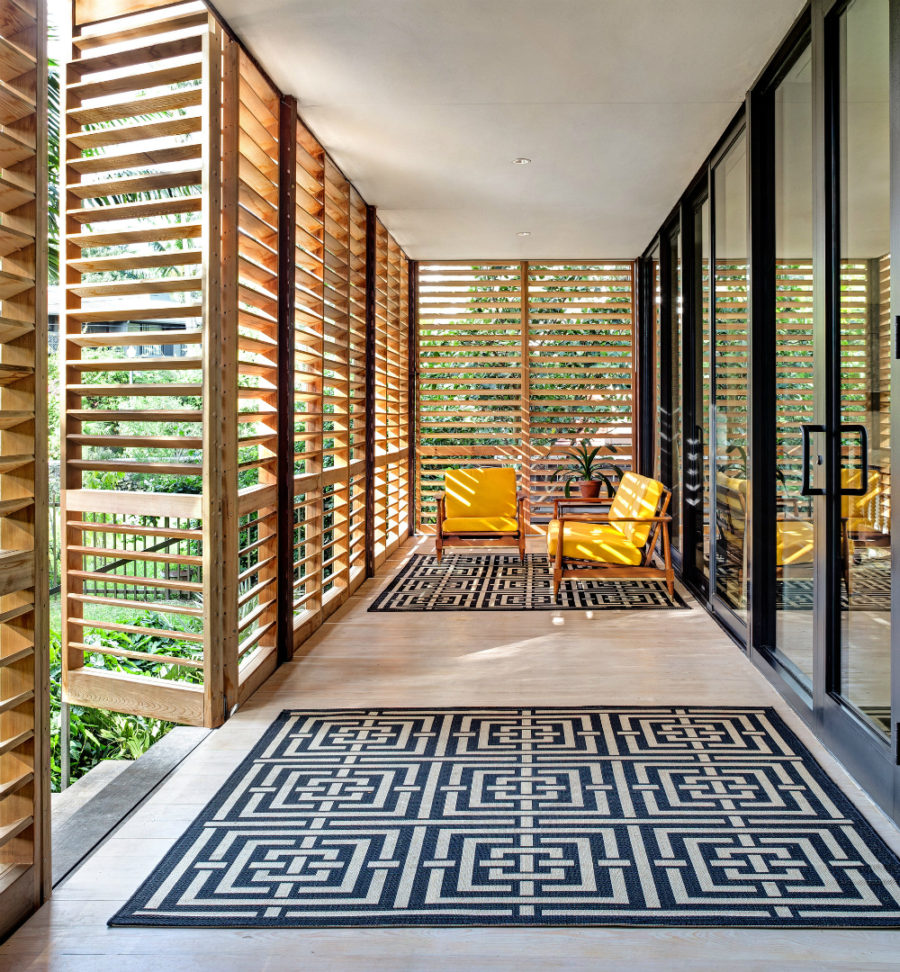 Jacob and Melissa Brillhart's D.I.Y. house features an unbelievable screened porch built out of shutters. The wooden enclosure increases privacy all the while creating a cozy indoor/outdoor space where the hosts can enjoy a lovely afternoon in a pair of comfy armchairs.
Apiacas Arquitetos created several wooden steel framed sliding shutters for their Itahye Residence. Wood's warmth contrasts nicely with the all-concrete building and black metal frames. And the big windows get enough sun and wind protection from the sliding shutters.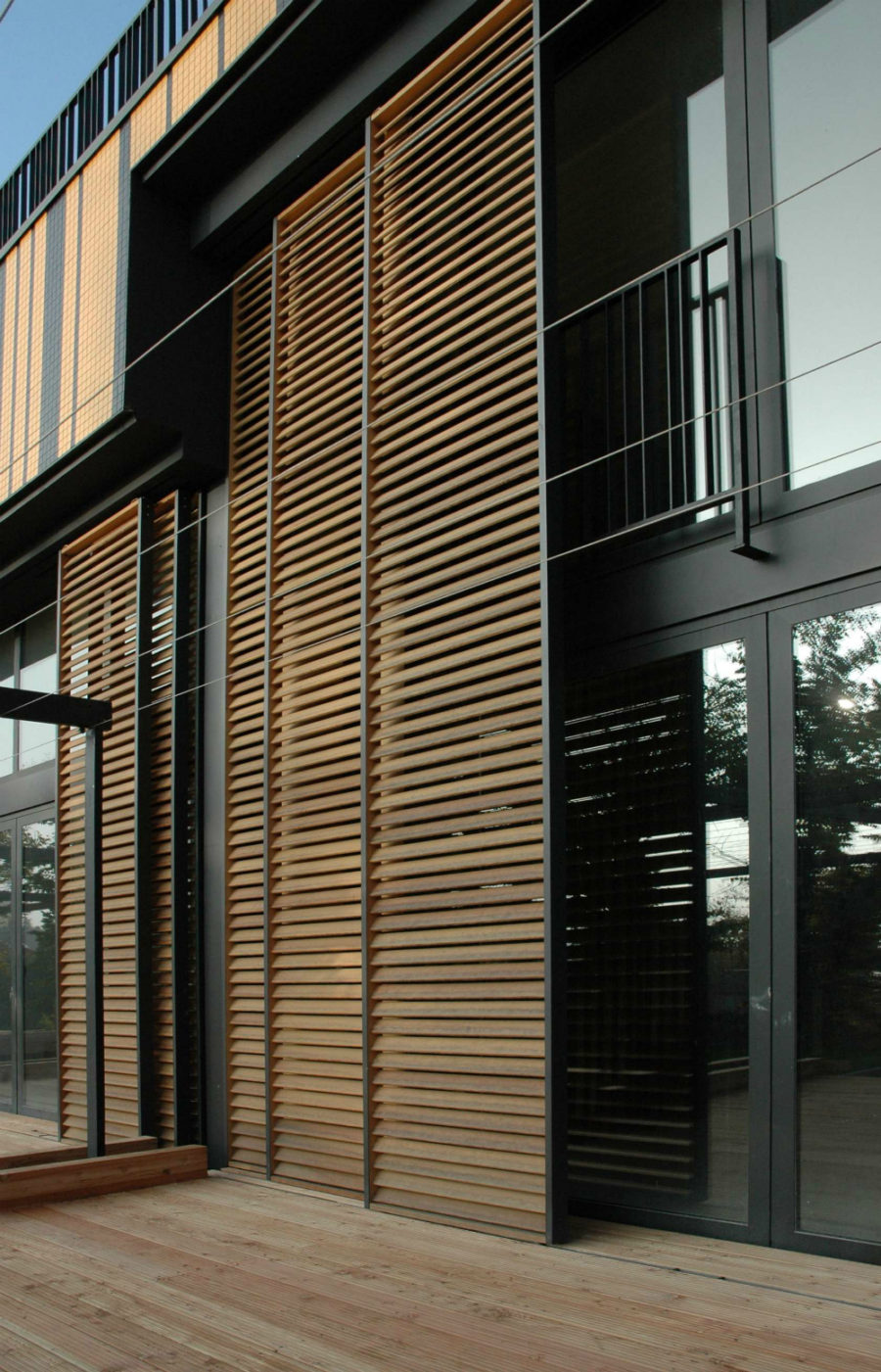 Tall windows and even glazed doors aren't a problem for modern shutters, especially the sliding ones. AA Cultura has created layered shutters for this residential villa in Slovenia. The clever design keeps them all neatly stacked at the side when they are open.
Indeed modern shutters can be as big as your architect's ambition. This Townhouse in Vietnam by MM++ architects has an impressive big shutter door that folds upwards when it opens.
Modern Privacy Shutters
Big sliding shutters and screens are a perfect fit for the beach houses like this one by Martin Gomez Architectos. This has to do with the fact that you can have both your glass walls that open to the sea views and a piece of privacy.
This Australian beach house by Porebski Architects is built by another principle, using shutters as architectural accents.
Another Australian property by Luigi Rosselli Architects shows how blind shutters can be used to create a dynamic but breath-y facade.
Let the folding shutters intimidate you not with way too many moving parts. You can cover your entire house with them and then have fun creating new looks by opening and closing or partially folding them as in the Passive House by Karawitz Architecture.
Aart Architects' Active House combines modern sliding shutters with dark exterior siding tiles. This contrast of light wood and stone tiles creates a nice dynamic in the exterior.
Interesting Shutter Designs
Speaking of contrasts, Block Architects' Vegan House in Vietnam makes use of blue, yellow, and white shutters of different sizes to attract attention to the exterior and make it stand out among the rest.
There are many options indeed when it comes to architectural shutters. Ayeneh Office chose to incorporate shutters into the facade of Andarzgoo Residences in Tehran. A different color allows the shutters to stand out from the exterior.
Shutters can also double as doors. Cowboy House doesn't just have a peculiar name, but also features two-storey high shutters with openings that allow only a peek of the interior.
Thanks to modern architecture, shutters can become an integral part of a facade like in this Parede 11 house. These slide and fold upwards opening additional windows on the ground floor. But when they are closed you wouldn't tell them apart from the walls.
Shutters that masquerade as part of facade can also make outstanding architectural accents. House GT by Archinauten has electrically-powered shutters that fold into prominent building details when opened.
Metal Exterior Shutter Designs For Modern Homes
If before shutters were made of marble and wood, today they can also be made of metal. Jackson Clements Burrows has made these perforated shutters a huge part of a concrete house in Melbourne. When the window on top is shut, the shutters create a uniform look.
Using shutters as doors or gates can make the exterior look quite interesting. Lindo Vale Row-House in Porto, Portugal features a garage-like space separated from the street with white metal folding shutters. They contrast with the glass exterior of the two upper living floors.
Another example of metal shutters can be seen in LAN's social housing complex in Paris. Solid metal sheets cut into slim rectangles fold together to open the windows, but when they close the facade looks like a sheet of aluminum foil.
Glass Exterior Shutters
Looking like a Rubik's Cube this Paris apartment complex by RMDM Architects is only changing its look at night as the lights penetrate its semi-transparent windows or when the shutters are folded open.
And yet metal wasn't the last material the shutters managed to conquer. AS.Architecture studio has renovated a 1908 'Novancia Business School' in Paris with numerous rotating glass shutters. The building now looks incredibly unique thanks to their slightly glossy texture and red, orange, and yellow shutters.
Modern exterior shutters are truly exceptional. The best thing about them is that if they can be imagined, they probably can be manufactured or built. Modern architects can come up with more creative designs, we're sure. But even traditional shutters can be used differently to create a modern look for your exterior. Just take note of some of these incredible designs.