Being one of the styles that has transcended throughout time- mid-century decor is quite the iconic movement and we are here for it! Not only is it an iconic movement, but its back to do a full takeover. Due to its functionality, unique lines, organic forms and easy to reinvent materials this decorating style is a top contender for all. Keeping that in mind, mid-century decor is back and here are a few modern ways you can incorporate it in your decor.
Statement Piece
Some homes need a little something extra to come to life. When that is the case bring in a sculpture. Bringing in sculpture works due to the organic flow it provides. It's an organic way to bring a focal point with a bold effect. Whether you display it in the middle of your home or use it save an awkward corner is up to you. The key is having the piece stand out from the rest.
Curved Lines
One very popular aspect of mid-century decor is sleek lines. Lines are huge when it comes to this decorating style. But not just any type of lines- curved ones at that. Curved lines are coming with ingenues and we are obsessed. When it comes to creating curved lines work with stairs, seating and other easy to manage decorative touches is the way to go.
Fireplace
Classic is one of the best ways to describe mid-century decor, and that is where having a fireplace will come into place. Not just any type of fireplace, but the modern unique kind. Consider bringing in a fireplace that is easy to focus on yet makes you take a double-take. You want to bring a unique approach from the very beginning, it's one of those elements you want to have from the very beginning.
Pattern
One element that will always remain a top contender in any decorating style is having pattern. Pattern brings character to the forth front, making it fantastic for those that need a little something to liven up the room. Bring in a classic pattern to make the room come to life. Furthermore, a classic pattern will help you play with color without having to take away from the texture you have.
Unique
There's something about having unique decor that simply makes sense. Work in unique seating to give your living room a little something extra. Whether you do it with one chair, two chairs or multiple ones, it's completely up to you. All you want to ensure is that the space feels intricate, classic and put together. Moreover, embrace color to truly take your decor to the next level.
Artsy & Iconic
For a modern approach, consider an artsy and iconic twist. Though mid-century decor tends to be a bit more undertone, minimal and earthy, sometimes it can be textured and artsy. If you want to create a more artsy touch, bring in bold art pieces and pair it with classic furniture pieces. The contrast itself will make the room, have that traditional aesthetic with just a kiss of bold. Furthermore, it makes the room feel grand.
Metallic Center table
Sometimes having a metallic center table could be just what the room needs for a new feel. Even if you do not change your decor, and simply bring a metallic twist, just that alone can be a game-changer. Bring in a floral array or even greenery to add that classic touch instead of keeping everything appearing the same. It's the perfect iconic aesthetic.
High Contrast
Contrast is one of those things that just works exceptionally well, especially when you are working with color. The high contrast comes into play when you work with a multitude of colors and allow them to be a focal point individually as well as together. It's all about making the room have an intricate approach that is simultaneously intricate yet casual. Furthermore, it's about making the best out of a new and raw color palette. Work with bold hues that are contrasting yet contemporary all at once.
Glamour & Luxury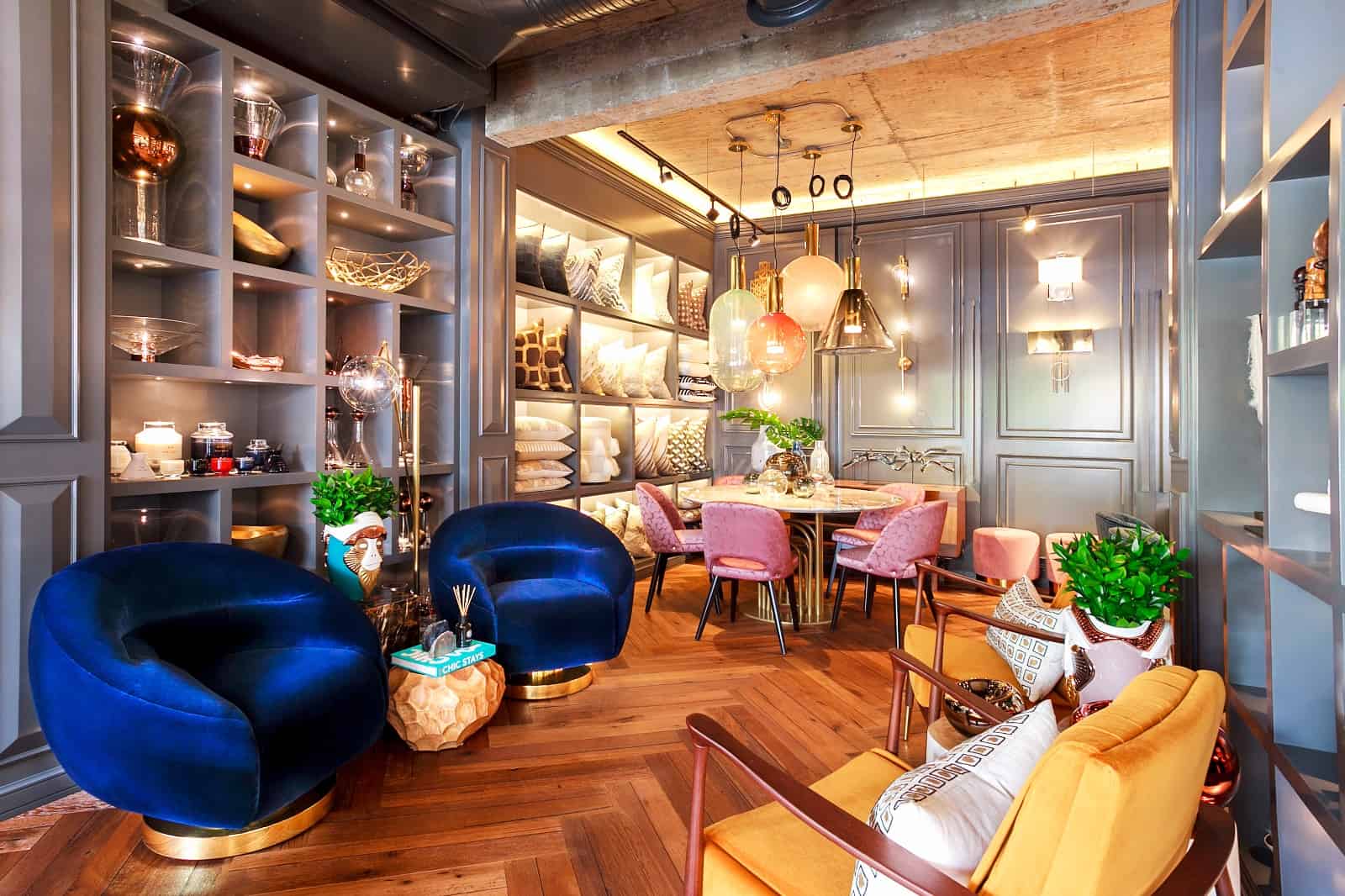 Just because its a mid-century decorating style doesn't mean you can't go in a glamorous and luxurious direction. It's all about luxury and making the room feel as expensive as possible without having to spend a hefty amount. Make the room feel sleek by adding in a round coffee table, modern armchair, and texture felt throughout the entire room.
Wood
Could we do an article based on mid-century decor and not mention wood? Possibly, but would it make sense, not really. Wood is just one of those elements that is very much needed in mid-century decor, even when you are going the modern route. Keep it chic by bringing multiple hues of wood and blending them. It makes the room feel warm, cozy and even cabin-like while still being modern.
Has mid-century been your all-time favorite decorating style? Or are you obsessed with other styles? Share with us your ideas in the comments below.