With all the stress going around in the world, having some peace while being able to shut the mind one of the best things you can do for yourself and your well-being. Consider it one of the easiest and best forms to keep your mental health intact. With quieting the mind, comes the idea of mediation or even yoga. If you participate in yoga often or love to mediate then you know the benefits it can bring. Therefore, if you have a separate room and don't know what to do with it, its time to make it your mediating sanctuary. Here are meditation room ideas that instantly give your peace.
One with Nature
One thing about mediating that we all know, and love is just how connected to our inner being it can make us. Furthermore, it enables us to feel connected with the elements. If the room you're trying to transform has open windows or even leads to a backyard take full effect of this and bring in wooden floors. Pair them with a large cushion or even smaller cushions and place them on the floor, so you have a sleek space to disconnect. Pair with greenery to truly allow the outdoors to come right in.
Mediterranean Princess Vibes
Take a page out of a middle eastern home décor book and you will realize just how calming each room tends to be. Add a beautiful canopy and fill the inside with a stack of smaller sized mattresses or even cushions and allow that space to feel magical. Add string lights around it and you have the perfect blend of middle eastern aesthetic perfectly paired with princess vibes. Think princess Jasmine but with a meditation twist, use warm fabric for a truly luxurious feel.
Luxury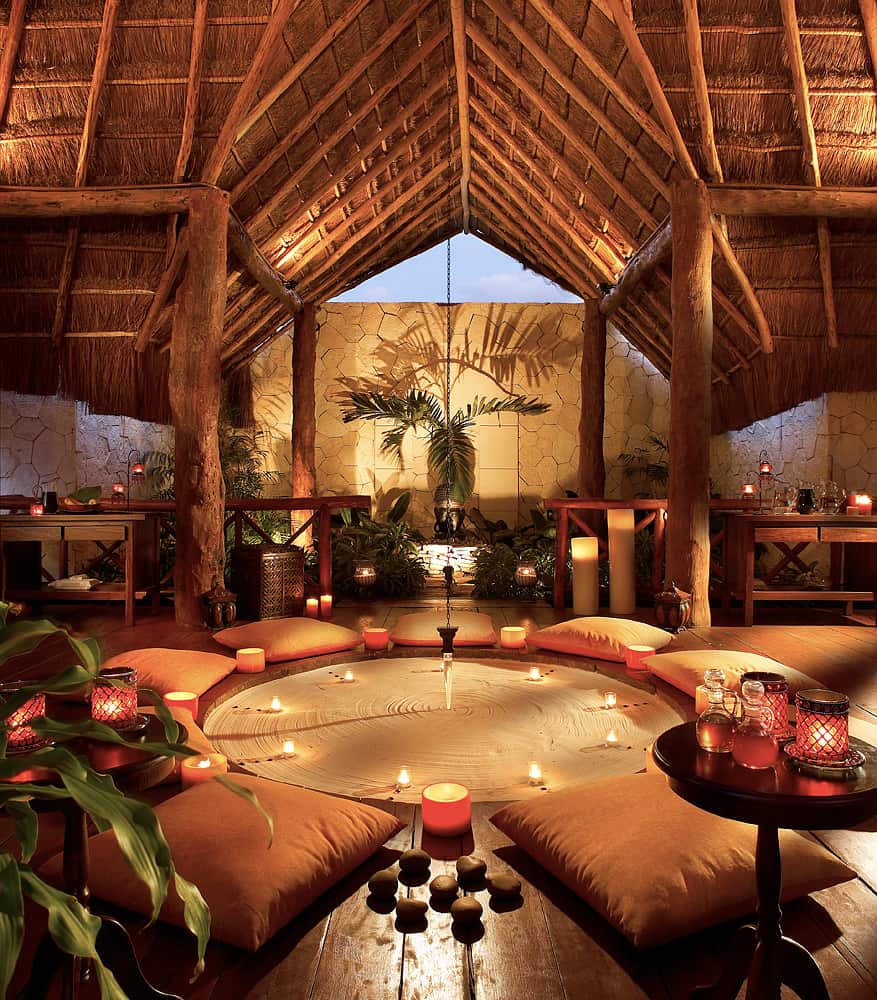 Whether you want to teach your children to meditate with you or you simply have a large room to play with. Contemplate the idea of creating a ritualized appeal in the room. Take the center of the room, and work around it, you want the space to feel luxurious, almost as if you're in a personal retreat. Additionally, use small cushions, candles, and even whimsical fabrics to bring that lux feel that omits peace. When creating that luxurious feel, you want to ensure the room remains airy and chic every time. Work in warm light fixtures that can be dimmed to emphasize the idea of being in a studio.
Eclectic
One thing about meditation instructors is that they're somewhat eclectic, some will say you have to be when you're working with different people and multiple different energies. With that being said, take your space to the eclectic side by using a wide range of patterns, plants, textures, and accents. The idea is to take the room and make it feel as personal and chic as possible. It's the idea of transforming it and giving it that "hippie" vibe that will instantly take it to the next level while still being calm and collected.
Hanging Chair
A hanging chair is perfect for those that want to have something soothing in the room yet offers just a hint of flexibility. It's all about making the room feel almost as an escape. Pair your hanging chair with colorful pillows, a chic blanket, and work it into a room that feels airy and light. You want to keep the rest of the room as minimal as possible to ensure you get the calmest aesthetic. Pair your chair with sheer curtains to truly emphasize the idea of keeping everything light and airy.
Near a Window
If you live in an apartment and don't know how to create the perfect meditation space, it's time to look at the windows of your home. Take your décor to the next level by working with a large window. You want to consider having even a mediation corner and ensuring it feels almost as a room. Even if all you have is a tiny space, take it and make it feel grand. The key is having everything face the window and having your décor be minimal. Bring in peaceful elements and have that be your main decorative touch, and then add a large plant to fully emphasize the idea of connecting with nature at all times.
Circular Approach
While making a room have a circular approach is easy, you still want to emphasize the idea of having most of your furniture bits have the same approach. Therefore, place your decorative pieces around a specific area, whether that be the floor or even surrounding a window. The more circular your décor appears the better. It creates a flow of energy that makes the room feel and look that much grander.
Island Escape
Although most of our ideas have centered around the idea of meditation being the main focus of the space, this one is a little different. The idea here is to generate and accommodate an area to feel almost as if you're stepping into another dimension. You want to feel as if stepping into this room transports you to a meditative space while still feeling as if you're on vacation. It's all about creating a balance that makes sense to the room. Think of it, as the perfect approach towards being home and wanting to relax.
Use Color
Just because you are trying to mediate does not mean you should shy away from color. Color is great when you want to evoke different feelings in yourself. The idea is to have colors feel as if they are embedded in the room to bring light and positivity. Blend it with chic white and cream colors to help the bold hues omit their positive energy in the room.
Water Element
The simple act of adding a water element will instantly make the room feel and look twice as relaxing, which is perfect for those that like to feel connected to the elements. Work in a waterfall or even a layered water appeal to give the room a chic twist. It's all about enhancing what you have in the room while focusing on having that bold element that makes all of your senses come to life.
How many times a week do you meditate? Share with us your journey below.