Built with a bench right inside, these beauties will transform your bathroom into a more luxurious retreat. Japanese soaking tubs bring the ultimate amount of comfort to your bathing experience. They deeper, rounder and stylish too. Here are 20 to tug on your ideas and inspiration for your perfect master bathroom!
Diamond Spas starts us off with this incredible copper tub. Jazz up your spacious bathroom with one of these beauties.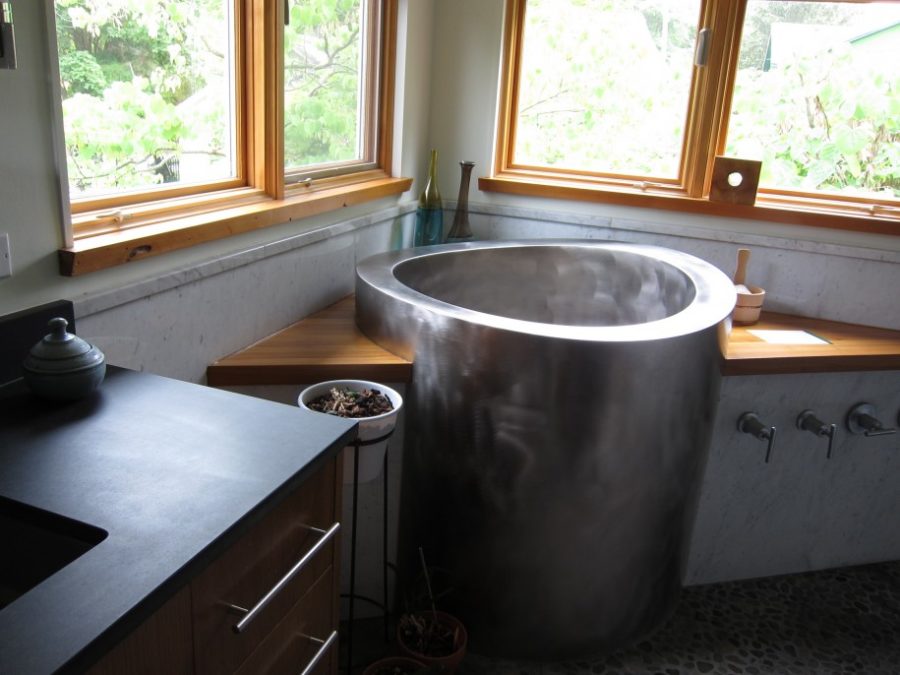 Or you can go with a smaller design like this metal tub. It plays well with wood creating a beautiful, mixed media showcase. (Pinterest)
Diamond Spas also has this stainless steel design that we're swooning for. Just look at the spa creation that you can set up right in your own home.
Clean and crisp, this white piece from Signature Hardware is perfect for more traditional homes. But if you want to add a bit of luxury to that tradition, check out these Japanese soaking tubs!
Pinterest always has fabulous inspiration floating around, and that's exactly where we found this octagon design. We love that it's not completely exposed creating a more contemporary vibe.
We're loving this gorgeous tub. But we're loving how the view compliments the luxury and relaxation of the room. (Pinterest)
We're absolutely loving this contemporary master bathroom. From the flooring to the backsplash, all the way to the crips, Japanese soaking tub, it's a beautiful medley. (via)
Lee Lee Designs went with a more masculine energy with it's wooden pieces. And although it's a bit more subdued in style, there's still a lot of indulgence here.
You can even have a Japanese soaking tub in a more classic, traditional bathroom. It's not fully exposed but it still has that deep design we all love. (Pinterest)
Have you ever thought about installing your tub outside? Create a zen space right in your own backyard! (via)
The Interior Collective gave us inspiration on how to turn out patio into something much more special and "zen" as well. Just check out the inspiration after the jump.
Architectural Digest showed off Bette Midler's pad and we immediately fell in love with her mixed material Japanese soaking tub. It fits perfectly inside with crispness and luxury.
Indulgy featured this beauty too. Again, it's not a completely exposed tub, instead you just hop inside the inground design.
A personal favorite on the list, this black tub compliments the tiling and open space quite nicely. It's a great choice for larger bathrooms. (via)
We're loving this pairing as well. The crisp, white soaking tub and the tiled backsplash makes for both a stylish and relaxing space. (via)
Oregon Live showcased this gorgeous stainless steel tub in a way that's both crisp and modern but also very zen and subdued. It's a quiet, personal area that anyone would love to enjoy.
Here's another copper tub that we're swooning for. It's got a unique design that can fit inside any home's master bathroom. (via)
A square Japanese soaking tub is both unique and contemporary too. It's still got the luxury you want in the tub but fits with a vision that's more modern. (Pinterest)
And finally, climb right inside this Diamond Spas' design. Stainless steel and fitting in a more quaint space. This bathroom showcases how to turn something smaller into something full of luxury.