You could say this luxury villa has done some travelling. Located in Mallorca, Spain, the house was actually prefabricated in Germany and shipped over to this idyllic island hotspot, where sun and surf seekers flock year round. Its bright white architecture is in crisp contrast to the blue backdrop of sky and sea, and beyond its surroundings the house itself is the picture of resort living. Take a tour!


High-quality materials come together in this H-shaped house, which incorporates extensive glazing inviting views of the outdoors and an interior courtyard with pool.


Situated on a quiet 17,000 m2 site, the house is far removed from the hustle and bustle, providing a private escape for rest, relaxation and recreation.


Inside and out, the home is replete with spaces which are cool to the eyes and soothing for the soul. The white tile deck is reminiscent of white sand beaches, coming up against a cool blue pool which beckons on warm sunny days.


This alfresco living and lounging area is sheltered by a billowing fabric sheet which can be pulled across, providing some welcome shade in the heat of the day.


Surrounding the pool, the house takes shape, lined with windows and sliding glass doors that let the sun and view in.


This beautifully furnished living area boasts casual yet comfortable furnishings that lure you to lounge, while giving these outdoors a warm, "indoor room" aesthetic that blurs the boundary between inside and out.


From its luxuriously appointed outdoor entertaining areas to chic, contemporary interiors, this cool design provides an escape from the everyday without ever leaving the comfort of home. With the front door just on the opposite wall, these windows give you a great view on entry. The foyer features a glossy black grand piano – a bold focal point in this soft, neutral space.


The distinctive vertical windows add natural light and visual interest to interiors.


The indoor dining area opens to an outdoor entertaining area accessible through a sliding glass door. Just around the bend, an open concept living area extends to the back wall, separated by a double-sided fireplace to be enjoyed from both dining and living rooms.


Through the doors, you are transported into an alfresco paradise where great views, food, wine and company await you.


The kitchen is warm, as it should be as the hub of the home, but also cool and contemporary in its style. Glossy white cabinets with simple linear hardware and clean faces is a minimalist element in contrast to the central island featuring open storage shelves displaying a collection of colorful curios and bright books.


Another sliding glass door opens from the outdoors into a spa-style Jacuzzi room, where you can sink in and soak away the cares of the day…


Or steam and sweat away any stress in this bright sauna, also offering direct access to the garden.


The bedroom is a chic, clean space where privacy and simplicity are at the forefront. Of course, the ever-present view provides a lovely natural focal point.


The closet offers plenty of well-organized storage space, and a great spot for a to display a collection of favorite photos.


The spa-inspired bathroom is peaceful and natural, boasting a blend of white walls, natural views and organic materials. Indulge is some quality "me" time while taking in the surrounding views.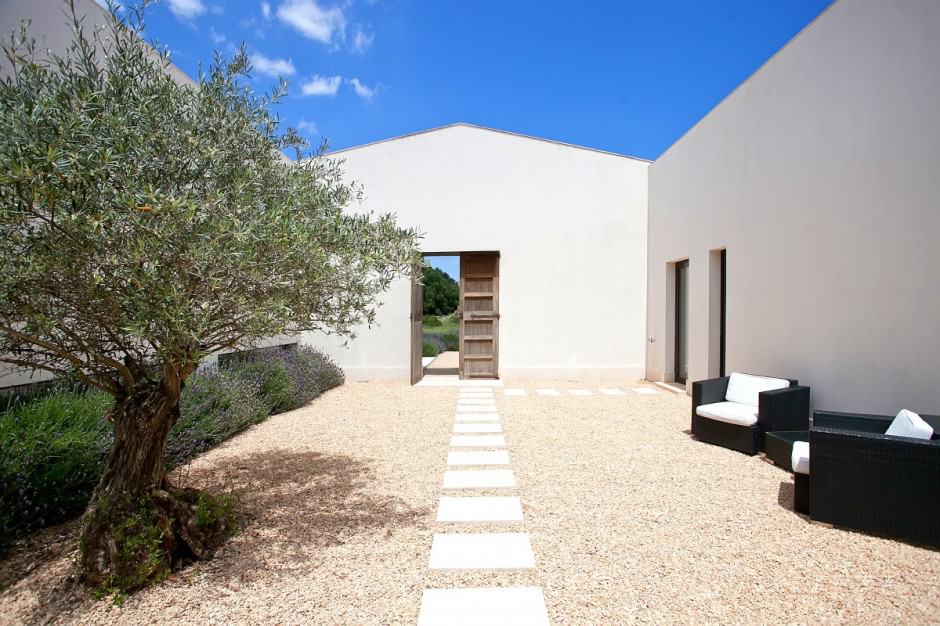 There's so much more to this Spanish villa than meets the eye. From outside in, the house is serene, stylish and soothing – everything a vacation house should be.