On the island paradise of Majorca, Spain, Casa Son Vida is a luxury villa that's a little piece of heaven in itself. The modern architecture of the building by tecARCHITECTURE, described by At Casa as a "triumph of straight lines and rounded surfaces," became a source of ideas for the luxury interiors – a stunning interior design by Marcel Wanders that "mixes old and new, distorts sizes, and enhances the contrast". The signature style of this Dutch designer shines through in every piece of furniture, artfully designed and composed for a dramatic whole.

The Topiary collection is reminiscent of a mushroom in shape, lending these sofas designed for Cappelini and Moooi a modern-natural and whimsical appeal. The New Antiques table by Cappellini is a sculptural centerpiece, complemented by the Couples pillows, designed for B&B Italy and tossed haphazardly in the center of the room.


The dining area is a sophisticated palette of black and grey on a clean, white backdrop. The black chandelier by Baccarat hangs dramatically over the carved table and chairs, created by Wanders for Moooi.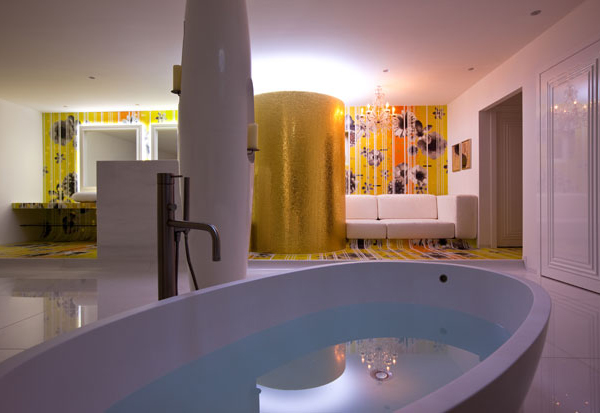 Continuing into a gilded retreat, the floral and gold Bisazza mosaic tiles by Wanders melt into the luxurious white Carrara marble floor. The Dream bed by Poliform, and the Ken stool by Quodes are cool creations by Wanders that elevate this sleeping and bathing area to dream-come-true status.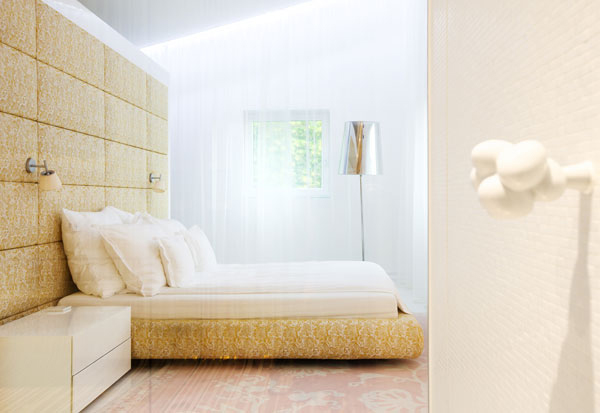 A second bedroom, also featuring the Dream bed by Poliform finished in Jester fabrics, is accented by Bisazza mosaic tile and the striking Paris mirror, designed by Wanders for Quodes. Rounding out this simple but stylish space are a Moooi carpet, lamps and bedside table.