SAOTA (Stefan Antoni Olmesdahl Truen Architects) designed this contemporary house at the foot of the Robberg here in Plettenberg Bay, Garden Route, South Africa. This idyllic beachfront hotspot, overlooking the sparkling water, rolling sand dunes and lush plant life, demanded a carefully considered house plan that would make the most of this location while accommodating the family's needs, namely a six-bedroom home with "understated elegance and quiet grandeur, indoor / outdoor living spaces and uninterrupted views, with a 'lived-in beach house' feel," according to the architects. Here's what they put together.

To achieve those uninterrupted views, the main living areas were raised with terraces making their way down the dune. The breathtaking vistas are enjoyed through expansive glazing as well as first hand, from the outdoor living areas, which are designed and furnished as elegantly as interiors. In fact, the transition from outdoors in is a smooth one, thanks to massive sliding glass walls.


The home's exterior is contemporary, with multiple volumes overlapping both for function and visual interest. Nature is never far off, with stone and timber cladding, framed open volumes, and large expanses of glass that blend with the environment while inviting the outdoors in.


Inside, an open linear plan affords views of the sea and mountains from every room. Interior design by Daniela Priebatsch & Emi Cavalieri has a cool, clean aesthetic, and earthy elements in tune with the home's exterior. Floors are finished in large format leather finish Neo Sardo Granite throughout, complemented by the natural timber shutters, screens and pergola.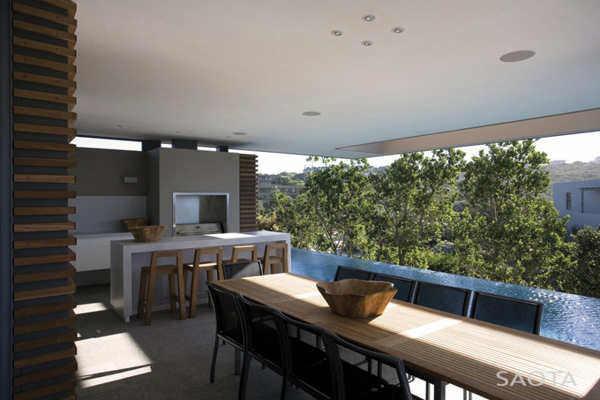 Bathrooms boast granite walls and floors, frameless glass showers and white Corian vanities, while the master bedroom features white oiled Oak flooring and granite, which echoes throughout the whole home.
Now, this is our idea of a "lived-in beach house"!


SAOTA