If you could only choose one space in your home to decorate and make it the center of your home, you would probably choose your living room. The reason behind this is the living room is pretty much considered the center of the home. In fact, decorating your living room first can help you decide what concept you should use for the rest of the home.
Turning your living room into the ultimate modern space can be done just as swiftly as any other decorating trend. The key to perfecting the modern look is following a few simple tricks. Here are a few tricks you can follow to give your living room the ultimate modern twist.
Reading Nook
One of the things that separate a modern decorated home from the rest is having a reading nook. Reading nooks have become quite popular because they work very well when it comes to transforming an awkward corner. They are also great when they are placed in front of a wedding. Add a comfortable chair in front of a large window and have lots of lighting for late night reading.
Extra-Large Coffee Table
Coffee tables have been around for centuries. However, as the seasons change, and the years go by coffee tables continue to change in trends. One trend that is currently taking over is having an extra-large coffee table. An extra-large coffee table works well when it is paired in a comfortable living room. Have a coffee table in a dark and rich hue paired with a lighter tone for a beautiful contrast.
Touch of Silver
Having silver accents gives the room an elegant air to it. Keeping that in mind all you will need are a few silver touches here and there to get the elegant feel. Chic silver accessories such as a mirror, a coffee table with silver legs, and/or silver throw pillows will work well to create the modern feel.
Oversized Pattern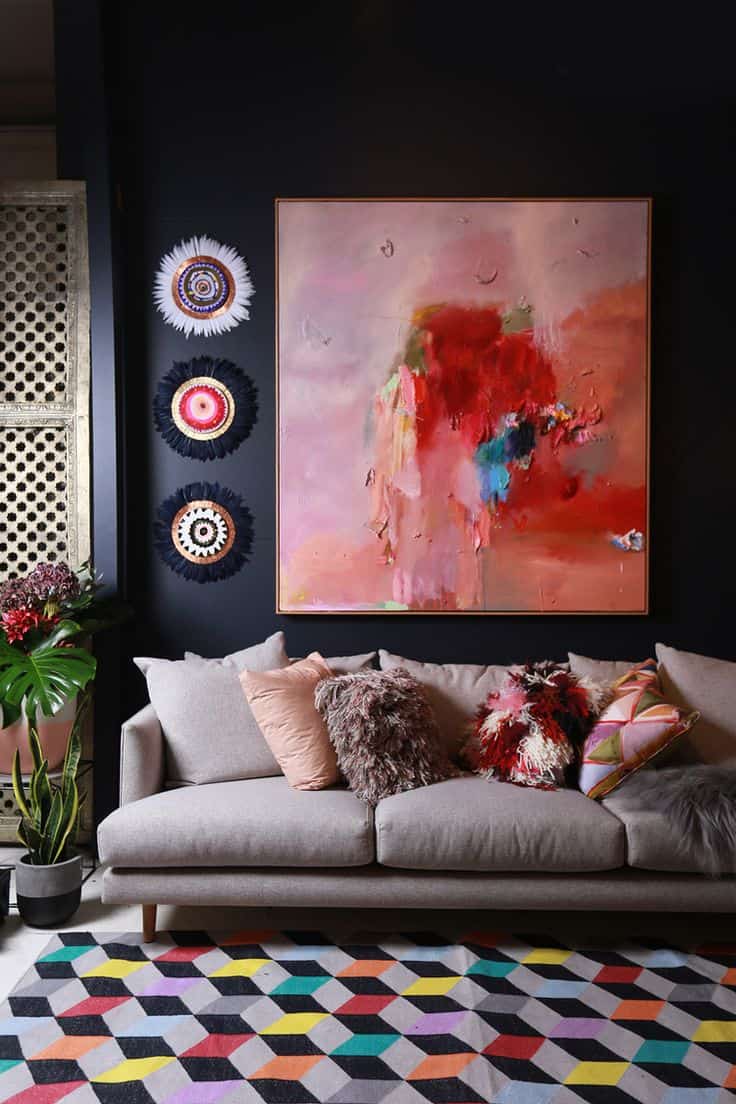 Select one oversized pattern and repeat it multiple times in the living room space. Not only does this add texture and color to the living room, but it also adds dimension. Adding dimension to the space will balance out the dark hues you have and bring out your color scheme.
Work and Play Together
Bold colors are great in any room of the home. However, pairing them together is a different story. You want to keep the colors bold when you are pairing them together. Bold colors work well together because it creates a contrast between two. The key to pairing bold colors together is having neutral tones that will help diminish the impact of the bold hues.
Add Floral Print
Floral print is one of those prints that homeowners tend to be afraid of. The reason being it can remind you of an older home. Instead of thinking of it as an older pattern, consider it to be a fresh take on a well-known classic.  Add floral patterned throw pillows into your current décor or even have a floral sofa for a bold piece that draws your attention from the moment you enter the living room space.
Feel the Blue
The color blue screams royalty and elegance. It is also a classic color that feels cozy anywhere it is placed. Choose a blue large piece for your living room to add a bold touch to the space. You can also have a blue accent chair for the same effect that is not as bold in the space as a sofa would be.
Have Red
The key to having the color red as part of your living room space is pairing it with white. Having white décor items mixed in with red will provide the balance you need when you are working with such a bold color such as red. You can also use darker tones such as gray or black for the much-needed contrast between the colors.
Keep It Light
One of the best aspects of modern décor is how light it can be. Instead of stuffing your living room with heavy furniture that seems to take up too much space, incorporate décor pieces that seem to flow together. Keeping the space light and airy will allow you to have a well put together space that never feels stuffy.
Modern décor is always on trend so why not try it at home? Let us know how you plan on adding a modern take to your living room in the comments below.