With so many fabulous choices now available for your house staircase designs, it can be difficult to decide which one is best for you. If you are building a new, modern house you need to know all the options available. Trendir has put together this guide to Rintal's series of models – 5 very different staircases each with the company's unmistakable style. All of these staircases are now conveniently available to buy on-line, coming complete with everything (even a helpful DVD!) needed to install them correctly in your home. Modular, Circular, Mini, Retractable, Outdoor… let us guide you through Rintal's modern staircase design!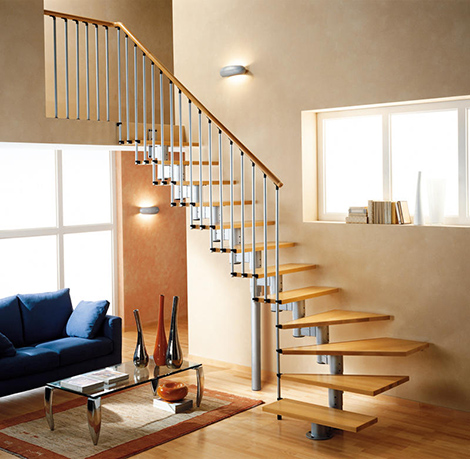 Modular Staircase Design
A superb design for adapting to a variety of locations, the modular staircase will simplify getting around your new home. It works efficiently to link areas of the house, whilst retaining lightness, due to the smart scale ramp construction. With an adjustable riser and tread, it will simplify the installation process. It won't block the light and can be installed even in tight spaces. Shown here is a fabulous interpretation of the modular concept – terminating in a relaxed, curving end. Elegance combines with contemporary tastes in Rintal's great modular staircases.


Circular Stair Design
It's hard not to love a spiral staircase. Naturally inviting, the spiral stairs combine form and functionally in an ever-popular design triumph. A circular form runs around a central pole affixed to the ground, giving stability and classic design appeal. A spiral staircase is a logical option if you are pressed for space in an urban home, or perhaps to provide an alternative stairway in a country house.
Fantastic variations on the traditional circular staircase, Rintal offers Spiral Metal and Spiral Wood stairs. The basic version includes 11 steps, a universal landing, columns and a railing. Spiral Metal comes in 3 sizes 120, 140, and 160cm to fit perfectly into your home. Spiral staircases from Rintal are adaptable, with a wide range of accessories to choose from, and so easy to install.


Outdoor Stairs Design
If you can't get enough of Rintal's signature spiral look, why not use one outdoors too? The Outdoor Staircase is designed for long life, made in metal suitable for use outdoors, and finished with special treatments to weather-proof the whole structure. Even the details are taken care of – the screws are stainless steel for optimum life and performance. An outdoor circular staircase can be a super convenient way to get to the upper level of your home without having to walk through the whole house to get there.


Mini Staircase Design
Make the most of small spaces with the ingenious Mini staircase. It looks smart and retains style whilst focusing on advanced technology to solve space issues. In fact, the steps are each specially shaped to ensure comfort and stability for the user, but at the same time not taking up precious space. 'Create space where there is none: this is the philosophy of scale mini'.


Retractable Stairs Design
Do you, like so many others, keep a stash of important items tucked away in the attic? Or perhaps you use the space as an occasional guest room when too many guests decide to drop by? Well, the retractable stairway has long been a favoured means of accessing that valuable space. However, too many retractable staircases have been purely functional and not so great to look at. But what if you need to keep the stairs extended for a few days? The secure Scale Rintal is safe to use and looks good too. Available in a range of measurements, there'll be a Rintal retractable stairway to fit your needs.
Mini Staircase Detail: