As kids are getting back to school it may be time to upgrade their homework and study space. Upgrading the space your kids will spend the majority of their time once they return from school can give them the boost in confidence they need to accomplish the extra curriculum activities that are required.
It is likewise an excellent way of getting your kids excited about having a new space where it is solely dedicated for homework and study purposes. The following back to school homework and study space ideas will help you create a space your kids will love.
Bold and Bright Colors
When creating a study and homework space the last thing you want is for it to be boring. A boring space will just cause your child to see it as an extension of school and that's the last thing you want. Instead, you want to have a bold and bright area that causes their creativity to reawaken. Add a bright and bold color as a backdrop or have bold and bright pieces of furniture. This will make the space appear fun and interactive instead of boring and monotone.
Personalization
Personalization is key when you are creating a space that is specific to your child. It will make them feel that they belong there and that it is a space for them to fully enjoy. Add personalized pieces such as monogram letters with their initials on them or their favorite color.
Lighting
Lighting is key in any area of a home. It is what creates the ambiance that you seek. When it comes to creating a study space you want to have multiple different avenues of lighting. From overhead lighting to desk, direct lighting. There needs to be enough lighting in the space that your child will be able to see exactly what they are doing at all times of the day.
Large Bean bags
Bean bags are always fun to have in a room as they double as seating areas. Having bean bags in the study space is a modern yet comfortable way of giving your child different options on where they would like to sit. It is likewise a smart way to decorate the space with multifunctional decor.
Built-In Wall Storage Space
A built-in wall storage is an excellent way of getting lots of storage space without having to purchase multiple different small storage compartments. Instead, you can get a storage wall mount that is filled with all the necessary items your child will need to get their homework done.
Homework Nook
A homework nook can make doing homework seem more fun and personable.  It is also an excellent idea if your child happens to have a smaller bedroom. Having a nook won't take up much space at all. In fact, it can make the room appear larger if it is placed in an area of the room that happens to be cluttered. The structured look of a nook will help everything look put together.
Hallway Study Space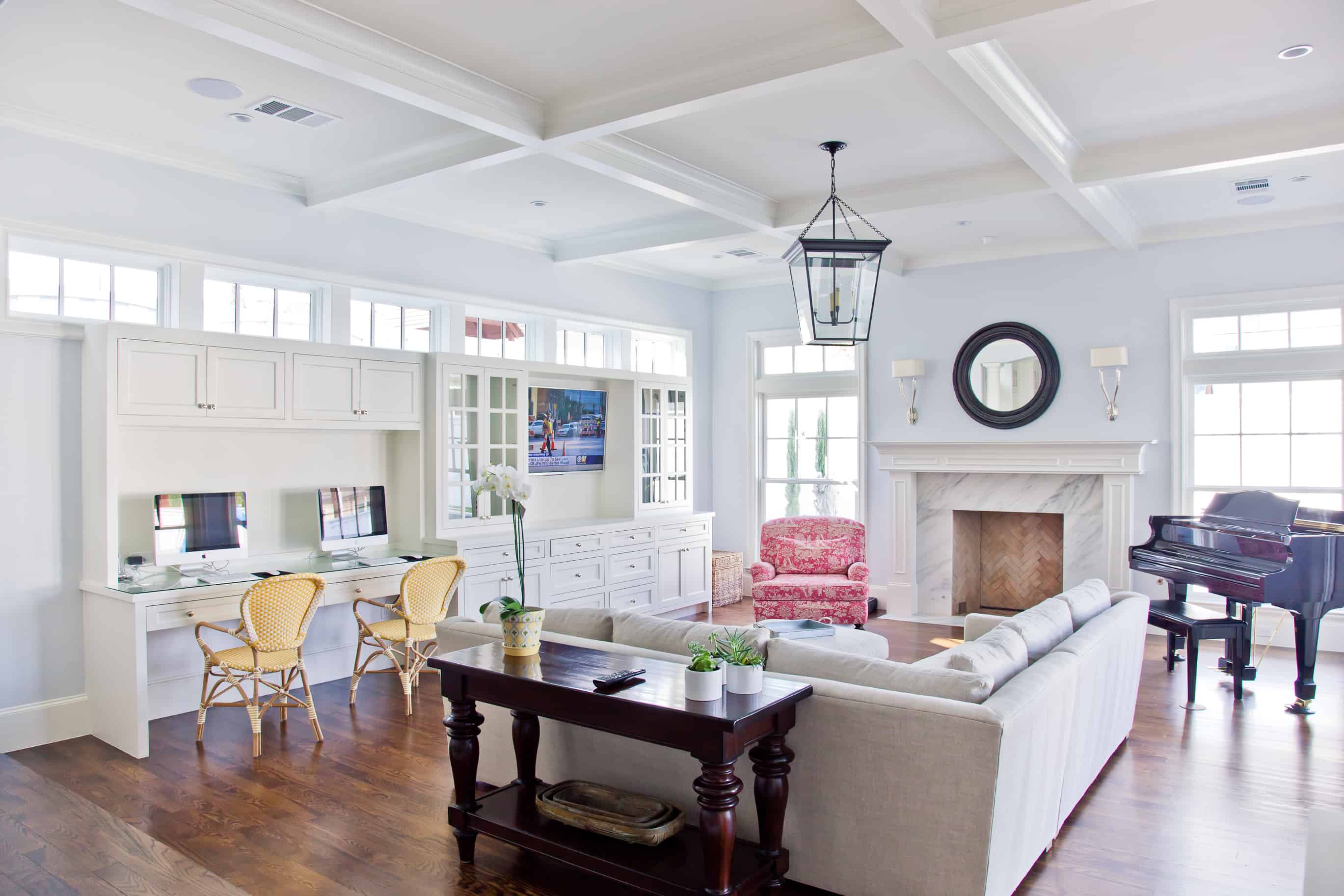 If you happen to have an unusually large hallway, consider converting a wall into a study space. This creates an industrial chic and modern space that has duo purposes. Consider using neutral tones as you do not want to take away from the space, instead you want the area to appear as a personal addition to the home.
Chalkboard Walls
Chalkboard walls are an excellent addition to your homework and study space. The idea is that your kids will be able to check off and list what needs to be accomplished as well as what they have accomplished. Not only that, but a chalkboard wall can help you and your kids set future goals that makes them feel excited about what's to come. All you will need to create a chalkboard wall is chalkboard paint and you are good to go.
Bookcase Divider
If you have more than one child, then you know how difficult it can be to get them to study at the same time and actually concentrate on the task at hand. Adding a bookcase divider to your study space is a great way of giving them privacy while still being in one space. Likewise, it is an excellent form of getting more storage into the room while being chic and modern.
Small Desk
When you think of a study room or space you may immediately consider an oversized desk that will hold all the items your child needs to finish their homework. However, a small desk may be what they need instead of a large one. The reason being a small desk can be placed anywhere which will ultimately become handy when they may want to study in a different area of the room.
Creating a modern yet chic space that your kids will love to do their homework and study in may not be as difficult after all. The key is finding contemporary décor pieces that make the space feel up-to-date and fun. Let us know which homework and study space idea is your personal favorite in the comments below.