Having a green kitchen may sound a bit crazy or may make you reminisce of weekends at your grandmother's house. Either or may be true, but green kitchens are on trend and we are all about it. So much so that we have put together a list of green kitchens that are sure to make you envy every bit of this trend.
Green Breakfast Nook
Heres how you can achieve the look of a green kitchen without having to have a green kitchen- paint your breakfast nook a shade of green and tie the look all together with green bits in the kitchen. Consider adding a green rug to further enhance your new kitchen décor.
Green Cabinets
Nothing brings a kitchen back to life quite like giving your cabinets a fresh new coat of paint. Select a lighter hue for smaller kitchens that need a brightening effect. Or use a darker hue for a more elegant, edgy touch. Pair with white touches throughout the space to make the room come to life.
Bring on the Wallpaper
Wallpaper is no longer what it used to be- it used to be considered "old fashion" now its fresh and fun. The key is working with a patterned wallpaper that comes through as bold yet subtle with just the "right" amount of green. Use a green shade that has a blue undertone.
Green Gingham
Who doesn't love the idea of gingham? We are absolute fans of this pattern because of how bold it can be. Use it as part of your ceiling décor to bring extremely high ceilings down to a level that is comfortable for your liking. Combine your gingham pattern with other green shades throughout the space to tie your décor together.
Multiple Shades of Green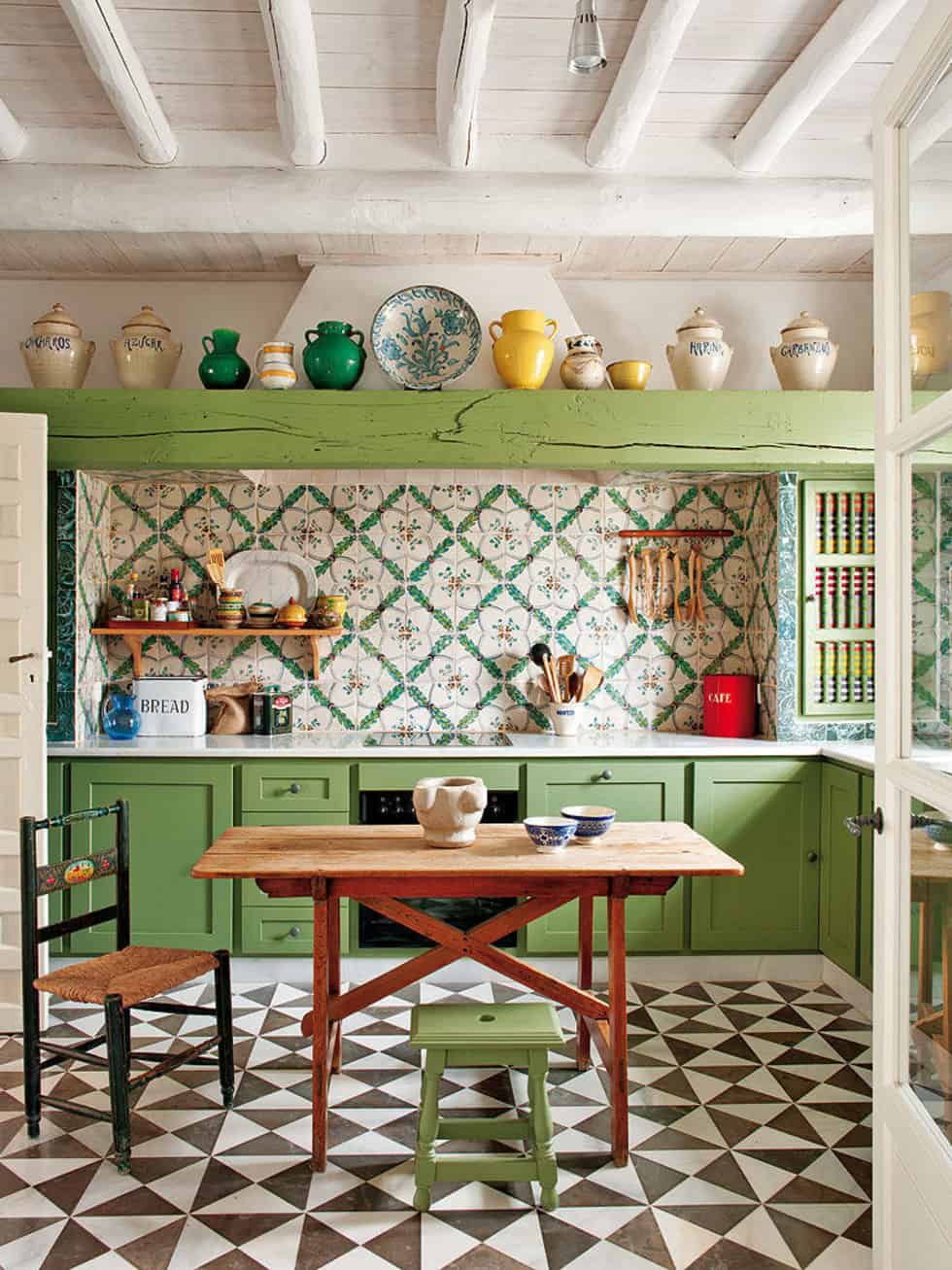 Sometimes, two shades of green are better than one. Select two shades that contrast each other and work them into different areas of the kitchen. Doing so brings an elevated look while still having this freshness to it that will work exceptionally well with other shades in the room.
Beach House Green
Beach house décor has become a top contender as it brings the summer directly to your everyday space. Take a turquoise hue and use it as part of your accent wall to bring a different dimension to the kitchen while still being simple.
Take on the Gloss
Why have an all matte space when you can have a touch of gloss. Add a glossy green to your kitchen cabinets for a contrast that brightens the space while being contemporary. The glossy effect is fun and different while still being easy to work with.
Arsenic Charming Green
This particular shade is one of a kind as it has hints of green yet is subtle enough for it to work well with numerous other shades- the shade sort of has a "funky" undertone that brings it to a new dimension. Depending on how you decide to decorate around it the hue appears bluer sometimes or even sort of gray.
Pale Green
Pale green is perfect for a kitchen island, or as part of your kitchen wallpaper. The color is a softer hue that makes sense in any setting that it is placed in. Which is why it's a top favorite for many homeowners who desire to have that green feel without going for a bolder hue.
Accent Chairs
Bring the green hue to your kitchen without removing or switching up your décor simply add in accent chairs or stools at the end of your kitchen island in a rich shade of green. You may even want to consider having your desired green shade be displayed as part of your breakfast nook seating.
Aqua Green
Enjoy a blue tone green more than a vivid green? If so an aqua green shade is perfect for you. This shade itself makes the space appear larger while still providing that classic green undertone you want for a kitchen everyone will envy.
Your green kitchen awaits! Which of these made you feel inspired to incorporate green into your space? Share your thoughts with us in the comments below.