Designed by Toronto-based Altius Architecture, this upstate New York residence is meant as a tranquil getaway for its owners. Complete with a two-stall boathouse, built-in Kayak racks, and other storage for water sports equipment, the house is built fully around the concept of lake living, and is actually a floating dwelling itself. The indoor living space of the cabin is minimal due to local restrictions that would classify it as a full home should more floorspace be added, but docks and deck in and around the building provide plenty of recreational space. The shape of the abode is based vaguely on traditional northeastern cues, but is updated with geometric features and a bold black color scheme with unpainted wood inserts. Inside, its rooms are uncluttered and minimal, yet warm and inviting for the homeowners. As an isolated vacation home, this floating lake house is hard to beat.

The house occupies an isolated stretch of lakeside waterfront, with two pathways leading down from the hillside above. One path leads over a short wooden bridge and directly into the house, while the other meanders down to the lower deck and the boathouse.


This side of the cabin is perfect for entertaining, with a large L-shaped patio fit to accommodate up to a dozen guests. The house itself uses rectangular elements and black-painted wood sections to distinguish as a more contemporary dwelling than its largely traditional neighbors.


The entertainment side of the dwelling also is host to almost all its windows, placed to maximize views and bring in sunlight. A second-floor deck is cut out of the rooftop, giving survey to the docks below and the lake beyond.


At the top floor, a separate entryway leads directly into the private rooms of the home for when its residents aren't entertaining or coming in by boat. A staircase also leads up from the deck below, cut out from the side profile of the house parallel with its roofline.


Inside, the dominant visual features are the home's peaked wood-structure ceiling and the wide windows all around. A short hallway leads between the bedroom, bathroom, and storage to reach the main living space.


The living room itself is a combination of maritime and woodland decor, with windows on three sides overlooking the lake from every available angle. Due to zoning restrictions, much of the functional living space is brought outside to the upper deck, leaving an intimate living area indoors.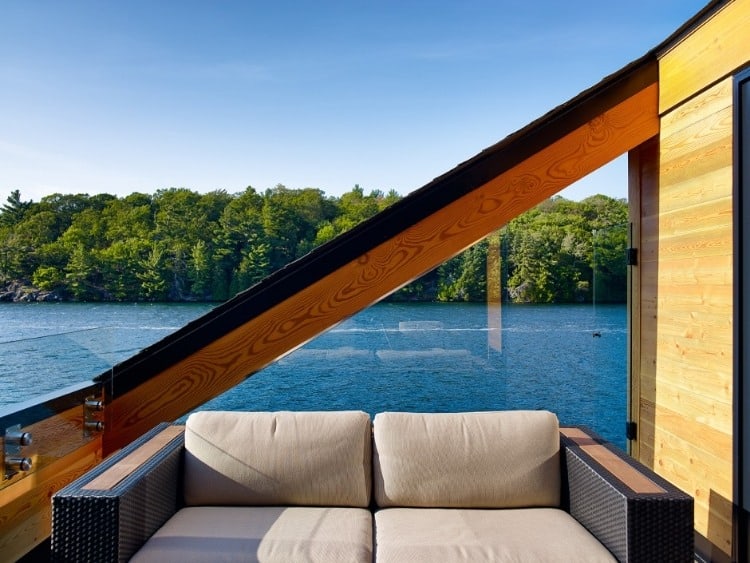 The cabin's only bedroom is its most traditionally-shaped room, occupying the rectangular extension to the building's roofline. The wood panels on the ceiling mirror the floorboards, and the mirror's frame above the headboard is in the same style as the window along one side.


A well-lit and well-insulated boathouse takes up the space beneath the private upstairs rooms, with custom-fit berths for two boats. The boathouse also serves as an additional storage area.


Altius Architecture