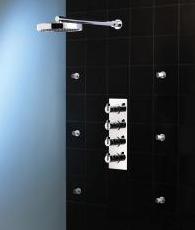 Such pure minimalist design of the new Xenon Shower was achieved by
utilizing the latest technology from Samuel Heath – Xenon "thermostatic valves that allow for up to 4 outlets to operate simultaneously". New valves make this shower system not only sleek but also very flexible – you can connect and control water temperature in showerhead, hand shower, 6 body jets and bathtub filler from one central thermostatic valve. With all that achieving more than twice standard rate on the showerhead – 14 liters per min or about 3.7 US gallons per min. Available in Polished chrome ($1978) and Satin Nickel ($2157). Samuel Heath

Xenon control panel (in the middle) holds one Thermostatic Valve (second from top) and 3 Outlet Controls.