Victorian Coach House's are a dying breed of architecture so when Intervention Architecture was asked to reinvent a dilapidated Victorian Coach House into a home complete with workspace for a writer they jumped at the chance, turning the old coach house into a small home with a loft perfect to use as a writing studio.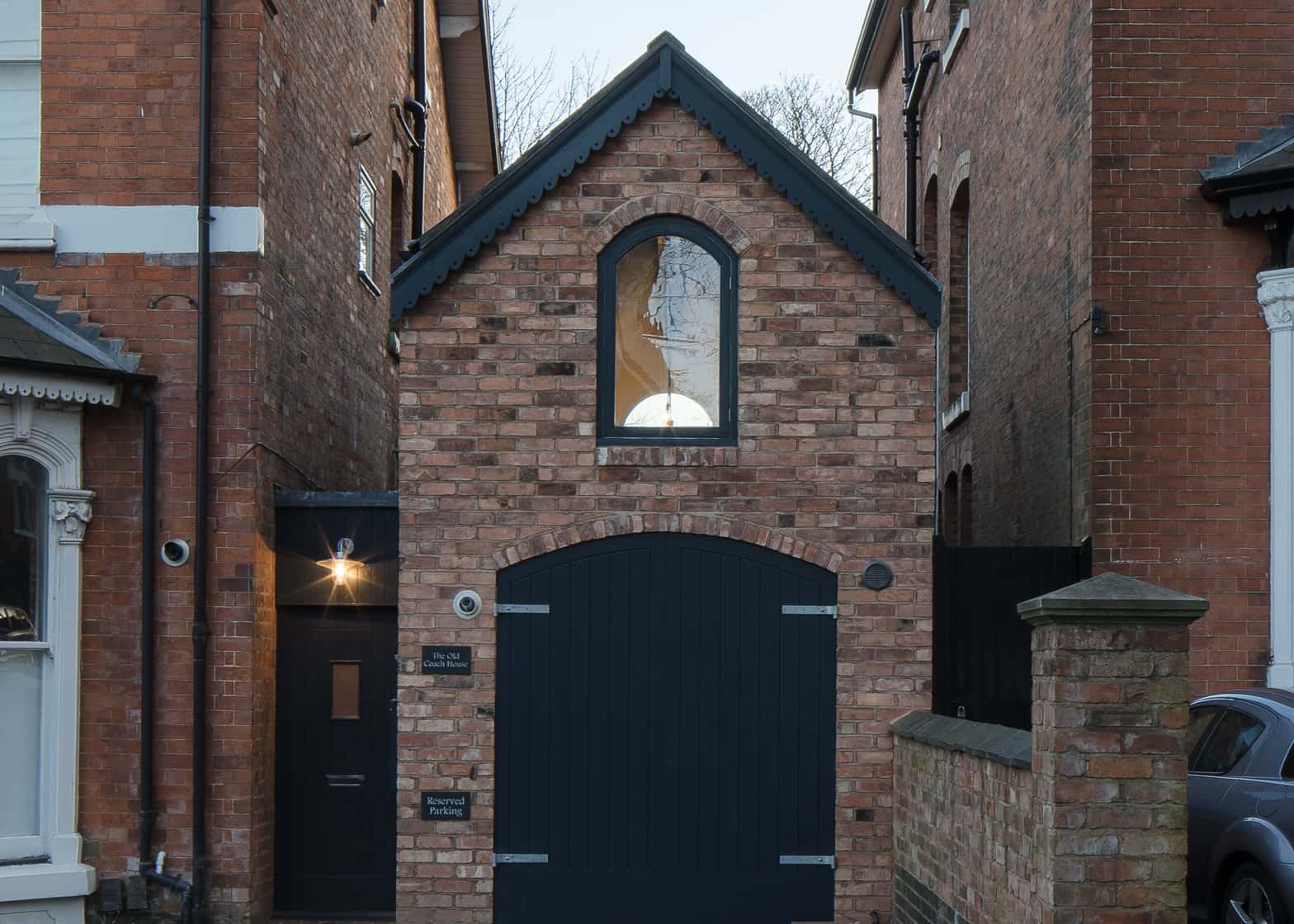 Located near Birmingham, England and sandwiched between two 3-storey Victorian structures, Writer's Coach House was originally a wood storage unit with minimal windows and very little natural light.

The brick wall that connects Writer's Coach House to the building next to it has been left exposed to highlight the history of the out building and an extension at the back was created using similar bricks upcycled from a recently demolished building in the vicinity.


Painted timber faux doors where included in the street facade to accentuate the history of the home and next to them, set back to create depth, is the main entrance with the same finish.


The main entrance opens to a hall with the washroom to the right sharing a wall with the kitchen. Naturally waxed oak flooring was used on this level to compliment the exposed brick wall.


The bathroom is clad in white porcelain tiles to keep the space light and bright.


The kitchen also features the same porcelain tiles but unlike the bathroom's subway pattern, the kitchen features a stacked layout above its grey quartz countertops.


The living room is located at the back and is a double volume space that opens directly to the newly landscaped backyard. Part of the landscaping includes a blue brick terrace from bricks that where found within the building before the renovation began.


The structural steel I-beams that support the loft where left exposed, as are the main structural elements, all of which highlight the history of the home's conversion.


The loft space is approximately 2/3 the length of the interior space with the final 1/3 part of the double height living space below.


At the top of the stairs, overlooking the living room and the backyard via a new arched window is a mezzanine niche perfectly sized for a writing station.


The arched window, a skylight and light pendants provide plenty of light.


Behind the mezzanine is the bedroom with a second arched window as a headboard and a second skylight providing views of the night sky.


Intervention Architecture
Photography by Paul Miller
In an age where homes are continually being torn down to make way for new buildings, it's nice to see history being saved as with this Writer's Coach House. Another style of out building that makes for excellent home conversions are barns, and it is just as exciting to see a derelict barn conversion into a modern home as it is a coach house.