If individuality is your priority, there is sure to be a Kohler decorated basin that is just ideal for your style and vision. Certainly, the striking impact that a decorated basin can have on the overall look of a bathroom should not be underestimated. The perfect sink can provide inspiration for all that surrounds it – whether you prefer the sink to be the main focal point of the room or a complementary part of a coordinating set. Either way, a decorated basin forms an integral part of the hidden details of your home; intriguing style waiting to be discovered and explored by you and your guests. The beauty of a home is often found within practical elements – which can themselves be works of art. Express your faultless style and uncompromising personality with a decorated sink from Kohler.


The Antilia basin would work wonderfully in a contemporary setting. Its solid, simple style curiously juxtaposes with its material: delicate glass. The feel of the Antilia basin likewise presents a paradox – the strong presence of its form dominates and demands attention, yet the sink would blend well into any existing modern decor. The unobtrusive design and muted color of this decorated basin means that although it is bold, it need not take over. The textured surface adds interest and a tactile aspect to the basin… it beckons to be touched. Explore the interplay of glass, light and water in your home with the Antilia basin from Kohler.

With its elegant Asian flavour, the Kohler Kamala vessel brings a sense of acknowledgement of the ancient rituals of bathing to your home. Inspired by rain drums used by civilisations of the Bronze Age, the Kamala basin is just as much a work of art as the original historic vessels were considered to be. The low-relief pattern is an artistic triumph, a detailed combination of sacred symbols which have proven to possess ageless beauty. Ideal for a classic or transitional design of bathroom, its provocative and intricate pattern is sure to last. Enjoy the meticulous visual orchestration of dots, ridges, scrolls and links afresh each day, knowing that this Kohler sink will provide a lifetime of pleasure.


For a traditional touch in a classically styled bathroom, Mille Fleurs is a decorative sink which encourages the appreciation of sumptuous detailing. The look is reminiscent of a bygone era, when people took the time to create items rich in detail and embellishment. The Mille Fleurs undercounter lavatory from Kohler captures the essence of Old World handicrafts, with a deluxe twist in the opulent layered platinum and gold pattern. This gorgeous practical luxury possesses a sophisticated, feminine air, and the lovely motif of flora and fauna will accent your personality, as expressed through your home. But the Mille Fleurs basin is memorable not only for its splendid attention to detail, what is truly remarkable is understated effect that it simultaneously manages to achieve… a triumph of design.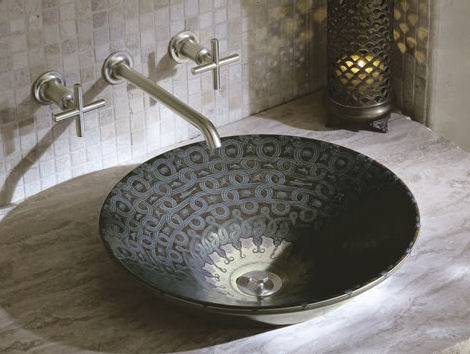 The intricate and surprising appearance of the Serpentine Bronze decorated basin from Kohler arouses a powerful emotional response. Unexpectedly rich, the sink is both visual and tactile: it is a work of interactive art for the user to explore. China's Eastern Zhou dynasty made use of bronze vessels which have, in turn, inspired the sensational Serpentine Bronze vessel sink. The craftsmanship needed to create a sink such as this still ignites admiration and wonder, the sensual design pays no heed to passing trends. Interwoven symbols of dragons, fish, serpents and turtles provide an absorbing aquatic focus that brings the primitive pattern to life. Choose a lifestyle in which you are surrounded with beautiful objects – add the Serpentine Bronze vessel sink or the Serpentine Bronze undercounter lavatory created by Kohler to your home.


Simple but not ordinary, Kohler Twirl sink cannot fail to delight. Here, repeated rings of varied depth and distance provide the decoration, an effective and graceful nod to hand-thrown pottery. The finish is rustic yet faultless, and the small grooves of the undulating rings cast a spell on the user. Uncluttered and serene, the design echoes the swirling motion of water as it drains from a vessel. With its casual flair, the sink will surely fit into a modern or transitional designed bathroom, and reveal your appreciation for the craftsmanship needed to create individuality. If you yearn for a truly handmade feel, the Twirl sink presented by Kohler provides an ideal solution.