Interior designer Kara Paslay is no wallflower when it comes to her creations – case in point, this maximalist bedroom, which challenges the old "less is more" philosophy. Kara had carte blanche (literally, the room started out as a clean, white slate) to create an inspiring, encouraging space for a teenage girl – and a very lucky one, in our humble opinion. With only a bed and dresser to be repurposed in the new design, Kara literally filled this room with color, and a collection of custom pieces that aren't just pretty to look at, but tell a story. Behind the bed, green-tinted mirror panels reflect the opposite wall which features a mesmerizing, black-and-white pattern of repeating dancing figures. A beautiful arching window floods this richly toned and textured room with natural light. Beneath the window, a custom-made acrylic desk is the best seat in the house for work (when she's not at play!) and watching the world go by. The eclectic space always keeps the eye moving, never stagnant. Indeed, more in more when it comes to this dreamy interior design. Check out Kara Paslay Designs for more information.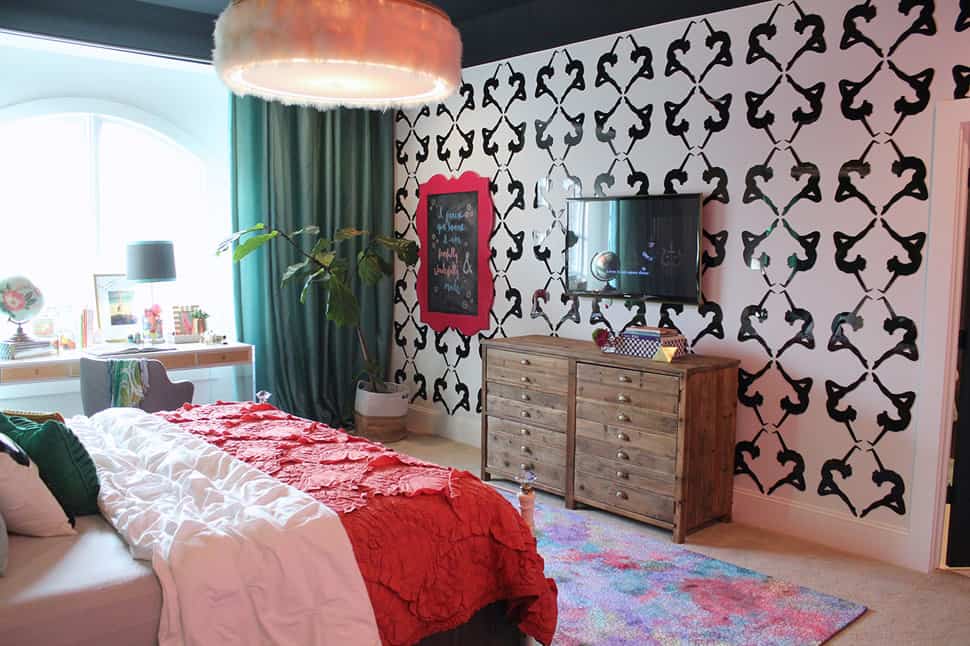 The large space and high ceilings made it the perfect venue for a dark, midnight blue ceiling, which added intimacy and dramatic effect.


The gold lettering pops against the dark background, and inspired with its ever-looming message. Suspended from the center, a custom-made feather fringe chandelier is a whimsical addition.


Underfoot, a colorful rug is an abstract floral mosaic – we think. Whatever it is, it's the perfect complement to this rainbow room.


The custom acrylic desk is sleek and slim lined, featuring that essential work top and drawers for storage. The top is perched on clear legs that let light flow through unimpeded, thus lightening the look of the piece – perfect for placement under this large window.


Even the side tables are an eyeful, finished in fabric and studding, topped with bedside essentials and favorites.


The rich green curtains echo the green-tinted mirror wall.


The black dancers and door pop against the white walls.


Of course, what would a teenage girl's room be without neon art? This piece mounted about a velvet clad-lounger finishes the space perfectly. For more info visit Kara Paslay Designs.