Need some new landscape ideas to liven up your front yard or garden? We found the best ones out there to help you get inspired and shape your vision. See, possibilities are great when it comes to modern landscaping. It's not all about manicured lawns and strict hedges. There can be interesting layouts and grass patterns, live feature walls and unusual seating area designs. Most of these are even easy to implement in a DIY manner.
Ground Cover Ideas
In a landscape you can choose between ground cover and paving, but options are limitless. Ground covers aren't limited to just grass. And pavers come in such a huge assortment of materials and finishes you can spend months deciding on what to choose.
We like this blooming patio planted with lilac Mazus reptans in A Charlotte Garden because it looks positively lively and adorable.
Ground cover can look different. Gravel is very popular because it's so easy to use and requires virtually no maintenance. You can also use bark chippings and patches of grass to accent your pathways.
If you're after a more meadowy look, though, there are some cool grass alternatives like clover, moss, liriope and dwarf myrtle. Use them as ground cover or for pathway decor.
Bring detail to the front lawn or garden by breaking it into a pattern. It looks contemporary and unique. Zeterre Landscape Architecture did just that creating a stark contrast between a white paver material and juicy green grass.
Grass is still very much popular as a ground cover. But it's much easier to care for when it's used sparingly, not to mention that it allows some room for creativity. Modern linear designs are very popular not only because they bring something new to the garden but also because they require so little time and effort.
You don't have to be precise, though. If you're after a more relaxed feel you can use different-sized stepping stones and grass to add dynamic to your lawn and pathways.
Focal Point
Just like in interior design a landscape needs a focal point. Some designers create several for each separate zone. It can be a water feature, a handmade sculpture, or a beautiful planter like this bowl-shaped beauty below.
Surrounded with different plants the focal planter is further accentuated with a circular ground pattern and a wooden plank pathway leading right towards it.
Here, a row of decorative planters outline a feature wall covered with green vines, which, by the way, can be very useful when creating a live focal point.
Take this trellis covered with a climbing 'New Dawn' rose, for example. It accentuates an entrance creating a gorgeous natural arch. And coupled with neutral solid curtains it looks absolutely fantastic.
Since a focal point is always attracting more attention to itself sculptures make perfect focal points. They bring so much drama to the decor, it can be virtually empty.
Use boulders, mirrors, and water features as alternatives. Although more trivial they command attention well enough to become focal points.
Waterless Landscape Ideas
Does weeding and watering give you headache? Waterless designs are the latest trend in landscaping. Forget about lawn mowing or any maintenance. A waterless garden or landscape is made of drought-resistant growers and decorative accents like boulders and river rocks, steps and stylish minimal borders.
Combining multi-level landscape and waterless trends is a great way to use all that outdoor space without having to do all the work. Multiple level landscape works great for not only small yards but also hills.
If your house stands on a hill, it simply calls for a multi-level landscape design, which can be done with help of statement wooden or metallic planters or a more subtle, natural way as illustrated by Karen Fabian Designs work.
Low maintenance is one of the best advantages of a waterless yard. It also looks stylish and can be pretty versatile since most of its ground space is paved. Use it for a patio, a backyard addition for kids, or any other feature you've been dreaming of.
There are barely any rules when it comes to designing a waterless landscape. If you want you can plant a bed of succulents or a row of cacti backlit by outdoor lights. Assemblage Studio used the drought-resistant plants to create matching patterns for The Tresarca House facade. Unusual, cool, and easy to care for.
Minimal Landscape Ideas
Minimal landscapes don't have to be waterless, though. If you want a livelier look go with ornamental grasses like mondo, feather reed grass, maiden grass, pampas grass, or rush. You can still make it low-maintenance, if desired.
As you can see alliums work great in a small minimal garden surrounded with ornamental grasses as conceived by KUBE Architecture.
Decorative accents stand out especially in a minimal landscape. Intricate fire pits, statement planters, and clever lighting can instantly make even the most modest backyard or garden look spectacular.
Again, you can use bright blooms to make a statement in a minimal landscape. Delphinium, snapdragon, red hot poker, and lupin graciously tower over green lawns and hedges bringing dimension to levelled landscape designs.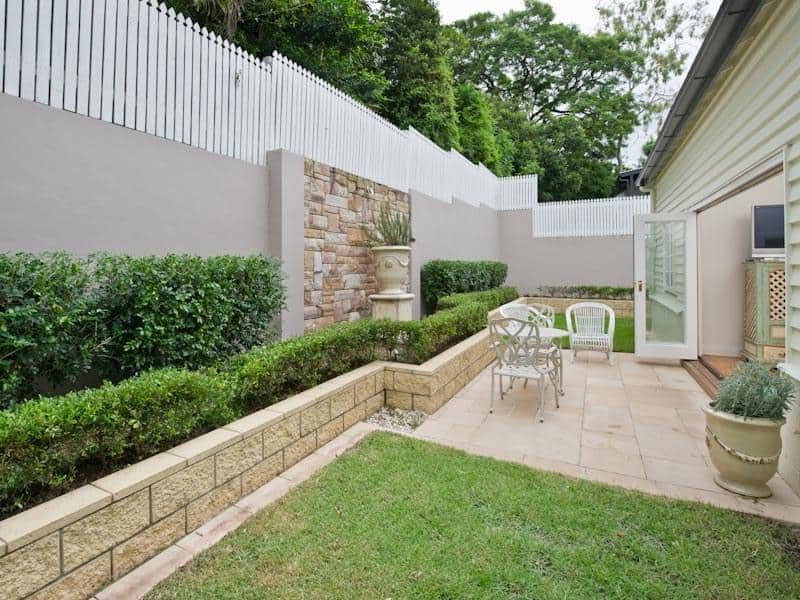 Landscape Ideas With Water Feature
No outdoor space is truly complete without a water feature. Wouldn't you agree? It can be the smallest fountain or a water bowl in the world, but it will make a certain impact, decorate the place.
Few water features can compete with ponds in terms of natural beauty, though. Partially covered with surrounding plant systems they can house fish or lilies; you can even use them for swimming. Ponds are perfect water features.
Swimming pools can be landscaped beautifully as well. Janice Parker makes a case for the privacy bush blooms set to a green backdrop of more privacy bushes.
An adjacent lawn features stepping stones to provide residents with a soft walkway as opposed to the tiled catwalk next to a gravel-covered patio. You can just see how those pesky gravel stones can spread and dig into your water-softened feet causing much unpleasantness after a nice afternoon swim.
Although less functional fountains are loved because of their gurgling sound and usually exquisite designs. And since outdoors aren't only a visual experience, why not add a calming sound of flowing water as a matching audio effect?
Functional Landscape Ideas
To create a functional landscape careful planning is in order. You need to leave space for the actual landscape and have enough area to fit a dining table or a terrace. YAMAMAR Design Architects managed to make the best of a small backyard to create a terrace with a built-in walking alley leading to a seating area with a fire pit.
At either sides of the walkway is another seating area and a dining table. The green landscape is comparatively small as it's kept to the two steps leading to a gravel patio. And even though ornamental grass is used sparsely in the design it still gives the backyard a desert-like look.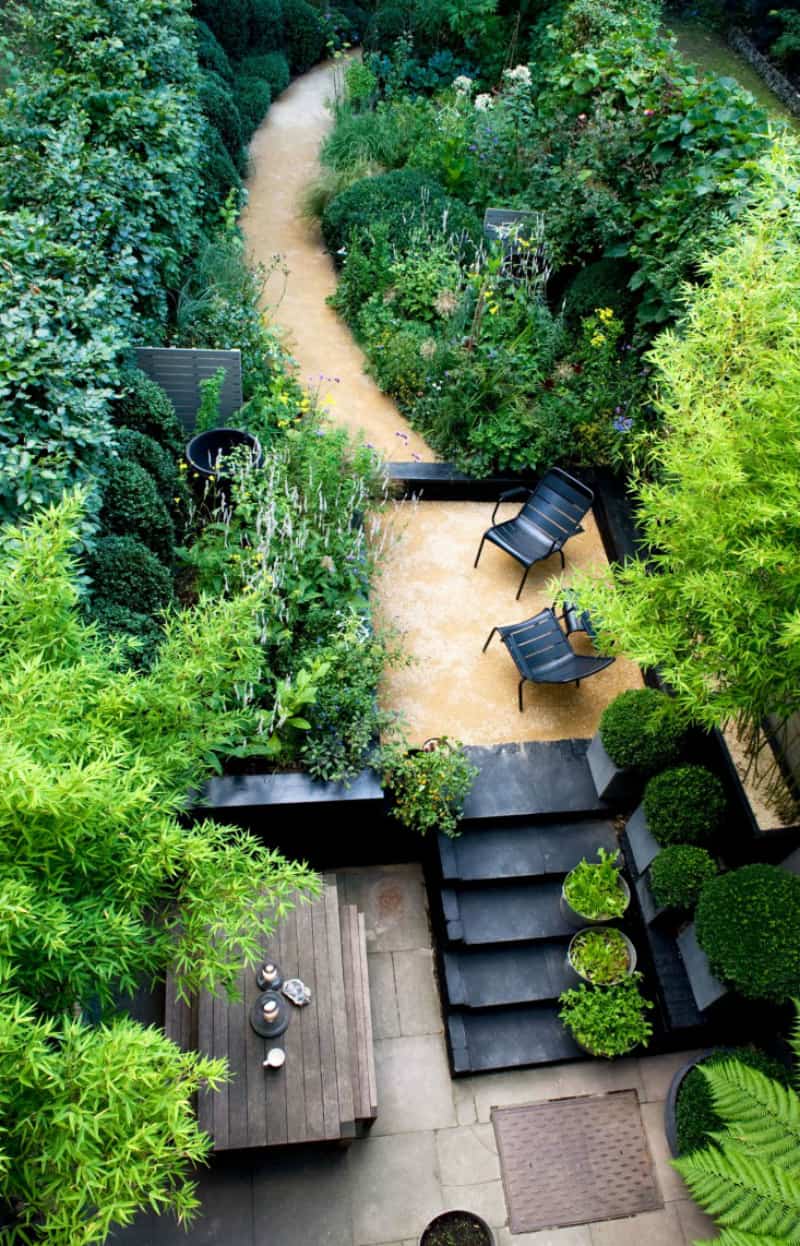 A rooftop landscape may be an entirely different experience, but the landscaping principles work here just the same. You divide space between areas to give each its own zone in a layout. And you create a focal point to tie the design together.
Secret Gardens' Sydney rooftop garden design is an absolute stunner. Its circular-shaped lawn offers enough space for lounging and even walking while the hedges provide it with a beautiful design element.
Many of these landscape ideas are DIY-able. All you have to do is follow your vision and try to turn it into reality. You can cut down costs by reusing old furniture and creating your own planters. And you could always ask your neighbors or friends for plant sprouts and seeds from their gardens.