Located in a village close to the shore, this Danish holiday cabin is a modern day reinterpretation of the traditional vacation home. The architects at Powerhouse Company had to deal with quite a challenging project, that of creating a traditional summer cabin that offers enough space for modern lifestyle at the same time. Lately the so called traditional Danish summer homes have increased dramatically in size. Nostalgic of the past, the architects wanted to keep this one of quite small dimensions, while still accommodating all the members of the family and leave room for possible future changes in the family structure. They decided to go for a star shaped architecture, and created a cluster of five wings, like miniature cabins. This layout generates a variety of views and of outdoors decks and areas, which offer a pleasant environment especially in summer. The radiating individual spaces that offer privacy to the family members unite in the center in what are the common areas, such as the kitchen, dining room and living room. This star shaped central space allows for the family to spend time together while still offering pockets of seclusion to those who might need it. The footprint of the house is quite reduced in size, of only about 110 square meters, but thanks to its five fingered layout all the spaces required by the family could be included. The footprint of the outdoor spaces has almost the same size, offering many alternative eating and resting spots.
Generously sized windows and glass doors unite the inside with the outside, as the purpose of having a summer house is that of spending time with the family but in nature at the same time.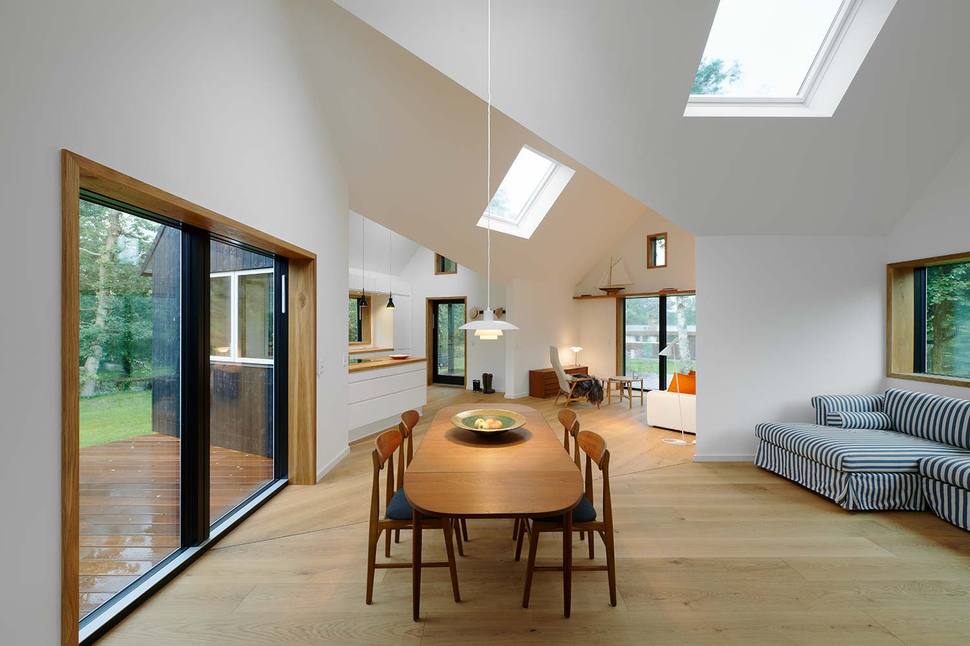 At the center of the communal part of the house, the dining area unites the family around a nice vintage teak Danish dining table. The table is flooded by light at lunch time thanks to the orientation and position of the roof windows.

There are more seating areas in the common space, that offer the opportunity to spend family time while having some privacy at the same time.


The open plan kitchen offers the possibility of socializing while preparing the meals for the family. The wooden counter tops create a warm and cozy atmosphere.
A nice retreat for the younger members of the family, this spot is accessible via a nice and massive wooden ladder.