Reduce clutter and commit to the love of reading with built-in bookshelves designed like these options. Whether you want to cover an entire wall from floor to ceiling, make use of an unused space, or just want a great storage solution, the options are endless. Create a design to your liking after getting inspired by these bookshelf ideas.
Divide a small space with a floor to ceiling bookshelf serving as your room divider. This piece is especially interesting because of the built-in bookends on the end shelves.
Pull the color out of your books when you accentuate your room with dark shelves. Each section is the same size on this built-in shelf, so decorate as you wish.
Too much extra space above your couches? Maximize storage and create a conversation piece with floating shelves above your couches.
These shelves look just like a bookstore! Your child will grow up with a love of reading thanks to this special floor to ceiling reading space.
If you are really committed to your love of reading, add an entire wall of bookshelves to an often unused space. This wall in a dining room is fully in use now that the floor to ceiling shelves are installed.
Create a classic library with wooden bookshelves designed in the traditional style.
Spruce up an otherwise plain hallways with your carefully curated collection of books. These white shelves match the wall color, so you get a clean, modern look.
Why not make the biggest use of your available space? The bathroom can be a storage space for books.
Walking up the stairs typically means you walk by a wall of frame family photos or a blank wall. Instead, maximize your space with built in bookshelves, even in the recessed style. You'll love the way they look and how unobtrusive these shelves are.
This is another option for your staircase.
Often entryways are ignored and are dead space in a number of homes. When contrasted with a blank wall on one side, this wall of added bookshelves is beautiful. Space according to your preferences.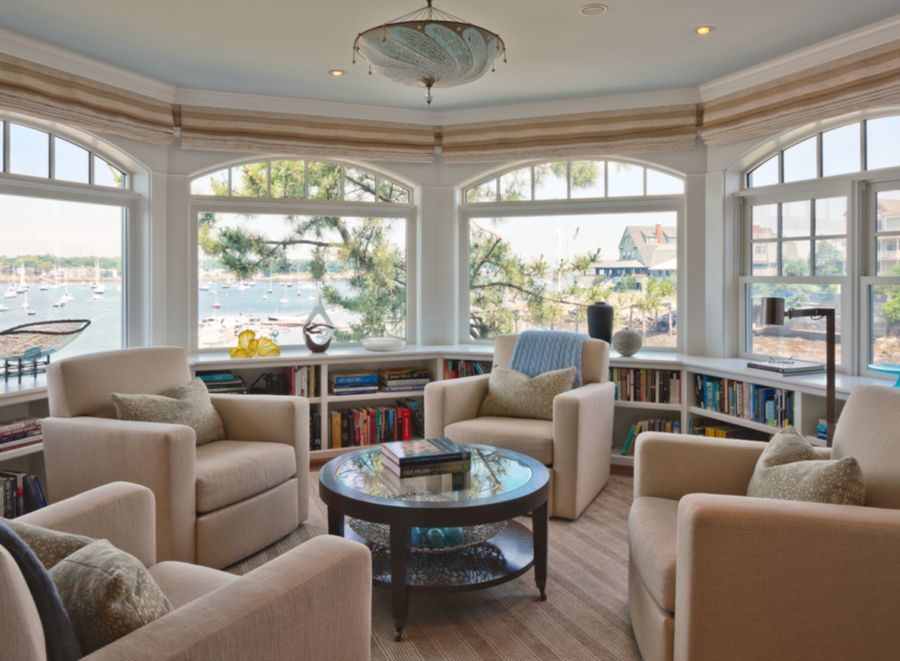 The beautiful of this bookshelf set is the symmetry it creates. The light wood reaches the ceiling but the shelves float off of the floor (allowing room for floorboards). Consider choosing your bookshelves to match your flooring.
These geometric bookshelves are different than your average option.
Why block this beautiful view?
In many cases, the outward faxing side of the kitchen island goes unused. Why not add built-ins here?
The whole family can use this reading room if necessary. Add shelving at both kid eye level and adult eye level!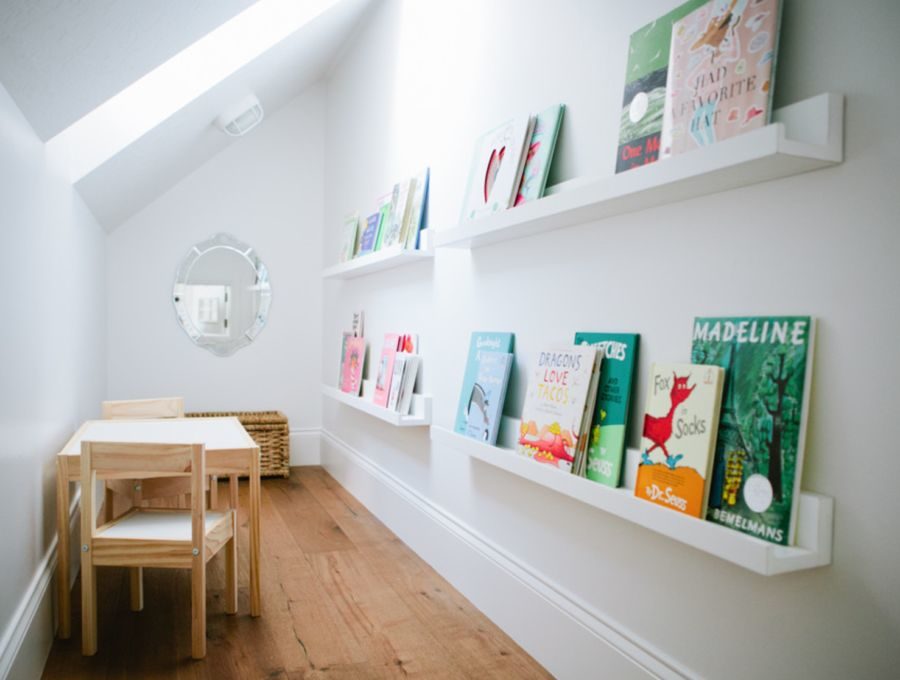 If you don't have a large space, shelving that doesn't protrude far is the way to go.
A popular option rather than a full beside table is the invisible shelf. This is available online for less than $20.
This children's room is unique because there is space left between shelves. You could use this technique in either a child's room or an adult's room.
Start at the ceiling and work your way down with long white shelving like this. This homeowner chose to leave a gap at the base of the bottom shelf for displaying other items. This is perfect for a small apartment like the one pictured here.
Did you find the bookshelf of your dreams? We hope you got some wonderful ideas for your own space from these built-in shelving options.