The Bohemian style has remained a constant style trend to follow. Not only has it remained a top favorite because of how natural the style appears and feels, but also because of how easy it is to incorporate a bohemian twist to your home. Adding a bohemian twist means having a home that is a little more laid back but very much on trend. One of the best areas to add a bohemian twist is to add it to the bedroom. A bohemian twist works well in the bedroom because of its natural take on the style. Here are 10 ways to incorporate a bohemian twist to your bedroom space.
Bohemian Bed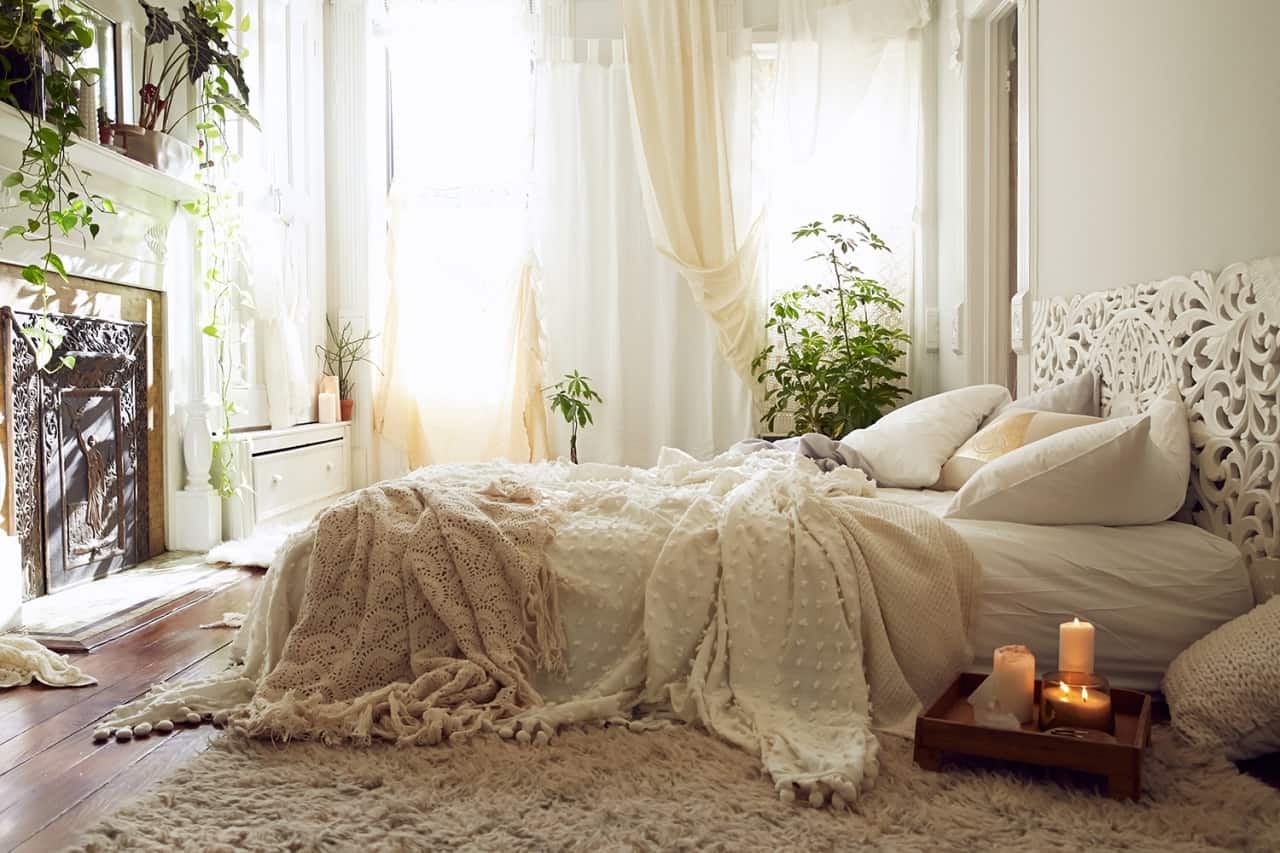 Regardless of how you decide to decorate, furniture will be one of the very first things you decide to change and/or add to the room. A bohemian bed consists of a low wooden bed that has no bed frame. The idea is to have a comfortable sleeping area that looks relaxed and laid back all at once.
Sheer Curtains
The bohemian style is all about having a natural feel in the bedroom. The best way to do just that is to let in as much sunlight as possible. In order to do this while still having curtains is to add sheer curtains to all your windows. This will shield out some sunlight while still allowing most of the sunlight to enter the room.  Choose colorful sheer curtains for a colorful twist on a classic.
Add Houseplants
Sticking to the natural feel of the bohemian style you will want to pick up a few houseplants in the process. Add a few houseplants in the bedroom for a bohemian twist that will enhance the room and give it the freshness you seek.
Touch of Wood
Adding a bohemian twist to your bedroom involves going as natural as possible when it comes to the décor. The more natural items you have in the bedroom the better. This is when adding a touch of wood will come into place. Add one or more wooden accent tables in the room for a well put together look.
Patterned Rug
Pattern is essential when you are adding a bohemian twist to your current décor. A bold patterned rug will add visual appeal while still being extremely put together and have that bohemian feel. When selecting a rug, you want to choose a large rug. Doing so will add a stand out piece that works well in that room.
Add Different Textures
When it comes to bedroom décor the first thing you may consider is adding comfortable items. Items that will make the space feel cozy. However, for the bohemian feel, you want to add different textures. Skip the cotton only rule and add fringe, knitted comforters, and/or a shaggy rug. The different texture will give the room that easy going vibe that a bohemian style exuberates.
Fur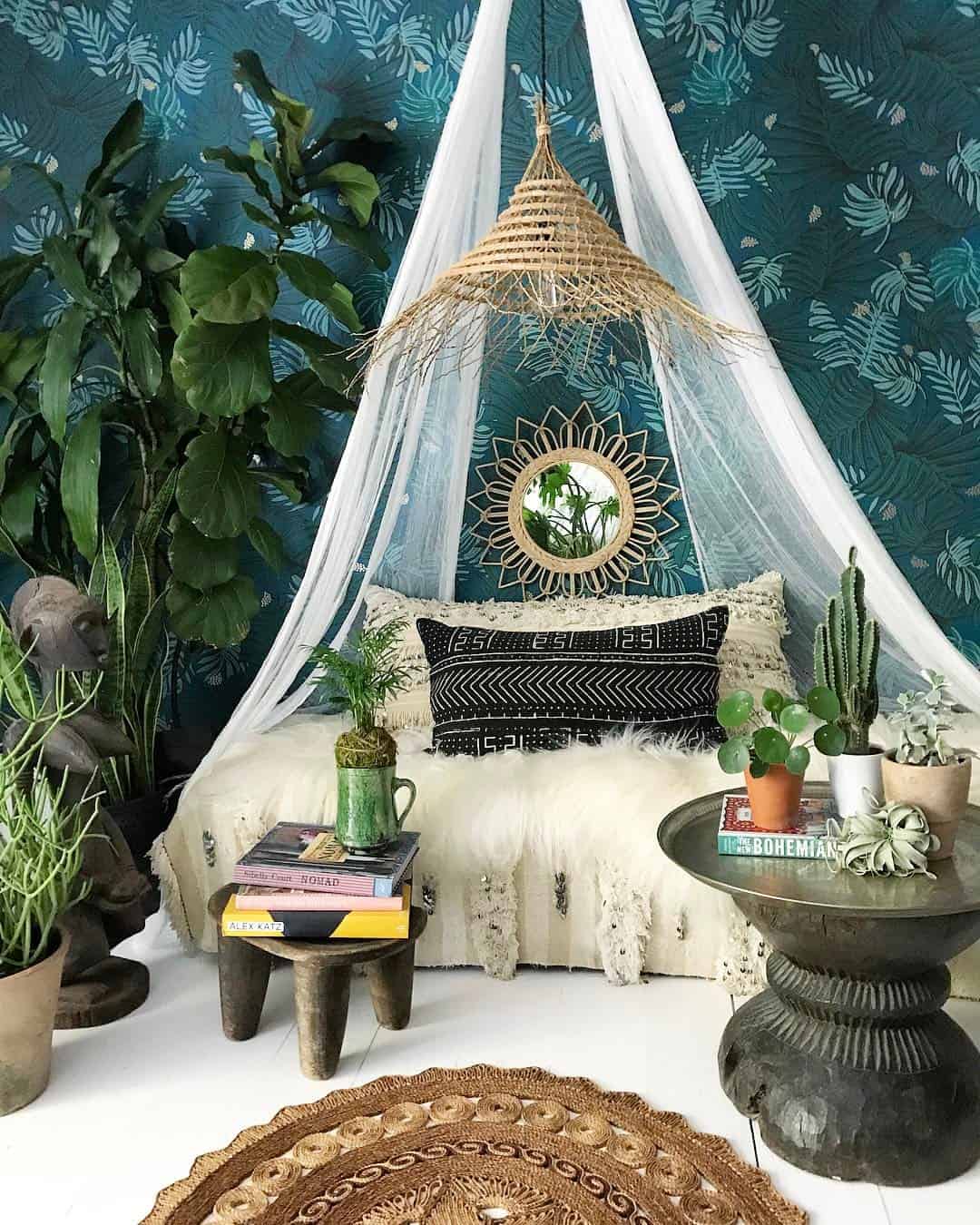 Fur is fun, casual, warm, and natural. Add a fur piece to the room to bring it all together while still being very earthy and natural while still being elegant. The fur item will also add to the textured feel you want to have in the bedroom space.
Hanging Lights
Don't just have lamps sitting on your night tables. Instead, have hanging lights from your ceiling or your walls. You want to create a soft feel that is not structured at all. The idea is to have a soft flowing feel into the entire space even with your lighting. The lighting should enhance the bohemian feel of the room.
Metallic Frames
Decorate your walls with metallic frames. Metallic frames will add to the natural feel of the space. Instead of having pictures and/or portraits on the wall have a metallic framed mirror or pictures of nature in a metal frame. The metallic frames work great in a space that needs a bit of a natural feel to it without adding color.
Instrument as Décor
Do, you may an instrument and have no idea exactly where you should store it? The answer is simple, place them on the wall. Decorating your walls with significant instruments that you play makes the room feel more personal while still being decorated with a bohemian vibe. The instruments also add a bold feel to the current décor you currently have.
Adding a bohemian vibe to your bedroom means having a more laid back, textured, style. Which of these will you be adding into your current décor? Let us know your thoughts in the comments below.