When we think of a beach house a white cottage-like building comes to mind yet Finley beach house is something else. Designed by Bora Architects the modern structure offers 360 degree views of the gorgeous natural locale and incredible sea views.
Located on a hill the modern structure features a rooftop garden and a sky patio built into its facade. The immediate outdoors are lush with greenery and outfitted for total relaxation. A hot tub and a seating area set around a fire pit were made to enhance the vacaying experience on the Arcadia Beach in Oregon.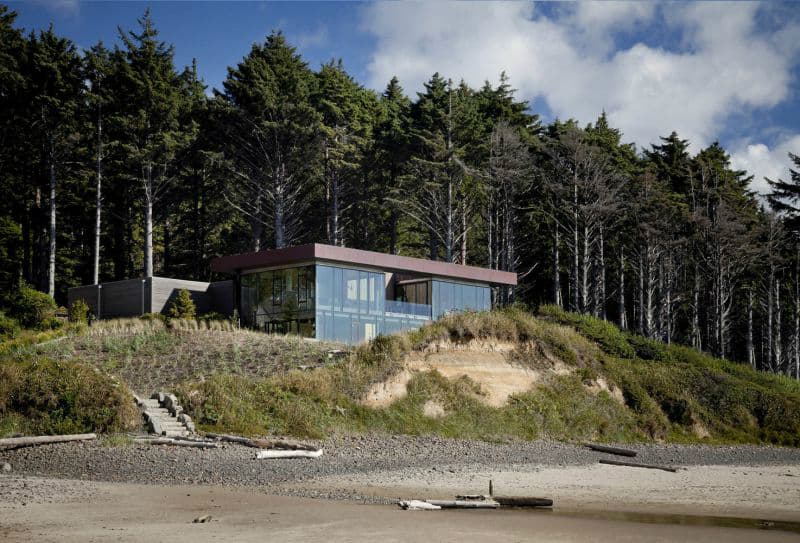 On the inside the house is no less equipped for repose. Open layout and indoor/outdoor feel in every room create a nice relaxing atmosphere. In the living room and bedroom the sea views take center stage even though there are also a spectacular wooden ceiling design and a fireplace.
The bathroom has an especially interesting design with its half walls and marble paneling. It feels like another zone in an open layout rather than a separate room. And it features his and her vanities for the ultimate convenience.
Outside, the house still has a lot of interesting details. It is surrounded with river rocks to make the immediate area more decorated. A catwalk that leads to the great pivot door entrance is made to look like a rope bridge and the green roof allows it to easily blend with the environment.
Though it's not that flashy in its design Finley House makes for a perfect getaway where connecting with nature is easy and comfortable.
Beach House in Oregon