Is the basement for you the dark scary underground room that you run up the stairs as fast as you can away from (God only knows what monsters are hiding in there)? Or the place you stash old junk and Christmas decorations in? If you answered yes to one of those questions, Trendir is here to change that for you and make the basement your new favourite room! Yes you read that correctly.
From home gyms, theatres, party rooms, offices, and more, the possibilities and uses of your basement are endless! So install those ceiling pot lights and finish those walls (or don't–scroll down, you'll see). Let's tackle those scary basement monsters with these amazing and bright ideas to make the basement the highlight of your home!
Entertainment
If you've got a wide open space in your basement, all the better for entertaining guests! Section off an area like what's been done here with a plush sectional couch, install a bar, pool table, and an extra dining table to keep the parties coming.

This basement's done entertainment just right. With a bar area, fireplace, private screening area, and a pool table, this is the perfect hangout. Keep things simple and highlight fun spots like the pool table with a bright deep blue. We also like the sleek metal hanging lights over conventional ceiling pot lights!

Large book collection? The basement is a great spot for a library. We love how this home fills the walls with theirs and adds a touch of fun with the pool table. This basement design takes us back to our days of college!
You can still have the luxurious home theatre without spending a fortune for installation. Instead, toss a bunch of throw pillows on the floor "pillow fort" style and invest in a projector on the wall rather than a giant flatscreen. We love the tree stumps placed around on the floor for drinks and the low fire place below the screen making this basement extra cozy!
Under-the-Stairs
A smart way to use the space under the stairs is to install a mini office work space. Try a corner desk and some shelving that aligns with the stairs for unity. The basement would be the perfect spot to make those private business calls without all the noise or distraction.
Why not make use of the under-the-stairs with a cozy reading nook? We love how this basement utilizes every corner with book shelving, a built in bench, and cozy throw pillows. This is a great way to transform what is usually a dark and dingy corner of your house into a bright and comfy highlight.

If you're the collector type and want to display your collection of rare comic book covers, old magazines, or records for example, why not display them fashionably in the basement? Because it's not a room you necessarily use or see everyday, you can have a little more fun with basement decor without worrying too much about matching like in your bedroom or living room.

A basement is the perfect place to experiment with bold colours and art designs. We adore this bold blue and white design wall along the stairs combined with another solid blue wall. Tie things together with matching textiles, lamps, and wall pieces like this super cool animal skull.
Home Gym

We often don't know what to do with the extra space in our basements, but a private gym is an idea we definitely like! If you're working with a small room like this one, installing mirrors everywhere opens the space up and gives the illusion of a never ending workout area like what's been done here.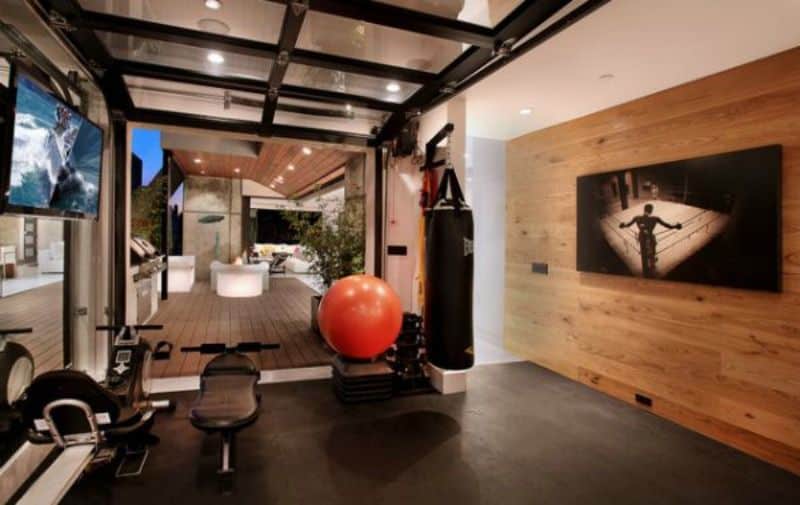 Another take on the private gym, this modern boxing training gym styled basement has two wall mounted flat screens, black studio flooring and different wood walls for contrast. To keep this space from feeling too dark, the black barred "window" ceiling opens up the room with a contemporary feel. Now how's that for a dark and scary basement?!
Walk Out
Most basements are unfinished, so why not run with it and use it to its fullest potential? Sleek finished wood flooring and walls that are still covered keep things together and safe still. Not pictured  this photo include a fully stocked bar, foosball table, dartboard, glass garage door with direct access to the backyard, pop-up television, a small playhouse, and a fantastic fun zone for the kids. The basement just might become your family's new living room!
If you're lucky enough to be working with a walkout basement, you won't have to worry too much about lighting! This one goes the extra mile on openness and illumination with pot lights and bright neutral colours. Another technique used here to trick the eye into seeing a room as even more open is to match your furniture, like couches and chairs, to your walls. Subtle, but true!
Functional
Utilize your basement as an additional multipurpose space such as what's been done here with extra closet space (perfect for off season clothing), linens, and a washing area. Silver appliances, grey cupboards, and white tilling keeps the basement looking sleek and not at all like a basement for that matter.
What do you use your basement for? Let us know in the comments below!