Basement is often a room without a purpose. A lot of unnecessary things clutter it, spiders inhabit it. But it doesn't have to be this dreaded area in your home filled with undefined silhouettes of storage boxes and musty odors. There are a lot of basement ideas out there that can help you imagine a better look for this neglected area.
Wine Cellar
What's a better place for a wine cellar than a basement? Cool and spacious it can provide your wine collection with a safe and stylish home where you can taste it, entertain guests, or simply go to browse and show off your assortment.
Wine cellar doesn't have to occupy the entire room, however, if there's plenty of space or if you're not a serious collector. A small glass case may be enough to show your interest and store your favorite types.
Basement Home Bar
The natural continuation of a wine cellar would be a home bar where you can entertain guests or serve your favorite drinks before dinner. Being one of the most popular basement ideas the home bar has so many examples you'll be able to plan and design it all by yourself.
All that is needed to be done professionally is water and electricity outlets. The rest you can handle yourself if you would like to cut down the cost on professional design, expensive finishing materials, and high-end furnishings.
Game Room
If your basement is spacious enough you can buy a pool table to complement your home bar. Not a big pool fan? How about a foosball or a ping pong table? As a matter of fact, you could outfit your entire basement with arcade machines and enjoy all the different games with your friends, relatives, and kids.
Sure, some games or fun activities like bowling would require lots of space, but if you can spare it, why not create your own fun place that you can use for free any time you want?
Media Room/Cinema
A home theater or a separate media room is another one of the most popular basement ideas. And it's fitting too. Think about it, it's dark, it can be soundproofed to block out external noises; it's perfect for that kind of thing.
Designing and building a real cinema may increase the remodeling costs, but if you are an avid moviegoer a home theater might save you some money in the long run.
Living Space
Enhancing your living space utilizing basement square footage is just practical. Instead of cluttering it up with things, why not add another room in there for kids to play or guests to stay?
It can be anything from an additional bedroom to a peaceful and quiet home office. Of course, there may not be as much (or any) sunlight as you'd like, but there are also ways to fix that.
Dining Room
Dining room may not be the most widespread of basement ideas, but there is a case to be made for it. Combined with a home bar or a game room a basement dining room suddenly doesn't sound like the worst idea.
It may not be convenient to serve food in the basement dining room but if it's the only way you can have one at all, why not take it?
Play Area
Basement sounds like kids' least favorite place, but if there is plenty of light and toys it might just become one. It might also be quite convenient if you don't have a garden or backyard where kids can safely play.
With additional floor space not occupied by beds, desks and clothes storage the basement can become an ultimate playground or even an entire separate magical world for your kids.
Specialty Room
Basement gym is a third popular of basement ideas. It's convenient and practical to have if you exercise regularly because it cuts out commute and simply affords you more time spent actually working out instead of getting there, showering, changing.
It doesn't have to be big, though. Even if you just have a few square meters to spare a weight rack and a bench can offer a lot of workout opportunities. If you can also fit a single cardio machine in there, consider yourself lucky. Other specialty room basement ideas include a laundry unit, library, workshop, art studio, wine tasting or music practice room.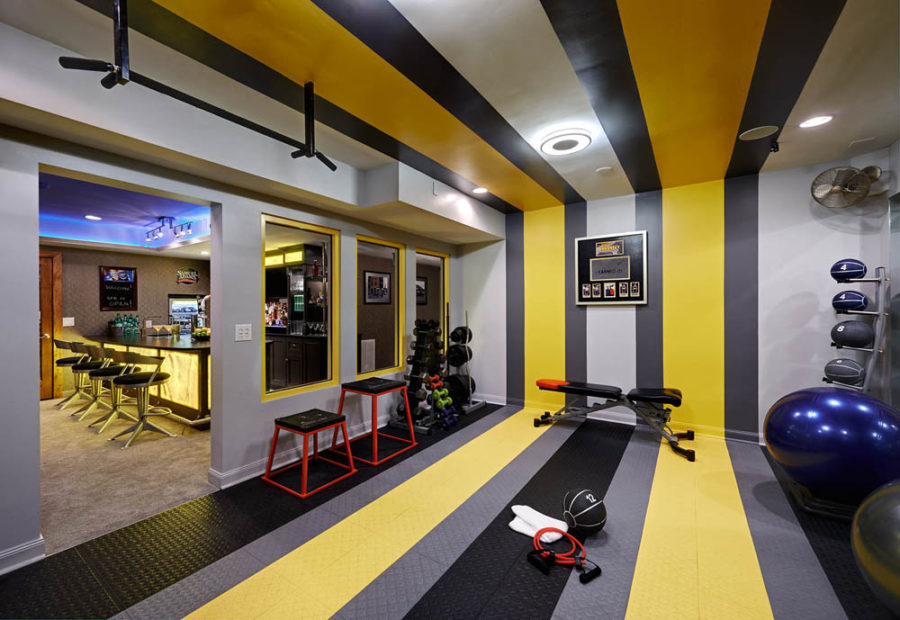 Basement Lighting
Basements aren't known for being light and bright, but some professionals think it shouldn't always be the case. Lower levels can get their fair share of natural light through various skylights, glass transoms, and inner courtyards.
The latter ones can be dug out at basement level to not only fill the place with light but also create an indoor/outdoor aesthetic so popular in contemporary design.
Basement Pool
A swimming pool may not be the best idea for a conventional house basement but in contemporary construction it may fit in just fine. Want to have a place to work out and swim away the muscle ache afterwards? Here is a lap pool. Want to relax in a refreshing spa whirl tub after a long day? No problem.
Contemporary construction allows to create spacious, well-ventilated basement spaces where anything is possible.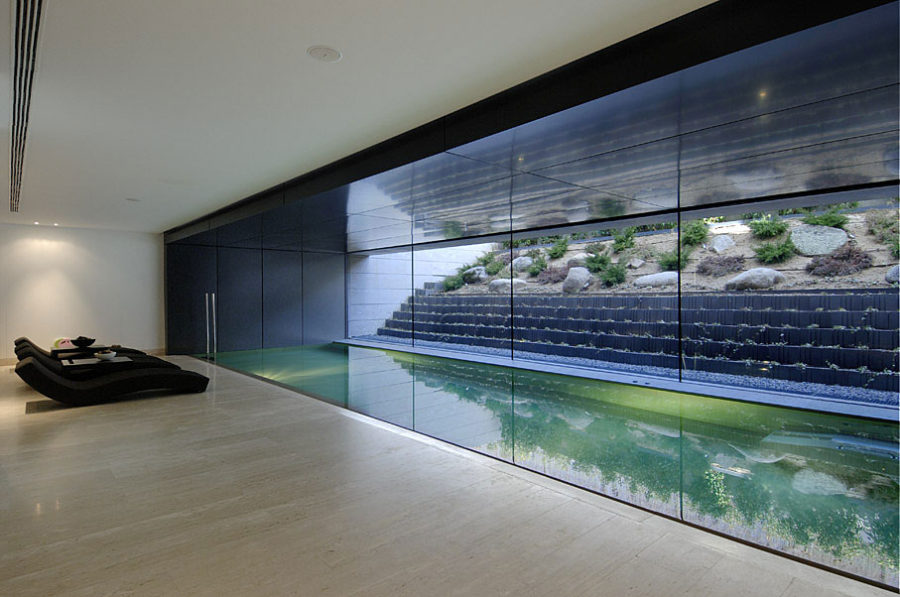 Basement ideas don't stop at these few layouts. You can do much more if budget and building codes allow it. You can turn a basement into a study or a highly organized storage room. You can even turn it into a separate living unit for leasing. Be sure to know what you want or need in order to make the best of your basement space.