Stockholm's attic apartment trend doesn't stop fascinating us with interesting interior architecture and layouts it creates. This small glam but fundamentally Scandinavian apartment is one of the latest housing projects designed by Concept Saltin.
Without trying to redo the plan of a small attic, the firm managed to turn it into a breezy and cool living space. You won't find a single dark corner here. Arched windows bring plenty of daylight to the white interiors.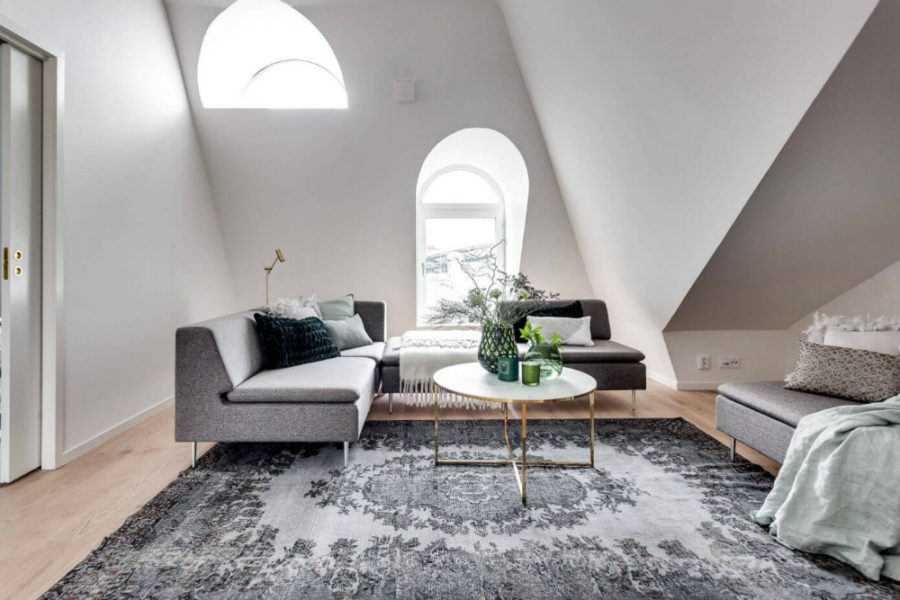 Every turn and corner are utilized with meticulous approach. For instance, a seating area beside the fireplace may come with a slanted roof, hanging over it, but it looks completely organic there.
A slim wall divides the glam bedroom from more functional bathing facilities. A light open kitchen with an airy dining area has access to a small balcony. Every zone is highly practical but full of character.
While most of the apartment is white or neutral, there are quite a few details to catch your eye. How about gilded-framed modern furnishings or kitchen hardware? They're a huge trend right now. Or probably a beautiful blue L-shaped kitchen patterned with what looks like Ikea furniture tile could draw your attention. Oh, it probably did.
To add a bit more color to the rest of the space, the designers used green tabletop decor, plants, and throw pillows and throws to create a monochromatic accessory layer that makes the snow white Scandinavian style look a bit livelier.
Scandinavian Attic Apartment With Glamorous Flair