This luxury Arizona desert home combines waterscaping, xeriscaping and desertscaping to create a sustainable outdoor environment. It all starts with the rock water garden and waterfall at the front door. The soft contemporary style home sits on five acres on the slope of Lone Mountain in Scottsdale, Arizona. And what a view that slope affords. The patio is built for entertaining and with that vista, we'd never set foot inside. The home itself is sprawling, made up of three separate guest houses. The main house wraps around a spacious terrace with huge views. The home has four bedrooms and five bathrooms but with the luxurious pool, spa and cozy covered fireplace … who needs an interior?


The five-acre estate sprawls across the slope of Lone Mountain. With a main house and three totally separate guest houses, you're pretty much king of the hill.

The entrance to the main home lies behind the Palo Verde trees, a local native tree requiring minimal water. The angle of the slope is evident from this view.


It's like walking through an enchanted desert forest – all zeriscape, all destertscape. It doesn't get greener than that.


A hint of the waterscaping to come is the small pond at the front door. It's a very serene and pleasing entrance.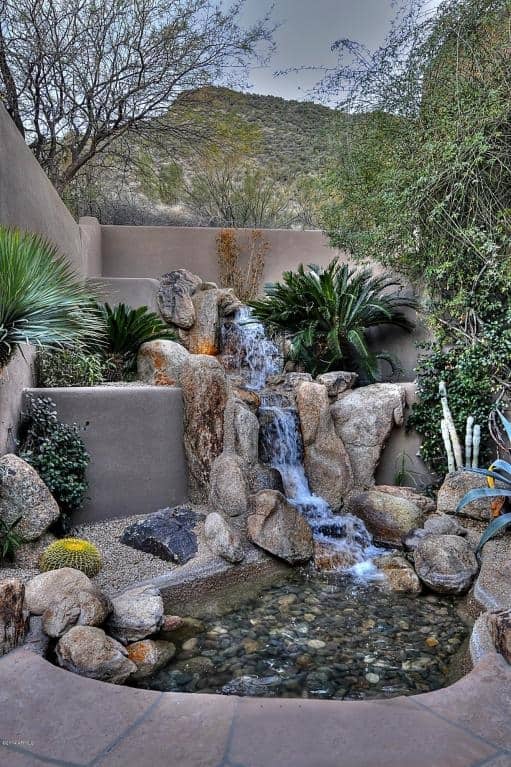 Minimal water is used in the creation of this waterfall rock pond and the plants are all succulents and cacti.


We step out to the water areas dotted within the back terrace, and to that wide-reaching mountain view.


The xeriscaping and desertscaping adds a dusty sand hue to the atmosphere. Stucco and stone are the order of the day for accompanying materials. Do you see the fireplace up under the covered patio? Perfect for a cool desert night.


Natural boulders are a large part of a desertscape. We love the big aloe plant beside the rock waterfall. The water cascades into the infinity pool.


Another view of the infinity pool – a great place for taking in that incredible view. Another Palo Verde tree grows out of the xeriscape and rock. And don't you love the lighting over by the Aloe plant?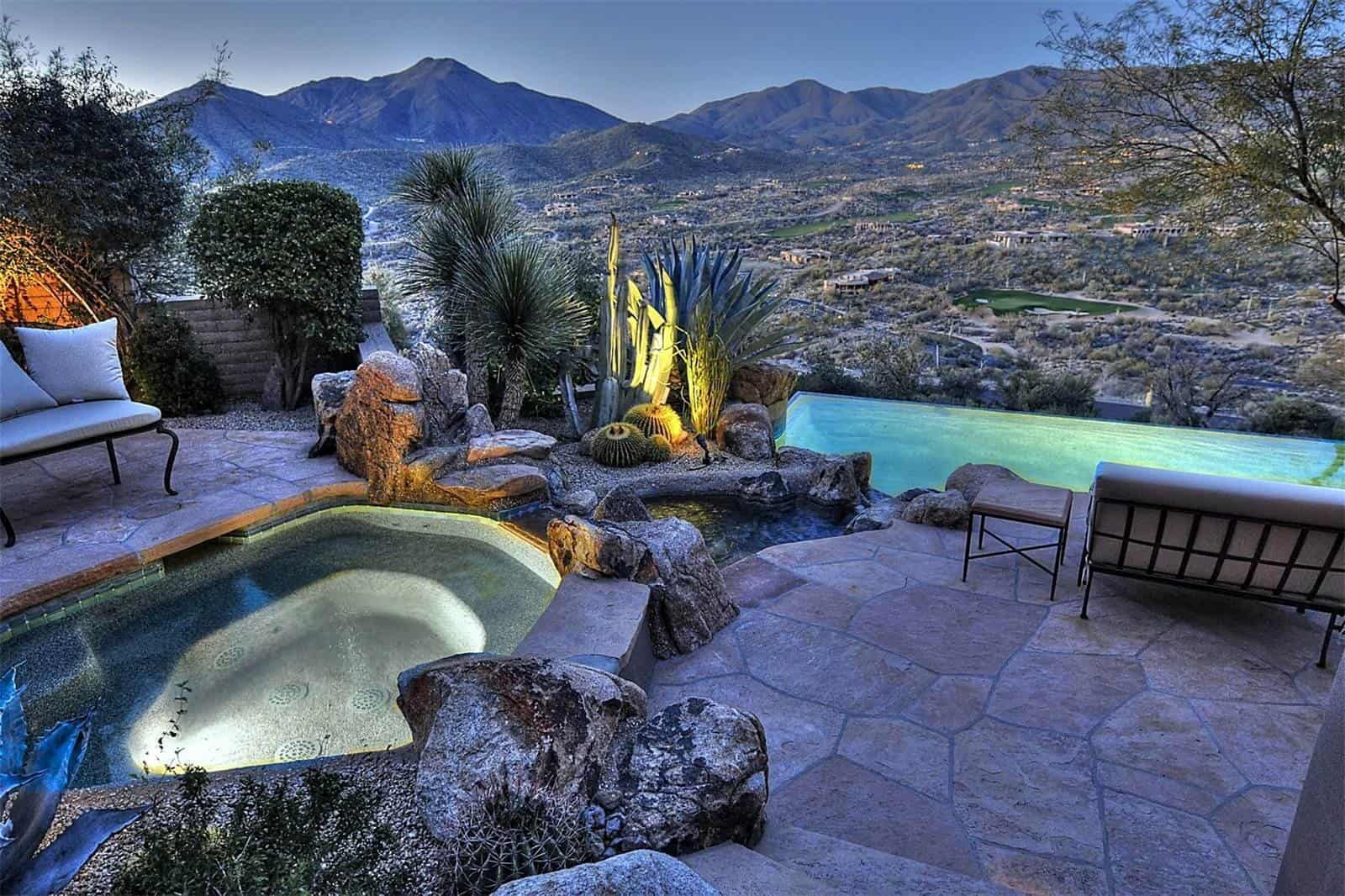 The spa pool sits above the infinity pool. But it makes no matter where you sit in this fantastic outdoor oasis. That unbelievable view is still the same.


It's always the view. It's the one thing you really can't change and that's why a great one will add so much value to a property. And by the way, this desert masterpiece is for sale. At $2 million less than build-cost. If you've been dreaming of a desert home, now's the time. Find it here: source.