Here are 10 iconic lounge chairs with footstools that will make you forget those utilitarian, straight-backed, four-legged furnishings of the old days. Cool colors coupled with sophisticated silhouettes make these sweet seats more than just something to sit on. Like functional art, these chairs by renown designers from across the globe are equally about relaxation as they are for beautification and modernization of living rooms the world over. Sculptural frames, high backs, organic curves and or course, ottomans – the ultimate in seating accessories – make these lounge chairs worth a look, and a seat. Check them out!
Eames lounge chair and ottoman, from Herman Miller


From museums like the Museum of Modern Art in New York and the Art Institute of Chicago, to the most sophisticated private living rooms around, the Eames chair and lounger is instantly recognized for its fashionable figure, its chic wood-and leather finish and its unrivalled quality craftsmanship. Husband-and-wife design duo Charles and Ray Eames created this cool chair for modern furniture company Herman Miller – a relationship born in the late '40s. Even to this day, this classic chair and ottoman combo is being reinvented with an evolving palette of materials, and is still considered one of the most identifiable pieces of contemporary furniture in existence.
Sinus chair and ottoman from Cor


Originally designed in 1976, the Sinus chair recently re-launched by Cor to mark its 50th anniversary proves that good design never gets old. This classic chair and ottoman combo looks like one fluid piece, thanks to its fluid form that seamlessly flows from back to seat to footrest in one easygoing arch. As you lean back and put your feet up, you'll notice an ever-so-light swaying motion, ready to rock you into total relaxation. The interesting cushions boast comfort and class, proving that you don't need a bulky easy chair to achieve pure comfort.
Egg Chair by Arne Jacobsen, from Fritz Hansen


Inspired by nature's most perfect form, the Egg Chair by Danish architect Arne Jacobsen is esteemed for its iconic shape and unrivaled ease. This chair invites you to sink right in and curl up, and with comfort comes contemporary style with a rounded silhouette that looks like it's indeed been carved out of an egg. Curled up in its large scale, you can't help but feel sheltered in this shell. The chair and ottoman are perched atop four-pronged polished chrome bases, and come with leather and fabric upholstery in a range of patterns and materials.
UP5 Chair or Donna Chair by Gaetano Pesce, from B&B Italia


In the spirit of Pop art, the UP5 Chair (or, the Donna Chair) by Italian architect and designer Gaetano Pesce boasts a heavy, rounded silhouette that is the picture of pure comfort. And if you think you recognize this striking seat, you're probably recalling the prehistoric Venus of Willendorf female fertility figure, more than vaguely echoed in this chair's shapely curves. More than just a piece of furniture, this seat makes a social statement – yes, the ottoman is meant to be a "ball and chain," symbolic of female captivity. Furniture, or art? The UP5 chair and ottoman is both!
Darius luxury lounger and ottoman from Leolux


The Darius from Leolux is a bright, bold design by Jan Armgardt which wraps you in luxury – specifically, its high back, integrated armrests and sweetly sunken seat, which all flawlessly flow from a single solid mass. The smooth silhouette leads your eye down its reclined back and curvaceous body, ending abruptly with down-turned corners touching the floor. Sit back and let your body sway in the subtly springy frame, finished in polished chrome. And this seat is dressed to impress – the upholstery fits like a glove, tailored to perfection. An accompanying footstool echoes the chair in its look and feel.
Wing lounge chair from Lyx


A classic silhouette gets a modern makeover in the Wing lounge chair from Lyx. And this chair's name resonates with more than just its classic silhouette. The chair's light frame reclines and moves with your mass and natural movements, creating the feeling of near weightlessness. A massive bentwood frame – the largest single piece ever used to create a chair – gives this design a modern edge, while cupping its soft memory-foam interior which adapts to your body's shape and temperature. How's that for custom comfort? Mirroring the chair's upturned lines and curves, a footrest is primed to pamper your feet while you kick back and relax.
Jaime Hayon Armchair 'Lounger' by Barcelona Design


A frontrunner in the new Spanish design scene, designer Jamie Haydon brings this vibrant monochromatic Lounger to his successful Showtime collection for Barcelona Design. Striking a beautiful balance between classicism and modernity, this sweet seat stands out for its comfortable yet contemporary silhouette finished in a rainbow of vibrant hues. The structure comes in painted tubular steel with micro-textured finish in mono-color or black. The seat, back and footstool feature varnished walnut plywood, stained black or lacquered. The arms, seat back and footstool come in the choice of fabric or leather upholstery.
Shrimp chair from Cor


We love the distinctive shape and the unusual inspiration behind the contemporary Shrimp chair and ottoman from Cor. German designers Jurgen Laub and Markus Jehs are behind this design, inspired by the decapod crustaceans and featuring panels that curve into a signature moon shape with curled-in corners. The hard shell encases their soft interior, much like its muse. This cocktail chair makes a fabulous addition to minimalist foyers and living areas, and modern dens that invite you to sit down, swivel, kick your feet up and relax. The Shrimp chair comes with options like leather or fabric upholstery in a selection of colors, and wood underframe.
Grande Papilio by Naoto Fukasawa, from B&B Italia


Boasting an ultra-modern, super-sophisticated shape, the Grande Papilio armchair and ottoman from B&B Italia makes a statement of strength. The design by Naoto Fukasawa features a fluid form with a high back and upward-turned seat corners, cupping your body in its strapping, statuesque silhouette. A matching ottoman invites your feet up into its gently dipped surface, offering total relaxation from head to toe. The base boasts a 360-degree swivel, making this the perfect seat at the center of your space. This armchair and ottoman feature a tubular steel frame with flexible cold-shaped polyurethane foam, finished in fabric or leather upholstery.
Grande Papilio, clad in Rattan by B&B Italia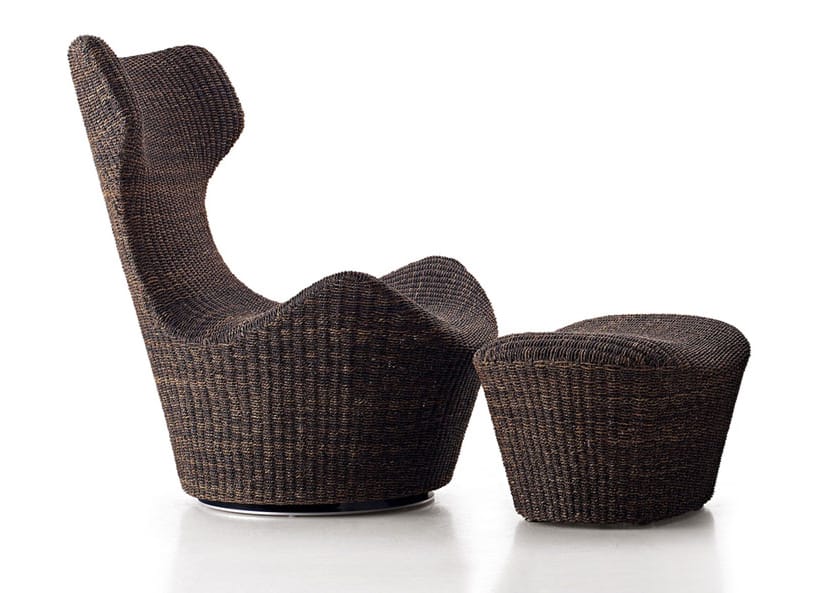 The Grande Papilio armchair and ottoman from B&B Italia also comes in a relaxed rattan finish – the perfect complement to its organic shape. The natural fiber weave follows every curve, accentuating the chair's flowing form.