Wall coverings have more functions than just looking pretty, but it is hard to ignore how far they've come in terms of appearance. Offered in a multitude of materials they end up looking immensely creative, fresh, and completely unexpected. See the depth of the pool when it comes to unusual wall coverings in our post. There's no telling what kinds of ideas you might come up with.
Unique Wallpaper
Unique wallpaper designs are emerging on the market every day. They become more and more imaginative than same old repeating patterns. But one of the best things about wallpaper is that it's relatively easy to install and you can definitely do it yourself.
Another great perk of wallpaper as a wall covering is that it often comes as a whole image. Wallpaper murals are much less expensive and effort-heavy than the real ones.
3D wallpaper designs may add a completely novel dimension to the interior as well, so don't sleep on wallpaper when shopping for unusual wall coverings. You may get pleasantly surprised yet.
Wall Panels
Wall panels require professional installation but they offer an entirely different look to your room. Roche from Bacacier 3S looks nothing like your typical wall coverings. Its massive size and unusual design are what makes it so attractive and modern.
Wall panels are not only convenient for soundproofing but are faster and easier to install than the more familiar tiles.
They often come in wood, felt, and ceramics, but you can easily find more affordable and simple materials, if necessary.
3D Surfaces
3D surfaces are popular as ever and never fail to attract attention. Use them in the office or home, bathroom or kitchen; they will bring a fresh touch to your interior. The designs are so diverse and intricate, you can really experiment with different shapes in different areas.
3D surfaces don't have to be overly ornate to look intriguing. Here is a wooden wall covering that intermixes small squares that protrude from the wall surface with those that don't and it looks just as designing.
Tiles
Tiles can be among the most unusual wall coverings but they aren't too widespread beyond bathroom and kitchen. Modern designs that can imitate anything from wood to textiles, however, must surely find a place in modern living rooms, bedrooms, and hallways.
Ceramic aren't the only tiles you can find on the market today. Most designs now come in porcelain and stone. Slate may not seem homely, but if you can appreciate the delightful heftiness of dark tones, it may be a good fit for your hallway, kitchen, or bath. If you are more adventurous, you could even create a feature slate wall in the living room or bedroom.
Wall Coverings of Unique Origins
Unusual wall coverings aren't just about the pattern or color combination. The material they're made of can bring so much in terms of aesthetics, texture, and finish. Here are some wall coverings that are made of unusual materials or made to look like they were made of something else.
Looking at Culte by Elitis, all we can see is patterned woven fabric that it was made to look like. Ultra modern and fun, it's pleasant both to the eye and palm.
Italgraniti Group's white paste tiles could fool anyone into thinking they were somehow made of real embroidered fabric. Such is the state of tile production these days.
Stone Wall
Regardless of what type of stone you prefer, it's become quite easy to introduce it into the interior with modern wall coverings. From marble to onyx to old style masonry, any stone variety can amplify the design.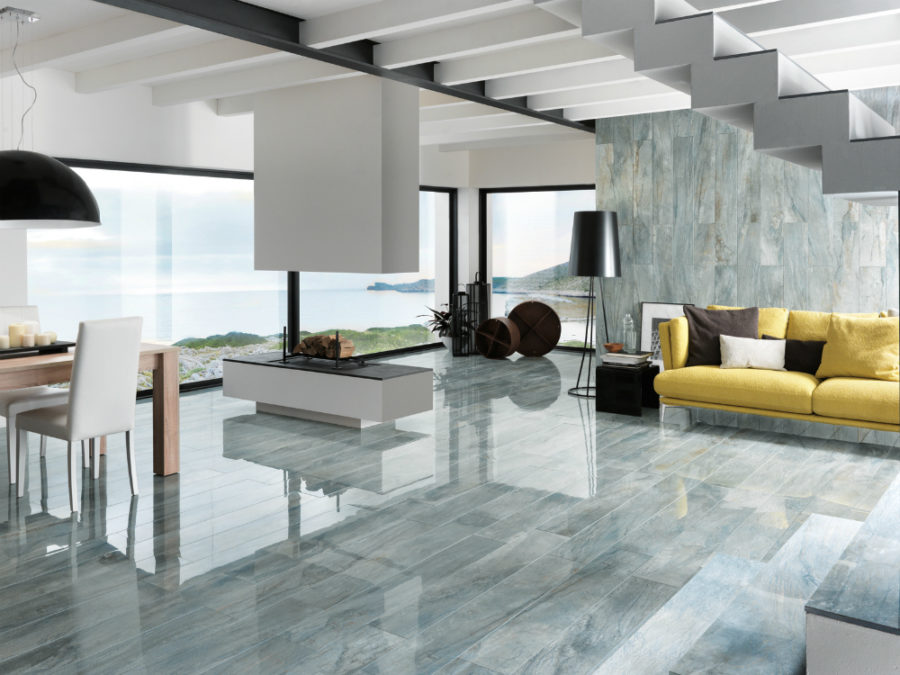 There is something very noble about a stone. And the more realistic it looks, the more gravity that quality gets.
If you're tired seeing the same old marble everywhere, though, Ceramiche Supergres offers an interesting take on the classic stone with their 3D tiles.
Unusual Wall Coverings
Wall coverings are more diverse and different still. Just look at the designs from Lea Ceramiche and Cotto D'Este! AMA Design offers a more romantic design that is still too unusual to ignore.
If you don't want to commit to the wooden wall covering, there is always an appropriate vinyl design that will help you get the look without all the hassle.
When choosing unusual wall coverings, be sure to learn everything you need to maintain them in a perfect condition. Some materials like real wood and marble do not like too much moisture, while things like vinyl might fade in the direct sun.