This modern concrete house in Sydney designed by Australian architecture firm Luigi Rosselli Architects wowed us right off the bat. From its strong yet simple horizontal presence to its contemporary style interiors, it was love at first sight!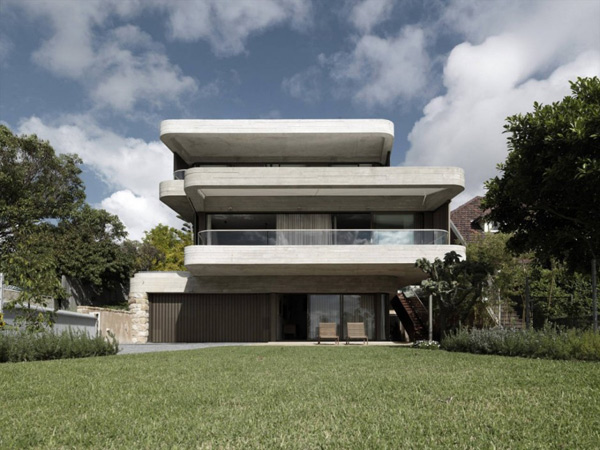 You've heard that 6 degrees separate each human on Earth from another, and it is this very principle that influenced this interesting home. "The Gordons Bay House asks how 6 degrees of separation might negotiate a web of complex associations in order to produce an architecture that performs for a wide group of people, while seamlessly integrating the built form with its context," according to the architects. This hillside home overlooks the bay with its three levels, each slightly skewed by 6 degrees to offer an altered view and relationship to the surroundings.


Inside, each of these angled levels pivots around an open double height gallery stairwell that floods interiors with natural light and leads you through each of the three levels.


The three floors integrate indoor and outdoor entertaining areas separated by floor to ceiling sliding glass doors that open onto the cantilevered open air decks.


Despite of its ultra modern aesthetic, this house maintains a true sense of "home" in its look and feel. Living areas are open and welcoming, illuminated by daylight. The fireplace feature in the piece de resistance, adding an ultra modern aesthetic along with that basic warmth and "livability" that defines the hub of this home.


But there's more to this unusual house than meets the eye. This eco sustainable home incorporates environmentally friendly materials and technologies like photovoltaic cells, rainwater collection tanks, and solar hot water and pool heating.
Luigi Rosselli Architects
photo credits: Justin Alexander, Richard Glover