Situated in Place de la Madeleine in Paris, this amazing apartment is a really rare thing to find. Ateliers Michael Herman have done an incredible job in bringing back the 200 year-old structure of the building while transforming the place in a complementary living space for a young family. The apartment occupies the top two floors of a residence that used to be made up by 12 maids' rooms. With archaeological precision, the original limestone walls and oak beams have been brought back to life, and combined with modern day materials such as glass and metal to obtain a surprising effect. The main characteristic of the design is the extensive use of glass, both in structural elements and in furnishings. The most interesting feature is the glass floor that separates the two floors and allows for the volumes to take incredible dimensions in height. There is a skillful mix of transparent glass and mirrored surfaces which multiply the space infinite times. As the footprint is quite small, the designers have enhanced the value of the heights by using vertical walls seven meters high. On the other side of this glass facade there is a small patio which seems to derive from the living room thanks to the use of the same hexagonal floor tiles both inside and outside. The presence of an antique marble fireplace and of a chandelier make this patio look like another room of the house.
A whimsical transparency and reflection effect is obtained by placing a mirror-top dining table under the transparent glass floor.
The contrast between the old and the new is very clear and yet the design is very harmonious. The contemporary furnishings used throughout the house enhance the value of the antique walls, beams and flooring.
The balustrade in metal is obtained by laser cutting, but the floral motif makes you think of ancient times and is completely in line with the old-new ambivalence of the apartment.
Transparent and reflective pieces of furniture, be they in glass, mirror or polished metal, are a constant of the interior design.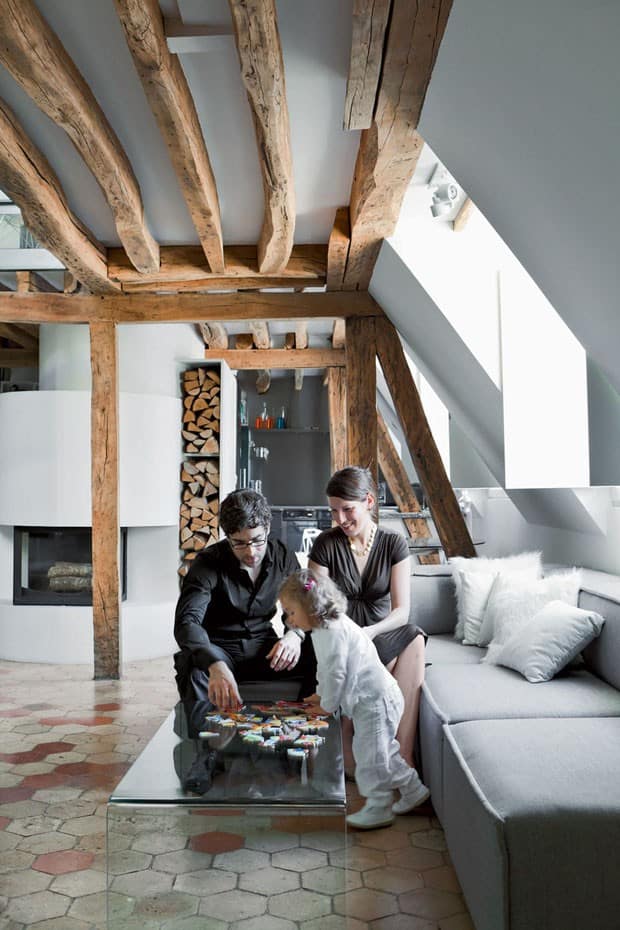 The old-new game is played also with the two fireplaces: the exterior ancient one in marble contrasts the contemporary round one of the living room.
The courtyard terrace is a privileged spot, enclosed among two stories high walls, out of which one is made of glass, creating a wallpaper-like view of the inside. The walls are covered with cascading green plants and some hexagonal grass patches are placed on the floor, like to confirm the fact that yes, it is outdoors.