Instead of walking into your home and being welcomed by a boring, dull corner, why not add a bold sense of style that is trendy, cozy and matches your personality? These trendy entryway ideas are sure to give your home a stylish welcoming effect as soon as you walk through your front door.
Bold Wallpaper
Contrary to popular belief, your entryway décor does not need to match the rest of your home. Instead, you can create a wonderful space that is unique to your home. Adding a bold wallpaper is the way to go. Consider using a bold hue or even a pattern. The idea is to have an eye-catching wallpaper that stands out from the rest of the home.
Floral Touch
Flowers are always a good idea. They add a feminine touch to any space in the home while still being soft and easy to work interchange when you no longer want to use them or want to change their specific color. Add a bouquet of flowers or a flower painting to your entryway for that touch of soft femininity.
Family Photo Wall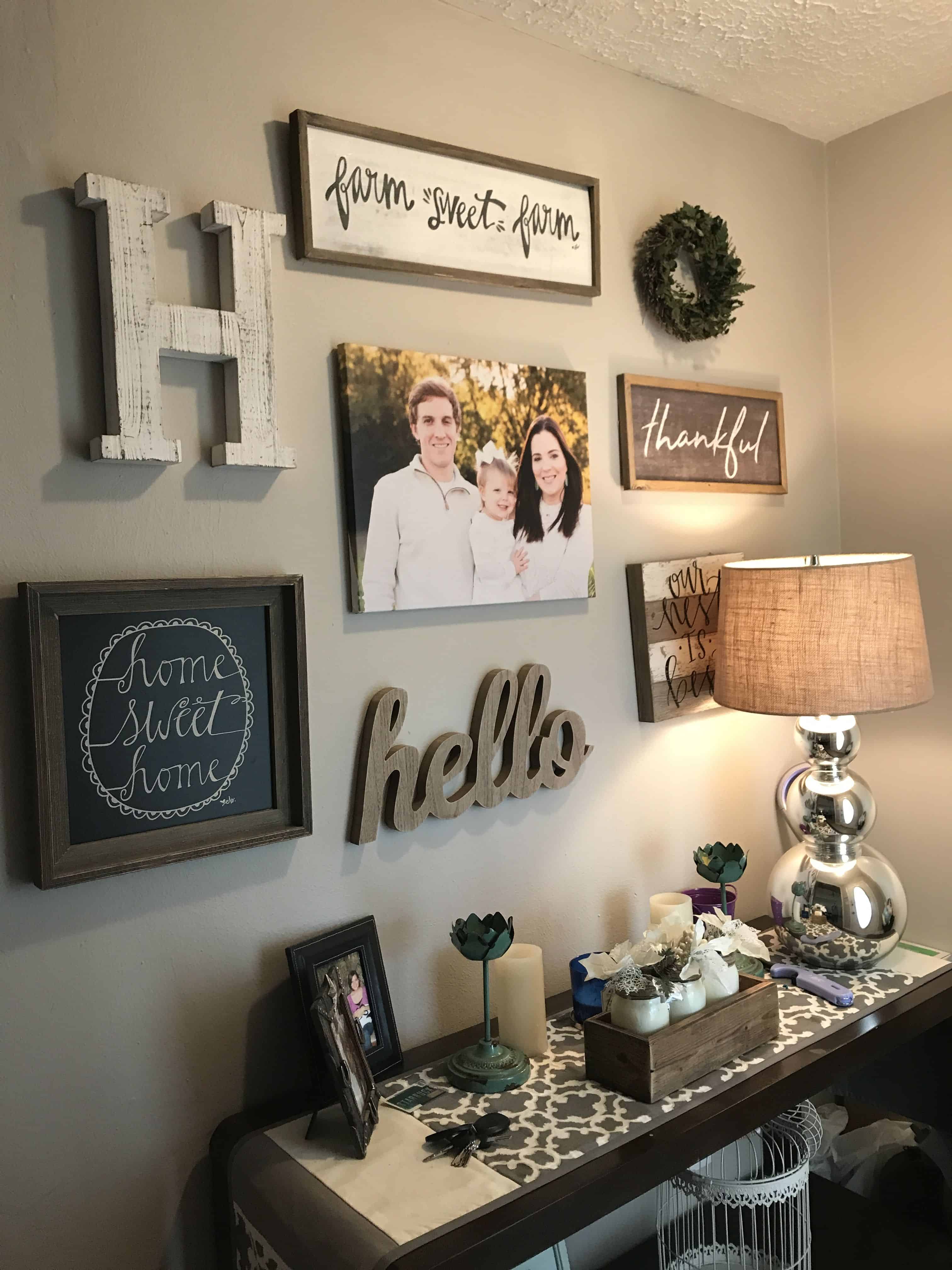 Hanging up photos on your wall may seem second nature. However, hanging them in your entryway may be the perfect excuse to welcome your guests to familiar faces. Having family photos as part of a gallery wall will add a charming, cozy feel that brings your entire home décor in a unique way.
Add a Bench
We are known for loving a good bench. Therefore, we had to include one in this post as well. A cozy seating area in your entryway just adds that perfect country ambiance in a simple manner. You can add a bench with a cozy throw pillow to create a small space that feels cozy and welcoming from the very beginning.
Darker Hue
Adding a darker hue to your entryway will create the perfect contrast with any pastel or lighter shade that you may have in the rest of the home. It will also create a chic, trendy appeal that brings out your décor and color scheme. Consider using colors such as black and navy for that bold effect you need.
Bold Touch
Select a bold color and add bits of it here and there while keeping the rest of your entryway décor in neutral shades. The bold aspects will give the space a crisp and clean appeal that brings beauty as well as a texture. Adding texture provides an intricate to any décor.
White and Blue
The beauty of using the color combination of white and blue is they add a charming, country chic effect anywhere they are placed. So much so that you can place them anywhere in the home and have that welcoming feel. Use the two colors together in a pattern or laid out around your entryway for that perfect color combination that is charming yet bold.
Unique Light Fixture
Having a light fixture in your entryway space is a must. You want to have a piece of lighting that illuminates the area your guests will have to step in first thing when they enter your home. A great way to do this is to have a unique light fixture. Add a sleek chandelier or a colored light fixture to brighten up the area while having an intricate appeal.
Second Living Room?
Many homeowners do not consider their entryway anything other than an area their guests will walk through. However, if you do have a larger than usual entryway why not make it a small living room space. Add a small sofa and an accent chair to create a cozy look that gives your guest a touch of what is to expect in the rest of your home.
Island Charm
Have you dreamed of being on an island even in the coldest weather? If so adding a charming Island feel to your entryway may be the way to go. Add a few palm trees, textured chairs, and a fun print for that classic Island charm that will transport you instantly.
Your entryway can be the perfect addition to your décor. Which of these ideas do you want to incorporate into your home? Please let us know your thoughts below.