Terrace House, located in Selangor, Malaysia, in a new housing development at Sungai Buloh. Although a new house, the clients wanted a few personal touches added to the space such as the impossible task of creating an inner courtyard. O2 Design Atelier thought inside the box and came up with a solution that involved a faux interior courtyard complete with trees and shrubs contained in a double volume space within the center of the home.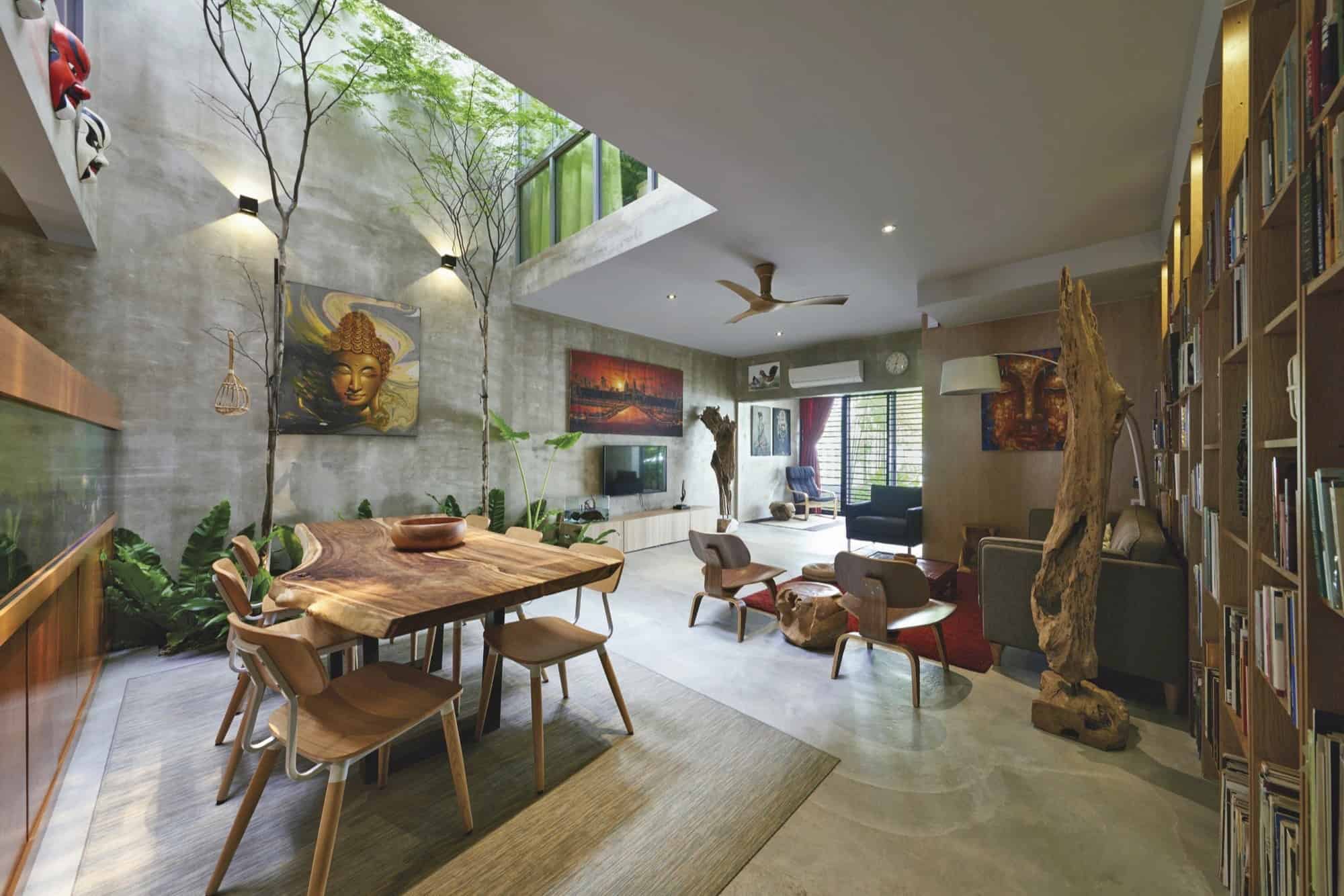 The rooms on the 2nd floor that overlook the faux courtyard do so by replacing walls with sliding windows that have the added benefit of creating cross ventilation as well as direct interaction with the courtyard below.


The natural grey finish of the concrete walls covered in plays of light and shadow add to the illusion of an outdoor courtyard.


The patterns of light and shadow are created by the irregular pattern of the polycarbonate roof tiles.


The front facade has also been filled with lush greenery, unusual for the housing development and created by reducing the large area previously determined for the parking space and by planting a second level above the carport.


When you first enter Terrace House a floating wall separates the foyer from the open plan social zone, but once you walk around the wall you immediately are drawn to the faux courtyard in the center of the space.


The dining room is situated within the faux courtyard with the living room at the front of the house and the kitchen at the back. Love that living edge dining table, it really adds to the green space theme.


The kitchen continues the concrete aesthetic that is used on the walls and floors, but as with the other rooms, wood is added for warmth, in this case via the millwork but in the other rooms a selection of modern and antique wood furniture has been used.


The 2nd floor is where 2 bedrooms are located ( a third is beside the kitchen), each overlooking the faux courtyard and each with an ensuite and while the 2nd bedroom's bathroom is in a separate room, the master bedroom's ensuite is only separated from the sleeping area with a curtain that can be drawn if needed.


The master bedroom has a view to the faux courtyard while the ensuite has a view to the garden on the bedroom's terrace overtop of the carport.


First floor and ground floor plans.


Front and rear elevations.
O2 Design Atelier.
Photography by Ian Wong.
I love this double volume faux courtyard by O2 Design Atelier. There is something about having a tree garden right inside your home that really appeals to me, and how awesome is it to create the landscaping centrally so that every room within the house could enjoy a view of trees. Of course, you could always encase trees in glass so that they can grow through the house.