This tiny starlight room, nestled high in the Dolomite Mountains of northeast Italy, will blow you away with its expansive views of the heavens. With glass walls, you are at one with nature. But don't think for a second that you'll have to give up the comforts of home. This room is for rent at approximately $350 USD per night but that includes a five-star dinner, and breakfast the next morning.
The exquisite menu includes: puff pastry of vegetables with mascarpone; noodles with pesto; confit of tomatoes with pine nuts; artichoke ravioli with crispy bacon; pork tenderloin wrapped in bacon with mushroom sauce, new potatoes and grilled vegetables; chocolate cake with warm with vanilla sauce. And to wash it down, a nice Cabernet wine. Seriously? Does this not sound awesome? And there's more.


Of course, there's the view. The dinner cannot overtake the view, no matter how many stars Michelin gives the food. There will be more in the sky.

At an altitude of 6,742 feet above sea level and with glass walls and ceiling, the view is panoramic – and utterly spectacular.


A double bed fits snugly inside the tiny glass room and can be angled to take advantage of the view of your choice.


You can watch a movie (entertainment stick provided), listen to music (all controlled from your smartphone) and adjust the temperature inside the Starlight room to your desired level.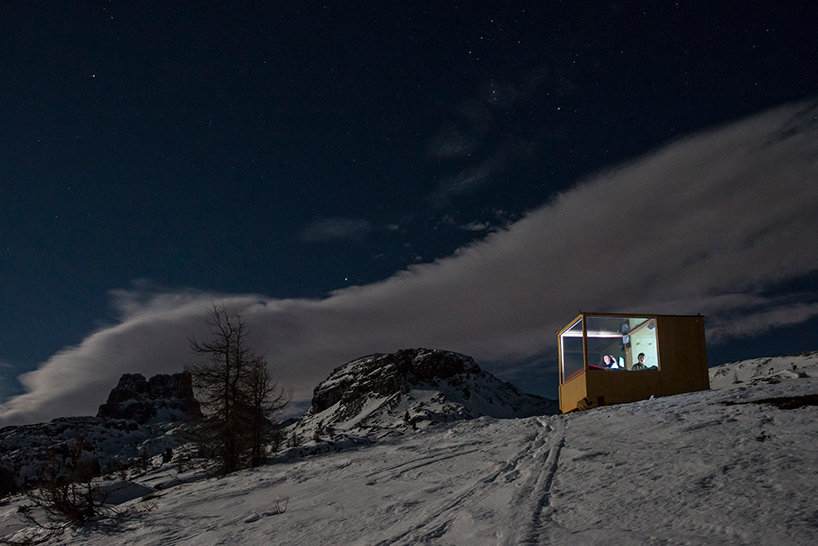 How on earth do I get there, you might ask? Snowmobile or snowshoes. But it's really not as remote as it looks – a mere 12 miles from Cortina d'Ampezzo, a major ski resort town. We'll take the snowmobile, thanks.


You'll arrive during the day and scope out the amenities. The glass cube sits on faux skis.


Can you imagine sleeping in a temperature-controlled room with glass walls and ceiling? You'd never want to close your eyes!


Angle the bed as you choose – one angle to catch the blood red sunset, another to catch the cool blue moonrise.


Did we mention the big screen TV and stereo surround system? We want to hear Willie Nelson sing Stardust Memories while we gaze at the Milky Way.


You'll have a 360-degree breathtaking views of mountainous region of Cortina, Italy.


But nighttime is the thing here, no question. Tuck yourself into that comfortable bed and watch the night sky drift past. What a vacation that would be. And you'll be first up on the slopes in the morning, if you're a skier. If not, the snowmobile will come and fetch you and take you back to the lodge. For more information, or to make your reservation, visit Dolomiti.