Cold climates, get ready for a hot new addition, courtesy of Canadian company Leaf House Small Space Design & Build. The Yukon-based firm created version.3 as a case study for tiny homes in -50°C temperatures, featuring a number of innovations designed to make the freezing cold livable. The house currently serves as accommodation for the instructor/coordinator of the Yukon College Campus. The 97-sq.-ft. house is located in Pelly Crossing, a town with a population of 230. Granted, not many people can stomach this kind of cold, but one look at this home and its technologies just might change your mind. Check out Leaf House Small Space Design & Build for additional info.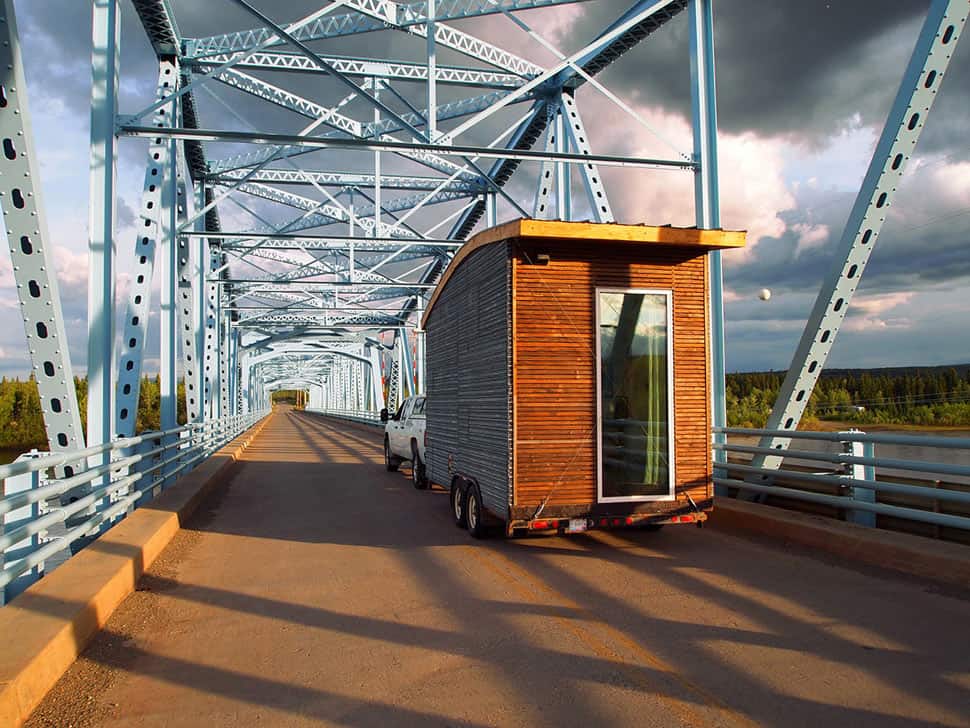 The house is equipped with a number of cold-climate innovations. Let's start with the R value. The house features the first use of Vacuum Insulated Panels, which are ideal for small homes in cold places, thanks to their high insulating value and small footprint.


The panels deliver an R value of R30 per half inch. Here, the floor and roof are insulated to R68, while the walls are insulated to R38.


Couple that with quad pane windows, which offer among the highest R values for window performance.


Making big strides in the small home realm, version.3 is among the first of it kind to include a Heat Recovery Ventilator (HRV) and the first to test the Lunos E2 HRV in North America – one of the first commercially available HRVs that works in compact homes.


The house is equipped with electric radiant heaters that deliver 800 watts of high-efficiency energy while drawing less than 15 amps of power. Awesome.


Another notable feature of the house is its light weight. A weight of under 5,000 lbs. is achieved through lightweight materials and efficient design features, from the outside in. Repurposed concrete galvanized mesh is used for siding, which is lighter than traditional materials, cladding foam sheathing and metal X bracing, which deliver added strength.


Inside, curtains replace cupboards, while countertops are made using concrete micro-topper and foam backer board, which offers the look of concrete at a fraction of the weight.
But what also makes this home work is its livability factor – a mirrored wall to visually double the tiny home; a Murphy bed that folds up when not in use, freeing up valuable floor space for daytime living; actually maximizing the home's footprint through the use of 2-by-3 framing, welded trailer extensions and slim roof overhangs.


Hot water isn't hard to come by in this town part of the world, thanks to a 30-gallon water tank with ventless and tankless propane water heater, Shurflo pump, shower and city water inlet.
An Energy Star-certified compact fridge/freezer satisfies the home's energy- and size-efficient requirements.
Other eco-friendly features include zero-volatile organic compound (VOC) paints and finishes; Forest Stewardship Certified (FSC) wood; and reclaimed materials; LED lights with touch dinners; and last but not least, a compost toilet.
It may be small, but this tiny home is it all. And most importantly, it's warm and toasty inside!
For additional information, visit Leaf House Small Space Design & Build.