Stone Forest presents the first complete collection for the Home and Spa hand-carved from unique Siena Silver-Grey Marble. This is one of the most beautiful natural stone bathroom collections we've seen from Stone Forest and on the market in general. Contact Stone Forest for details or for the dealer nearest you. Here's from the company …
Indulge in warmth and beauty as Stone Forest invites you to take the bath and spa ritual to the next level. Introducing Stone Forest's first full suite bath sculpture collection – Siena. Launching in summer 2010, this exclusive comprehensive suite of contemporary, sculptural forms is designed specifically for the home and spa.
The contemporary Siena Collection combines minimalist design with Italian sensibility. Hand-carved from rare blocks of Siena Silver-Grey marble, a striking unique material with subtle smoky tones and natural contrasting striations, this process (both natural and with the skillful eye of the stone-smith) allows for the inherent beauty of the stone to be expressed without embellishment.
Even more unique with Siena marble is the web-like inclusions that run contrary to the horizontal veining. Hewn and fitted with painstaking care, the collection offers elegant, simple geometric shapes with select pieces featuring alder wood inlays. This fresh set of seven designs establishes an elegant setting for your luxurious bath experience.
The Siena Collection includes:
Adagio Chaise Lounge
This organic, curvy chaise lounge is designed to support the natural contours of the reclining body. It is a sculptural wonder that is ergonomic and inviting. When used indoors, it absorbs the ambient room temperature, and when used outdoors it will absorb only enough sun to warm and cradle you in its sensuous, flowing form.


(click to enlarge)
Tamburo Vessel Sink and Banco Shower Bench
This uniquely deep barrel-shaped vessel is designed to perch atop the Banco Shower Bench. A cavity carved into the back of the piece allows for a clean installation, concealing the plumbing underneath.
Three slabs of marble combine to create this sleek, virtually seamless bench. Standard sizes include lengths of 36″ and 60″ but it can be custom-cut up to 60″ to fit space requirements and scale.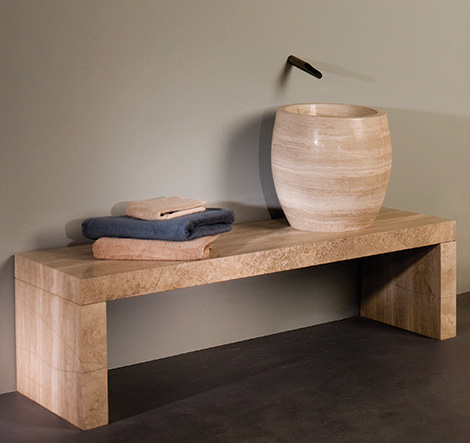 Lastra Vanity
This piece is designed as a base for a vessel sink. The design features three slabs of marble with an alder wood inlay for storage and pairs nicely with the Verona vessel.


Recesso Console
A recessed image of Stone Forest's beautiful Verona vessel, the Recesso console sink features an alder wood inlay for storage underneath.


Tazza Bathtub
This handsome, circular "teacup" shaped bathtub is not only a work of art – with a 60″ diameter it offers more that enough space for comfortable, indulgent soaking.


Trucco Make-Up Table
With an open base to allow for sitting, this make-up table also features an alder wood inlay and slim profile pull-out drawer. The open surface provides space for glamour and reflection.