They say salt is just the thing to bring a little flavor to the everyday, case in point – the NaCl House designed by architecture firm David Jameson Architect, Inc. Located in Bethesda, Maryland, this interesting home appears to be pieced together, like a jigsaw puzzle, with multiple volumes rising and falling within its single form. Dubbed the NaCl House (NaCl, the scientific term for "table salt"), there is definitely something scientific about the look and feel.

Straying from convention, this home opts for a staggered floor plan as opposed to traditional, horizontally layered layouts. The exterior is an artful combination of solid facades and glass, offering peeks at life inside this modernist structure. According to the architect, "The resultant massing reveals an imperfect, rough-hewn form recalling the natural isometric formation of mineral rock salt."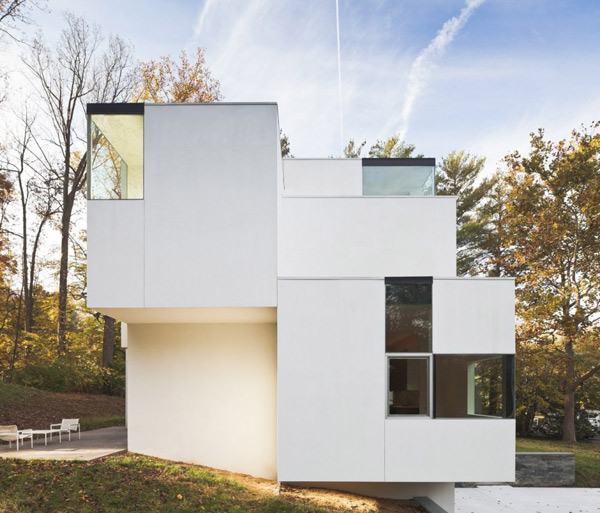 Minimalist interiors really let the home's unusual shape do all the talking, putting the spotlight on its plan that includes soaring two-storey living spaces, lined with overhead hallways and lofts, and glass-enclosed staircases zigzagging their way up and making a cool, clean addition to the home's modern aesthetic.


The open concept space lets one "room" (like the living room, dining area and home office, flow seamlessly into the others. Every area of the home is naturally lit through the abundant windows staggered on every wall, and the white backdrop bounces light around the space, further enhancing the sense of openness and brightness inside.


This innovative house falls in line with this multi-award-winning firm's forward-thinking architecture, which breaks convention and tends to march to its own drum, so to speak, such as the similarly styled inner courtyard house and the meditation house, among others.
David Jameson Architect, Inc.
photo credit: Paul Warchol