Known for some of the smallest, sweetest and strangest modern house designs, Japanese urban architecture appears on any corner, in every location. Tiny and peculiar, yet totally practical and livable, these contemporary residential designs are each unique and inventive, incorporating innovative materials, space and light in original ways. Concrete and aluminum takes shape in various forms, the likes of which you've never seen. Check out these urban house designs, by renowned Japanese architecture firm Atelier Tekuto.


Skin TV: Designed by architects Yasuhiro Yamashita and Takada Masahiko of Atelier Tekuto, this urban live/work home sits on a narrow 309-sq.-ft. triangular lot in Funabashi, Chiba, Japan, side by side with the railroad tracks. The home's cool, contemporary facade of blocked glass and steel rises up three storeys, with an industrial-looking outdoor staircase that zigzags its way up to the home's rooftop patio. The wall overlooking the rails is pretty much solid to reduce the noise and add privacy. The ground floor houses the beauty salon business, while the upper two floors are occupied by the family home – a chic, modern architecture that beautifully combines fashion and function into one compact frame.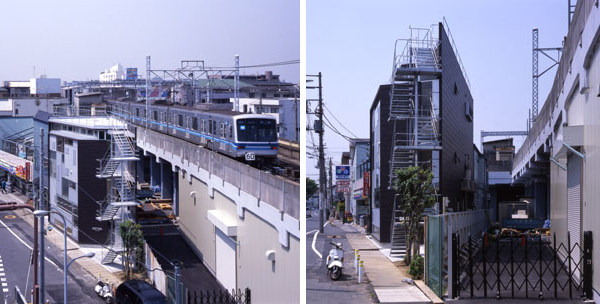 CHIKANIUMARUKOUBUTSU: This ultra-modern Japanese house in Nakano-ku, Tokyo was designed by Yasuhiro Yamashita and Tanaka Hirokazu of Atelier Tekuto as a balancing act of art, architecture and attitude. Here, the architects have adopted a totally contemporary concept of "home." A complex shape and minimal details seem to rest precariously on a single point on this compact 145-sq.-ft. property. Interiors are naturally lit via the home's few but focused windows.

Magritte's: This cool cast concrete house by Yasuhiro Yamashita and Tanaka Hirokazu of Atelier Tekuto has an imposing presence on its Tokyo urban streetscape – a difficult achievement considering its small size. The home's stacked industrial style makes its way indoors, where the lower ground floor, two upper floors and a loft level are all open concept, featuring concrete for floors, walls, ceilings and stairs.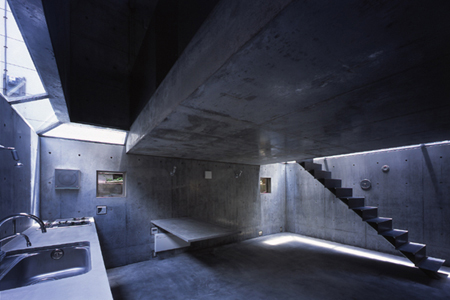 Ref-ring: This cool private home in Zushi City, Kanagawa by architect Yasuhiro Yamashita of Atelier Tekuto is as skewed from the outside as from the in, revealing the architect's innovative approach to housing. From its unique angled walls that seem slightly off center, to its irregular interior wood walls and windows, this modern home is a marvel of modern urban architecture. Add to this a building area of just 89.5 sq. ft., and you just can't help but wonder how the architect squeezed so much creativity and contemporary vision into such a small space.

Lucky Drops: Dubbed Lucky Drops, this modern house in Tokyo – another fascinating design by Atelier Tekuto – is tall, lean and long. Enclosed in transparent and translucent glass, the interiors are flooded with natural light that makes the compact 198 sq. ft. of floor space seem much larger than it actually is. Inside, ladders make this uniquely shaped space functional.

Crystal Brick: Atelier Tekuto designed the cool Crystal Brick House in Bunkyo-ku, Tokyo using blocks of glass that give it its "crystal" appearance. The glass blocks are stacked within a steel-grid frame, resulting in a facade that allows natural light to flood interiors. The home's living spaces have a luxury about them, but are mainly minimal so as to not detract from the innovative wall treatment. An amazing urban design…

Cell Brick: Sitting on a small corner of Tokyo, the Cell Brick House by Atelier Tekuto is a cool three-storey home featuring a unique facade of alternating steel blocks and glass. While the connection between architecture and nature may not be immediately apparent, this amazing home's checker-board exterior lets light permeate interiors, like sunlight beaming through foliage. On the inside, these steel boxes become built-in storage shelves.

Penguin House: Dubbed Penguin House for its unique shape (not to mention how cool it is!), this Japanese modernist architecture by award-winning Atelier Tekuto proves that big things can be done of a small space. This tiny modern house is nestled on a modest 322-sq.-ft. corner lot on Tokyo, and boasts an efficient use of space and a wonderful use of light that make it appear much larger than its compact, 899-sq.-ft. size. With no room exceeding 200 sq. ft., this small but sweet urban design incorporates high ceilings within its three storeys, and boasts a music room on the main floor, a bathroom and bedroom on the second floor, and a live/work space occupying the top level with wall-to-wall windows which give this design a "light-box" look and feel.