Japanese architecture firm FORM/Kouichi Kimura Architects designed the Promenade House in Shiga Prefecture, Japan, lending a minimalist edge to this busy urban street. The narrow lot, measuring 13 ft. wide by 115 ft. deep, holds this long, lean silhouette, an ultra modern fixture among its more conventional neighbors. The home's unique industrial edge moves from outside in, where concrete walls and an upper bridge style loft give it a commercial feel. Strategically placed windows add interest and natural light to unexpected places inside. Here's a sneak peek.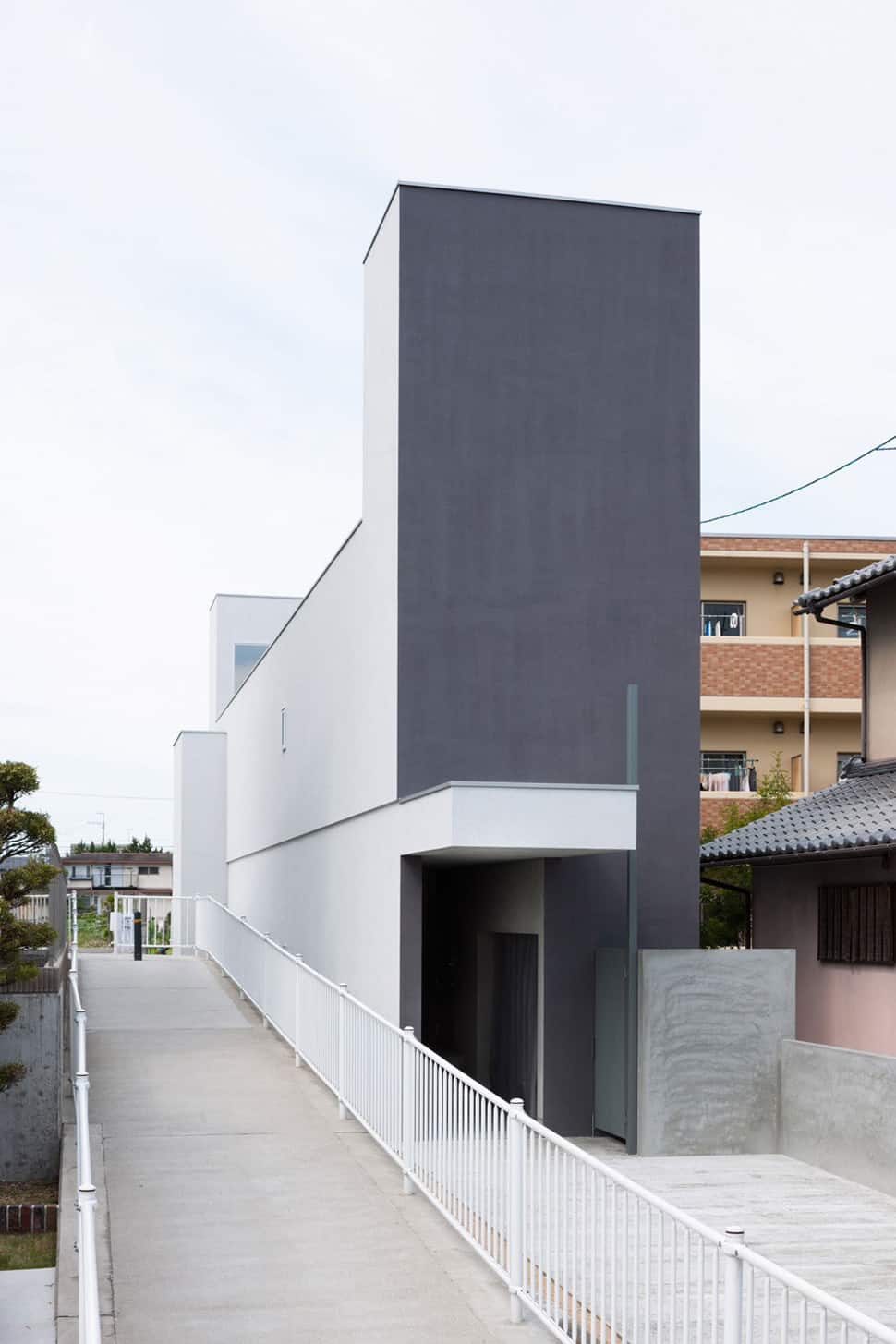 The tall concrete facade reaches up well beyond the home's actual roof, creating the illusion of added height and accentuating its extreme vertical presence.


The exterior features a massive concrete wall, dotted with windows that glow warmly from within.


The frosted-glass front door is tucked beneath a deep overhang, highlighting the way in and offering shelter on entry.


The narrow house is just nine ft. across, which is reflected in the interior layout featuring a long hallway leading through the main floor with living rooms branching off. The exposed concrete walls have a modern industrial style that complements the tall ceilings and elongated form.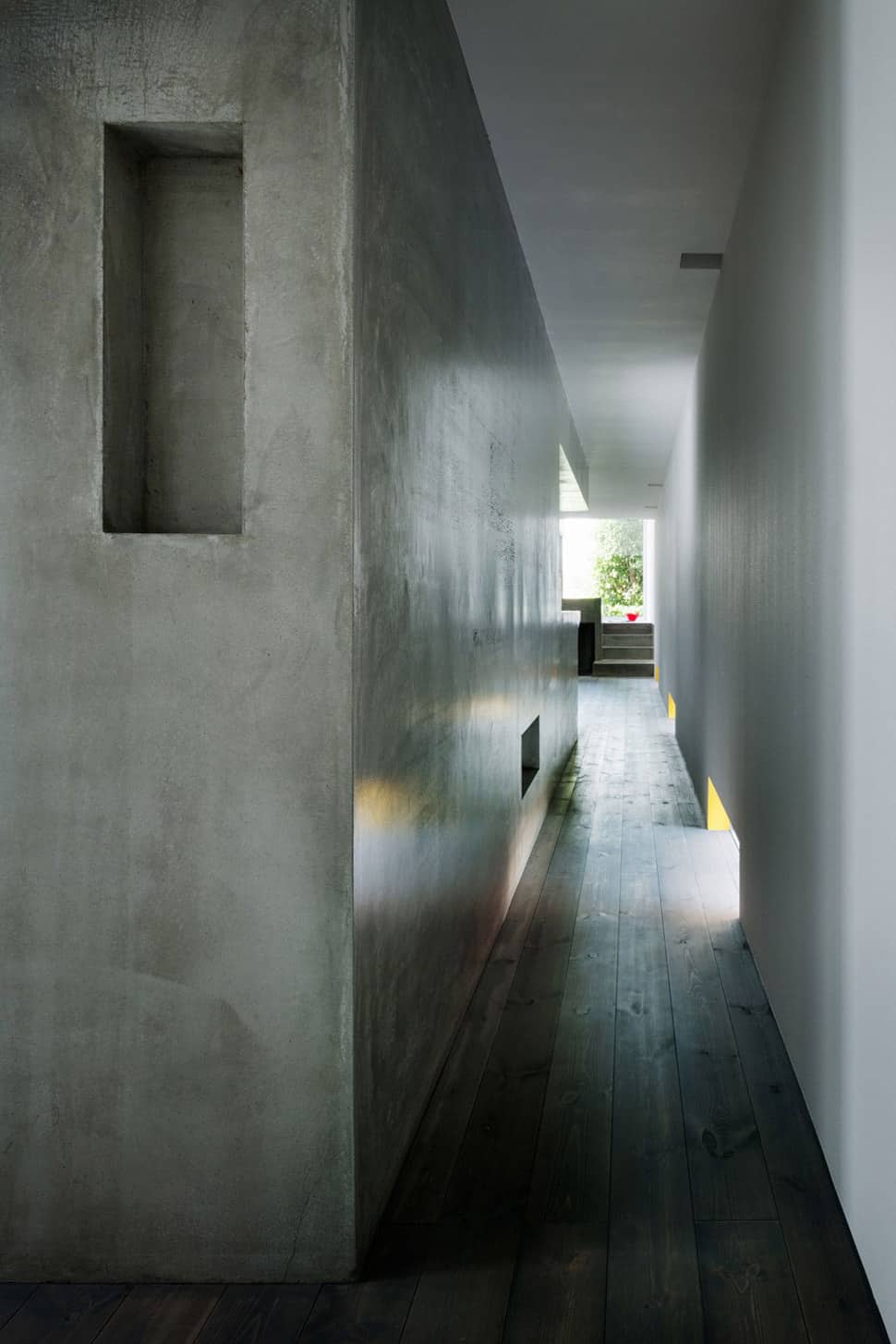 Along the hall, floor-level windows add light and lead you through the living and dining rooms, to the raised study at the end.


A window offers a lush green view, instantly warming up these cool, contemporary interiors with some natural scenery.


Just on the other side of the glass, a small but sweet garden lends this urban home a bit of private green space.


The home doesn't bother with wasted space in the form of walls. Measuring 89 ft. from end to end, interiors have a galley layout but boast a spacious feel, thanks to their open concept layout and tall ceilings.


In place of walls, different living areas are separated using furniture, steps and recesses.


This home is brimming with amazing, unexpected details, like the floor-level windows and built-in elements. Here, these two cool feature come together with a concrete table/shelf working its way around an opening, flooding interiors with natural light from below.


A luxurious curtain is a nice touch, offering privacy and come flexible separation, while softening the home's hard edge.


A two-storey space is an interesting mix of warm wood floors, a cool concrete wall, and an industrial style ladder leading to the upper level loft overlooking the area below.


Overhead, a vibrant green wall is an instant attraction, bring a pop of color to these neutral interiors and leading the eye upward.


The glass wall features a gauzy shade that can be drawn for privacy without compromising natural light.


Upstairs, the loft runs in line with the lower level hallway, creating an open catwalk overhead leading to upper living areas and offering a view below. A series of partial walls provide privacy while maintaining that essential sense of openness.


The green bridge leads past the bathroom, which is bright white – a clean contrast to the cool grey finishes appearing throughout.


From the architects, "The vivid green hallway surrounds the balcony, giving an impression of cleanliness to the adjacent bathroom and washroom. The other is connected from the kid room through the bed room to the bridge at the open-ceiling space. It is designed to control light; the light through the light transmissive curtain separating the kid room, or the sunlight from the high-side light in the open ceiling space leads you forward."


Dramatic, functional and oh so cool, this unusual Japanese house is certainly worth a tour. Here are some floor plans illustrating the layout:
First floor:


Second floor:


Section:


Site plan:


FORM/Kouichi Kimura Architects