The triangular lot was thought to be too small and unaccommodating of a new house, but Robert M. Gurney Architect proved that theory wrong with this urban house plan – a triangular, compact home design with tons of character. The obstacles went beyond the site's size. "Zoning setbacks, and a height limit consistent with the adjacent primarily one story bungalows, craftsman-style houses and small colonials, reduced the buildable footprint and building envelope significantly. In addition, two off-street parking spaces were required," according to the designer. The property, used for years as a dog park, was swooped up by a pair of local graphic designers who's creativity reached beyond their profession. They tasked the Washington-based architecture firm to design a small, open concept home boasting a relatively simple program with master bedroom, guest room and work space – all the homeowners would need to downsize while staying in their beloved neighborhood. What results is a striking live work house that packs a punch.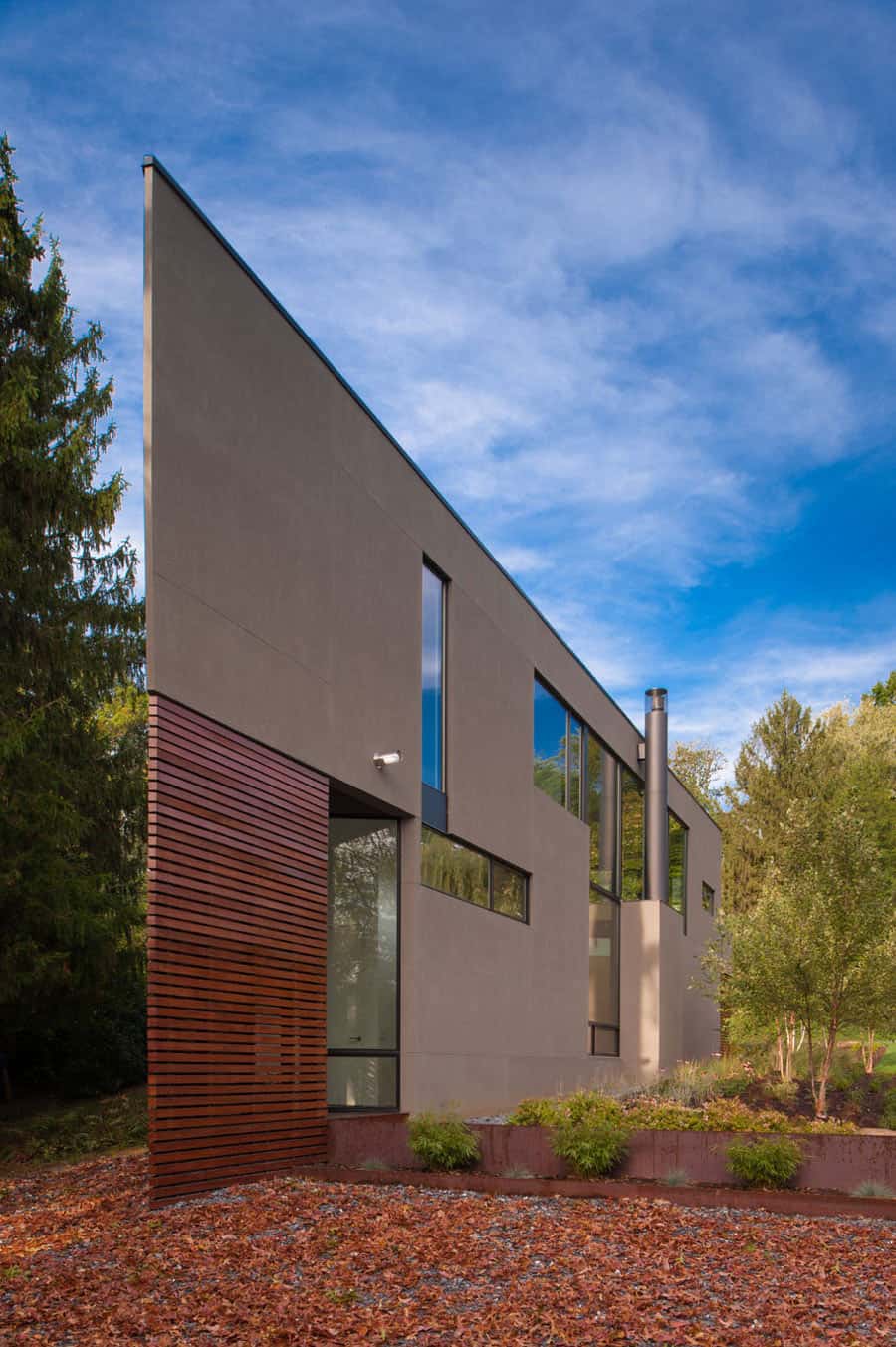 The house designed by Robert M. Gurney Architect met all the needs – a site-responsive plan that conformed to the municipal requirements, while standing apart from the neighboring homes.


At the heart of the house, a double-height living and dining room creates a spacious, open and airy space for socializing. A bridge runs overhead, crossing from office to guest bedroom while visually emphasizing the living area below.


Surrounding a modern fireplace feature, a glass facade floods the space with natural light and views. A trio of skylights overhead let more light spill down into the areas below.


The kitchen is clean and simple, affording this typically hectic space some sweet serenity. Modern touches, like the pendant lights suspended above the center island, minimal cabinet hardware, and the stainless steel backsplash behind the stove add edgy flair.


Follow the stairs up to the guest bedroom suite to one side of the home, and the office on the other.


An overhead catwalk connects the two separate spaces.


The office is open, maintaining a connection with the living areas below.


This simple bedroom area features a wall of built-in closets, and a shelf which shares the wall with a translucent panels enclosing the ensuite on the other side.


The semi-see-through wall maintains a connection between the sleeping and bathing area, and lets light flow through, while delivering the privacy needed.


The view from outside reveals intriguing pot light patterns through the home's large windows.


This house may be small, but it is sweet!
Floor plans:


Section:


Site plan:


Robert M. Gurney Architect
via HomeDSGN