The Split House designed by TWS & Partners gets its telling name from its fashion and function. This live work house is a serene space located in a dense hotspot of West Jakarta, Indonesia, used as a business and home to a family of four, all in one. The architects distinguished between these two very different uses by combining two neighboring city lots and arranging the design in two volumes, achieving privacy and separation between spaces. This also allowed the family to occupy the house during this extensive renovation project. Here's how it all went down.

The design features a distinctive slope roof which stands on two separate lots, with one roof rotated 180 degrees so it opposes the other. The roof that sloped down to the street is the entrance to the "live" portion of this two part house design. The other entrance leads into the work space. But the side by side entries are deceiving, with interiors split vertically, organizing work space on the ground level for easy public access, and living areas on the upper floor where privacy is key.


Welcoming residents and guests, a two-storey interior courtyard features an open roof with a tree rising through it, climbing past the windows lining the upper level living areas.


A staircase lures you inside with its bold blend of industrial and minimalist style. Move past it to work, or up it to live, play and sleep. This dramatic gallery space is enclosed by a frameless sliding glass wall, randomly patterned black and white floor tiles, and a cage light fixture dangling overhead.


The home's public office area is housed in a wood clad hallway lined with folding walls which open to reveal work stations on either side. When not in use, the walls close and appear to be just rich, wood paneled walls.


This cool, contemporary reception area is all business.


On the other hand, the "home" part of this live work structure is modern, yet warm and welcoming. The kitchen and dining area occupy an intimate single level space tucked beneath the loft overhead, while the living room is a bright, airy two storey space with a soaring ceiling topped by a large skylight overhead. The white walls and polished white floors amplify the natural light flooding the space.


The upper level living areas and encircled by sliding glass doors which open to the sheltered landscaped deck outside.


The home's interesting architecture and distinctive roof are echoed in the soaring vaulted ceilings.


In contrast to the cool, white living areas, the bathroom is dark, dramatic and intimate, thanks to its warm wood ceiling and earthy finishes.
First floor plan:


Second floor plan:


Third floor plan:


Roof top plan:


Sections:


Elevations: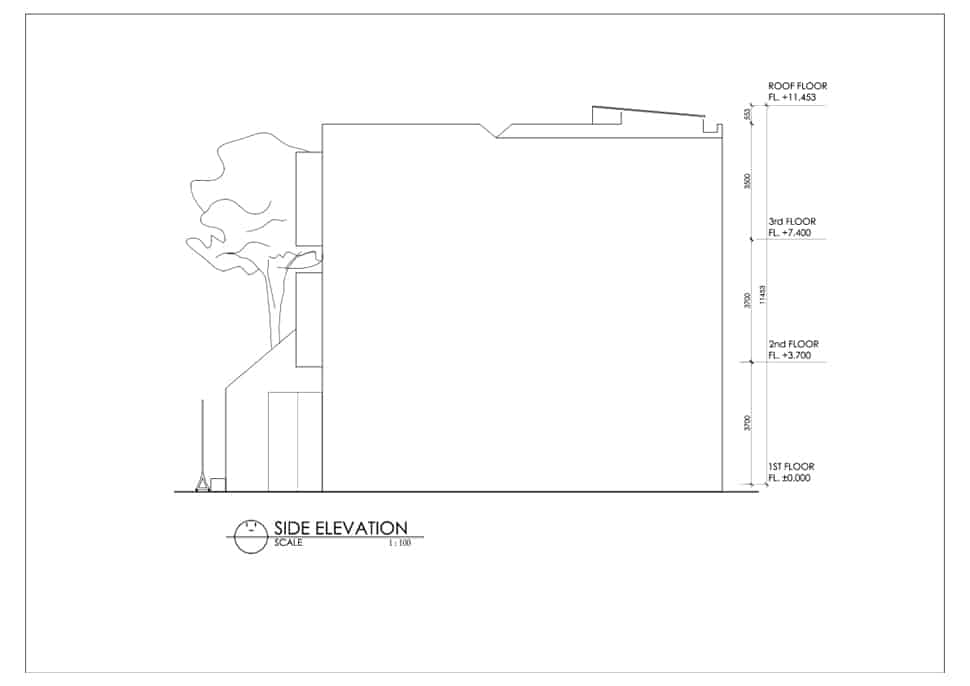 TWS & Partners
via Arch Daily