Patterns just like bold colors can be a bit daunting when it comes to adding them to a room. Many of us have no idea how to play up the appeal of pattern or even how to incorporate pattern into the décor we already have. Instead of adding more items or completely redecorating your home to bring in more color consider adding pattern. When done correctly pattern can help improve and modernize the décor you currently have. Here are 10 ways you can incorporate pattern into your home.
Kitchen Backsplash
The kitchen may be one of the last areas of your home, you may contemplate adding a pattern to. However, it is an excellent area to add visual interest. A kitchen backsplash is the way to go when it comes to adding patterns to your kitchen space. Choose tiles in unique shapes in bold colors to create a unique pattern that stands out from the rest of the room.
Mix and Match
Don't settle for just one pattern when you can mix and match. The key to mixing and matching patterns is having one color scheme that works with the rest of the colors in that specific room. This can be done with wallpaper, tiles and/or home accessories.
Patterned Throw Pillows
Throw pillows are the easiest and best items to personalize your home with. You have the ability to interchange them as many times as you please. Therefore, adding a few patterned ones will give the room an easy pop of color without the serious commitment.
Carpet
Carpet is an excellent way to add a creative aspect in a home. If having a patterned carpet on the entire floor seems a bit much consider having a rug instead or carpeting your stairs instead. Another great way you can do this is by purchasing carpet tiles that are extremely easy to cut and integrate into your décor.
Patterned Upholstery
Take an old armchair or two that seem worn and tarnished and give them new purpose by changing their upholstery. Doing so is an excellent way to upgrade an old favorite. You will be enhancing the entire look of a room by adding color and/or pattern.
Wallpapering
By wallpapering, we mean adding wallpaper to one wall of a room, not an entire room. The reason being adding wallpaper to all the walls in a room can be a bit overwhelming. Instead, choose an accent wall that would work well with any patterned wallpaper that is applied in that area. If you do not know what color to paint the older walls, paint them the light color on the wallpaper. This will give cohesiveness to the entire room.
Don't Forget Your Outdoor Space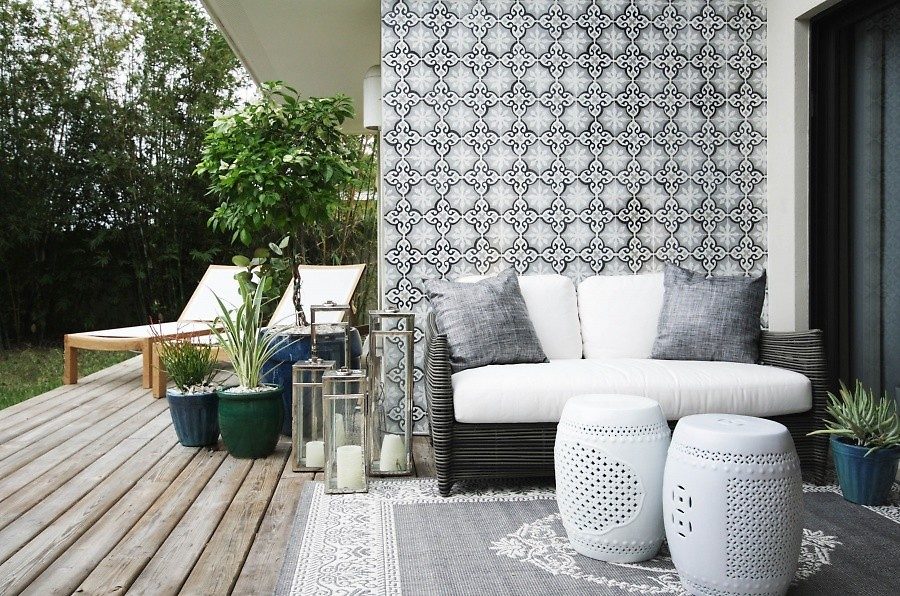 Patterns can be placed outdoors as well. Consider having an outdoor accent wall. Having an outdoor accent wall will bring together your indoor and outdoor space seamlessly. It creates a cozy feel from the inside out.
Take Bold To Another Level
Take two contrasting tiles and change the appearance of your bathroom. The bathroom is an excellent area to be bold with your design and pattern options. Take bold to another level by using the two contrasting tiles and creating a unique pattern that you love.
Dress Your Windows
Do not be afraid to have patterned curtains while keeping the rest of the décor monotone. The best way to do just that is to have your patterned curtains be the center of attention. Let them become the very first thing visitors look at when they enter the room.
Patterned Couch
Yes, we said it if you want a specific focal point for your living room space a patterned couch is the way to go. They are bold and in charge without making to decorate around them. The key is to work with colors that will emphasize the pattern instead of working against the pattern.
Working with patterns does not need to be a difficult task instead it can be quite easy. Remember, even if patterned items scare you including one or two in your home will give you the visual interest you seek. Let us know which pattern is your favorite to incorporate in your home.