There is a fine line between bland and charming when it comes to decorating with white décor and/or white sofa. However, there are easy ways you can add a white sofa piece in your living room without having that almost "boring" aesthetics. The following ideas will show you how to add a white sofa for a stylish living room that screams contemporary and chic.
Double white couches
Go big or go home is the perfect way to embrace the white sofa trend. Additionally, adding two or more white couches in the space and pair with bold throw pillows for that hint of color that makes it contemporary. Use other neutral colors to allow the stark white couches to be bold in the area.
Textured White Couches
A simple couch may do the work, but a textured white couch will elevate the appeal of the living room. Furthermore, the texture of the couch will bring a contemporary look while still being simple. The key is working with other simple décor pieces that allow the white couch to make the big statement it was intended to make.
Go Glamorous
Go for a glamorous touch when it comes to selecting your white sofa. Pair with glamorous lighting to bring that classic, glamorous vibe to the space. The key is working with other chic décor pieces such as adding a chandelier and/or other light fixtures for a well-rounded appeal.
White with Pops of Red
We love a pop of color, especially in a white space. Consider a bright pop of color such as red, red makes an excellent pop of color because of how daring it is. Use a red accent chair for that added brightening effect or even throw pillows to bring the hue in smaller doses.
Off-white Sofas
If you are not keen on having an all-white sofa an off-white color could be the perfect hue that is right between having a stark white and a beige shade. Nevertheless, the off-white will add to the neutral palette without disrupting your current décor.
Add a Rug
We love a good rug in the living room, especially when it is paired with modern white sofas. The classic appeal of the rug paired with the modern aesthetics of the rug will brighten the area while bringing your décor full circle.
Muted Additions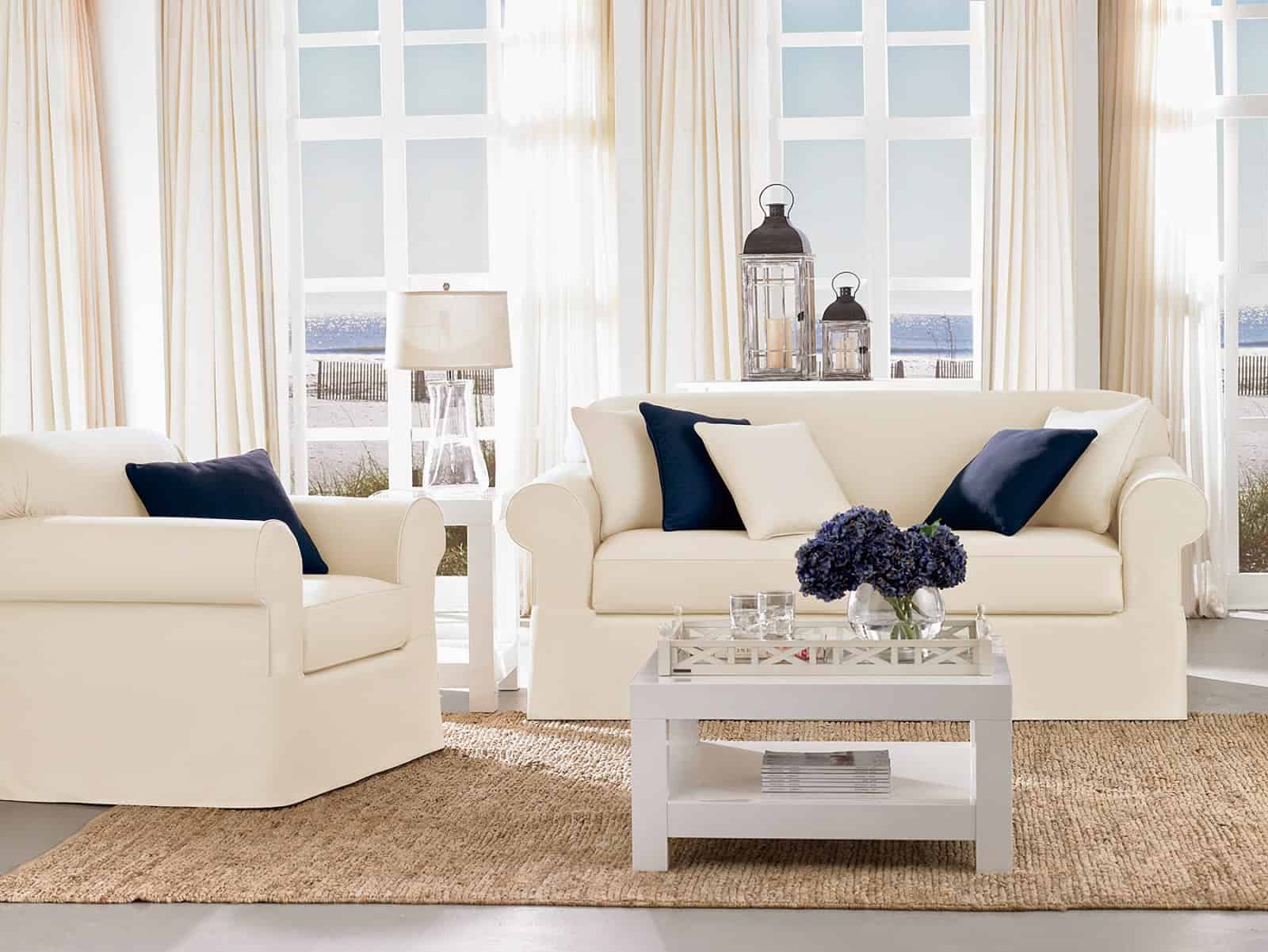 If bold hues are just not your favorite, muted jewel tones is one way to go. Doing so will allow you to add color to your white sofas while not taking away from the traditional white décor. Pair with additional jewel tone pieces to bring your décor together in a seamless manner.
One White Sofa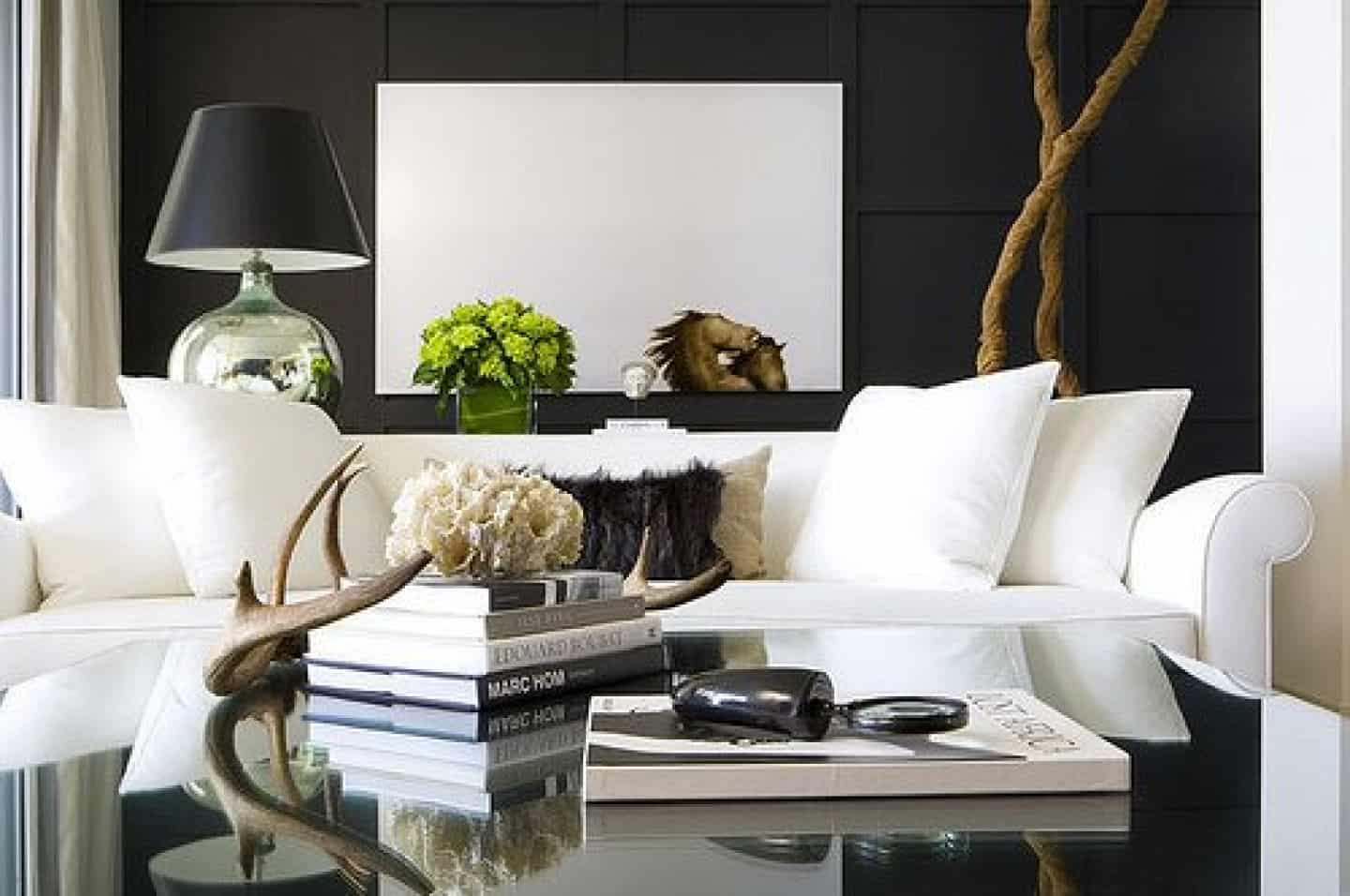 Having two white sofas can be a bit overwhelming when you want to have a neutral palette yet don't want to have a "boring" feel to it. One way to avoid this is by having one white sofa instead of two. Two can be a bit much, but when having one couch instead paired with a bold accent chair can be exactly what your décor needs.
Patten Pillows
Patterned pillows could be exactly what you need to add that much-needed texture that could be a bit difficult to achieve otherwise. Use multiple different pillows in various patterns for a completed look that works well with your white sofa.
Custom
Considering a crazy idea, but can't find your preferred design? If this is the case a custom white couch could be exactly what you need. Not only will it be the perfect couch for you and your space, but it will make a bold statement overall.
Adding a white sofa in your living room could be exactly what you need to expand on the space. Which of these ideas is your current favorite? Please share with us below.