Having a powder room or a guest bathroom that is smaller in square footage can be a bit intimidating due to not knowing what should go in the area without being minimal or boring. The good news is there are multiple different ways to decorate a smaller space that's never boring or dull. Furthermore, our decorating ideas are not only charming and chic, but they will ultimately make the small room appear larger. Here are our ideas on how to embrace smaller square footage and truly fall in love with it.
Floral Essence
Sometimes it can be intimidating to bring a bold print to a small room, especially a small bathroom. However, there is something quite feminine and chic about floral print. It not only makes sense to have but it embraces the room like a warm hug. It's the perfect pattern that won't overcrowd the room or make it feel out of place. Bring in a darker floral display for an edgy touch that feels balanced and chic. Add a daring mirror to fully engulf the room with contrast.
Palm Trees
Another bold wallpaper that will make the room come to life- palm trees. Palm trees are one of the chicest, dope wallpapers around, they not only make any room feel tropical, but they are so bold that it embraces the room overall. Furthermore, the pattern makes a statement that feels unique and sleek. It's all about making the room come to life with a color wave that's chic and fun to the room. Consider it one of the easiest ways to add a touch of bold with a tropical punch.
Kiss of Pink
One shade not many individuals consider is pink. It's one of those shades that seem a bit too "feminine" or even too much for many. However, when it is paired correctly with masculine touches here and there, pink is the perfect in-between pairing. It's one of those shades that speak for itself, adds personality and keeps the area cohesive a win-win for all. Furthermore, you get a blend of everything in one.
Marble Glam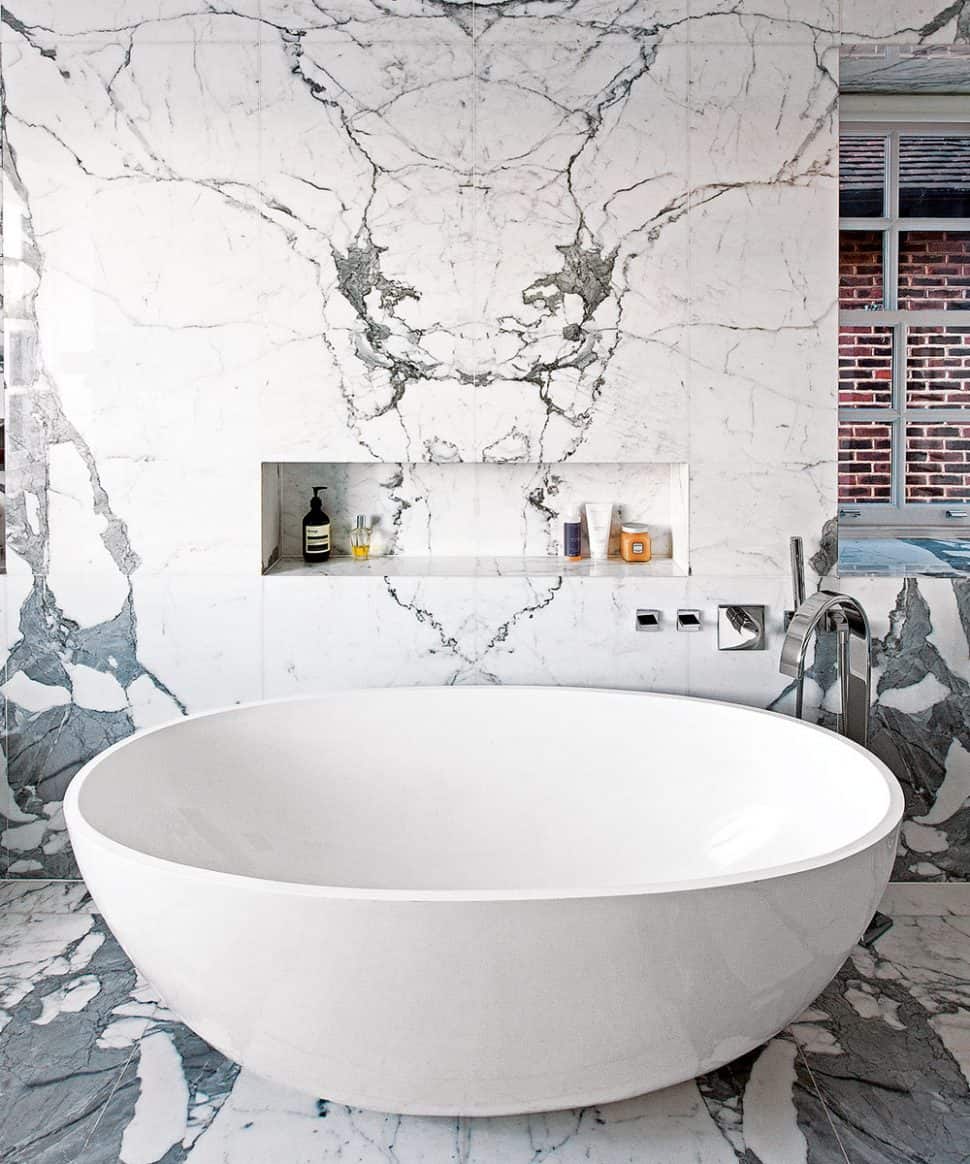 What many tend to forget is that marble comes in multiple hues including white, black, beige and even gray. Not only making it extra glamourous but twice as convenient. You can almost say, having a glam touch makes sense when it comes to your smaller bathroom. Furthermore, you want to embrace the idea of a unique vanity, as the perfect touch that adds a glamorous touch to your new-found glam.
Minimal Sanctuary
Though minimal décor is not our main preference when it comes to decorating a powder room, having a sanctuary makes it not only easier to have and decorate around, but it forces you to want to spend extra time in such a relaxing space. Use clean lines and symmetry for that well-balanced look. Nevertheless, bring in a smaller bathtub and ensure it takes up just the right amount of space. Add a plant or two to truly engulf the room with nature.
Oak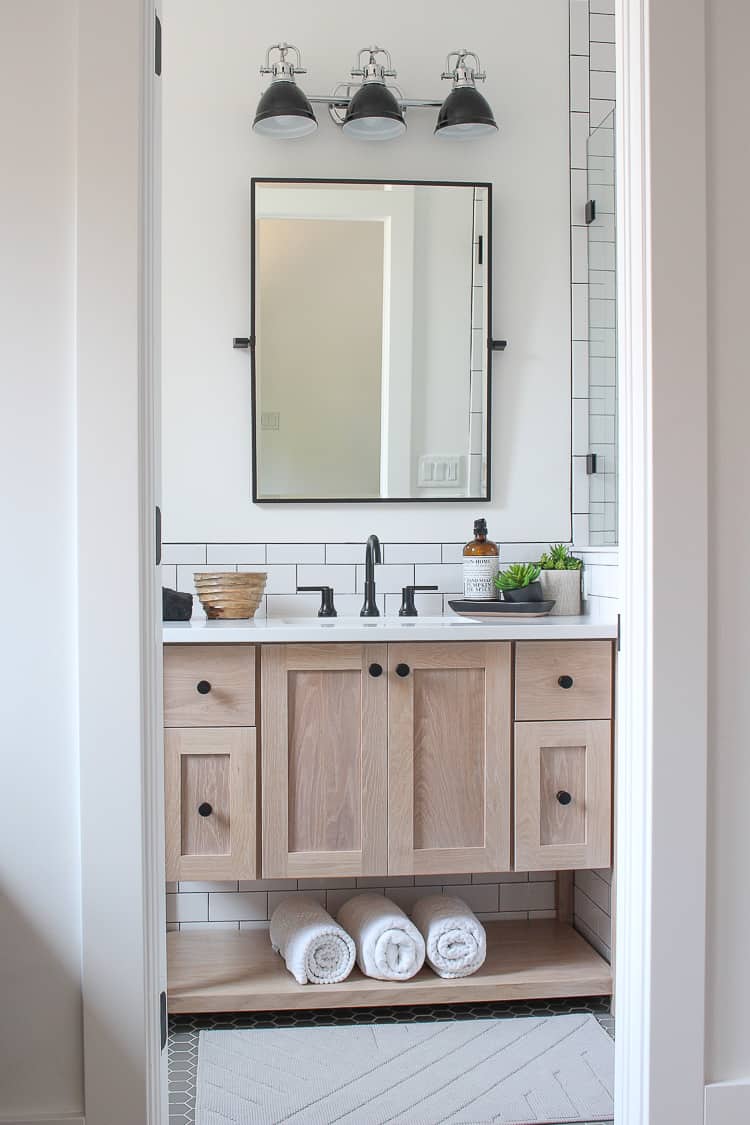 For those that want a farmhouse feel while getting the coziest touch possible in a room, bring in oak wood. Oak is not only easy to work with, but it comes in multiple different shades such means you get to customize the room to the color and texture you decide. Use a darker shade when you want to give the space the ultimate warming effect and use a lighter hue when you want to remain sleek and contemporary with a hint of wood.
Neutral Chic
Just like minimal décor, neutral bits make a statement on their very own. It's almost as if they seamlessly come together without missing a beat. Think of it as the perfect form of using the room's entire square footage. The idea is to enchant the room with as many neutral shades as possible, creating a contrast that elevates the area without having to use any bold shades. It's all about bringing the room back to life and having it feel unique and chic. Furthermore, bring in a neutral patterned set to make the room have a hint of modern where you like it best.
Mix Tiles
Tiles are essential to the bathroom, almost every and any bathroom can make excellent use of different tiling. Therefore, when you have a small bathroom you want to bring in multiple tiles and allow them to be the statement of the space. Whether you use tiles of the color or one with the same texture, it's completely up to you. The key is working with a set of tiles that blend effortlessly. Use chic patterns to make a bold statement.
Large Mirror
Anyone and everyone who has ever redecorated their bathroom will tell you how important having a mirror is, not only will it make the room feel larger but it will bring texture right where you need it most. Bring in a large mirror to make the room instantly feel brand new even if you don't change the décor you already have in the room. Just having that mirror will instantly give the room a revamp.
Black & White
Two-color pairings that will forever make sense to any room regardless of its size is black and white. Both shades work perfectly together, they brighten the room and seamlessly make a space feel put together. Always enhance the room overall by having these two colors displayed effortlessly throughout. The idea is to have the room feel new and fresh every time you walk into the room. You want the room to feel as effortless as possible.
While having a small powder bathroom might seem intimidating. but by having one of these ideas the room will instantly feel larger and fresh.