There's something quite magical about all of these designs. Throwing caution to traditional home design and creating something more personal, it's such a great route to take when decorating your space. These 15 painted floors will make you want to grab a paintbrush and start getting creative. Let's dive right in.
Claire Brody Designs beings out journey through painted flooring with this gorgeous, white-covered hardwood floor. We love the bit of distressed and softness that it creates throughout the entire home. And it can be mixed nicely with both contemporary or vintage decor.
We found this gorgeous, modern floor by visiting One King's Lane. You may be surprised to know that this too is a hardwood floor but it's been painted in such a way that it brings the illusion of an expensive, tile floor. It's chic and powerful, something perfect for dining rooms or home offices.
You can learn to paint your tile as well. We love this simple and modern look from Driven by Decor. Freshen up your guest bathroom with some new color – but on the floor!
Black can be quite interesting as well. We ran upon this offbeat idea while perusing Pinterest. If you have an open enough space that gets a lot of natural light, you too could pull off a similar flooring option.
A bout of color on that floor could be fun too. It fits this space from HGTV quite nicely while adding a bout of extra eclecticism too. A bit of aqua works surprising well, and you can DIY it yourself!
We're in love with this gorgeous design from AD. The hardwood floor itself is a beauty but the design that's been handprinted is pretty special as well. It's a great way to jazz up the foyer without adding furniture pieces or clutter.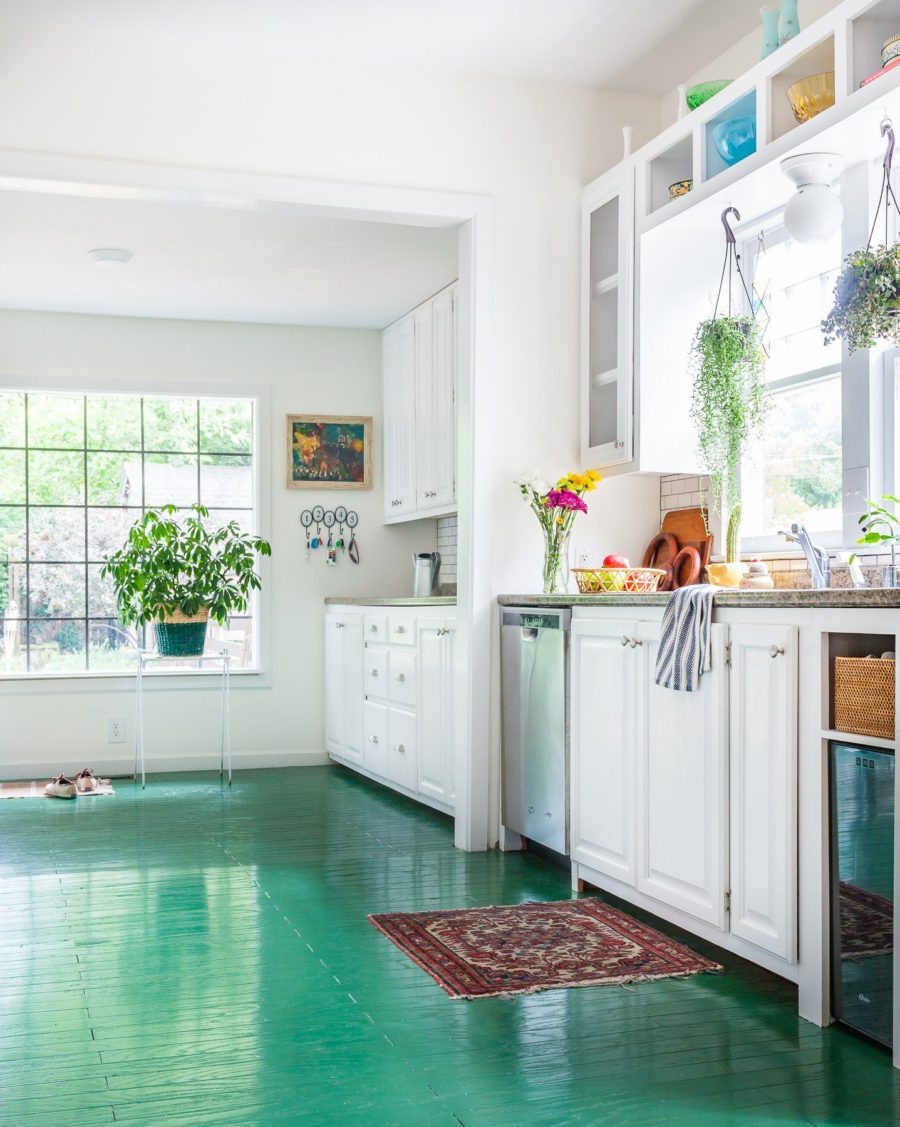 Emerald green floors seem like a great idea too, don't you think? Well, maybe not at first though but when we found this stunning kitchen on Pinterest, it changed out minds. Again, if you're feeling brave, try this out as a DIY for the weekend.
You can learn how to paint some checkerboard too. Just visit DE Artlady and learn how to make this classic design happen inside of your home. Perfect for kitchens, mudrooms, or laundry rooms, check out the details after the jump.
You can even paint a "runner" onto the floor to personalize your home or studio apartment. We found this creative idea from Design Sponge and fell in love with the creativity. The white looks great here, but don't be scared to go with a color instead!
We are loving these stripes from Molotilo too. They add a modern edge to the space but also a rather youthful vibe as well. Even though its packed with neutrals, there's a special bout of boldness that comes from the addition.
You can learn how to handpaint an "area" rug right onto the floor as well. We're loving this bohemian-inspired design from DIY Network. It works great in this small space and really creates a beautiful focal point.
A splattered design could be fun to use too. Just check out this rad example by visiting and learning more about it at NY Times. We think it would look rather chic in simple black and white too.
Old House presented us with a great idea for a vintage-style floor that we can all try and recreate ourselves as well – if we're up for the challenge. More importantly, we love just admiring the finished product.
How fun and funky is this checker bathroom floor from Improvised Life? You can easily recreate this one too! Just grab some paint and get to work on its eclectic finish.
And finally, our buddies at Homedit featured this fun one and we haven't lost sight of its charm. Painting the playroom floors could be a great idea and a way to bring the theme together smoothly. Just odds and ends painted here and there, it's so much fun.