Creating an enchanting outdoor space comes with the territory when you have a home. It's almost an unspoken rule where everyone knows you should be decorating the outside of your home, and most people do it. Meanwhile, others don't because they don't know exactly how to do it. Don't fear, here are some delightful outdoor Christmas decorating ideas that will help you embrace the season seamlessly.
Hanging Ornaments
When it comes to bringing Christmas to your outdoor space, working with ornaments is the way to go. Take your inside ornaments and bring them outside, in order to make your home come to life outdoors and indoors all at once. The idea is to make your ornaments the centerpiece of your outdoor decor for that festive approach that engages the room. If you have outdoor trees take advantage and decorate them as you would the inside ones.
Light it Up
Is there anything more festive, and delightful than having, string lights outside of your home? We think not! In fact, having a light show is the perfect example of how to make your home the focus of your entire neighborhood. Whether you decide to bring only white lights to your front porch or you take it a step further and bring a colorful display its completely up to you. Furthermore, consider bringing in ornaments that have lighting weaved in.
Wrap Your Door
Creating a welcoming effect by wrapping your door and making it a gift. Not only is this a unique form of creating a festive outdoor appeal, but it's perfect for those that want something extra as part of their outdoor space. Consider using colorful ribbon to further enhance the festive approach that makes your outdoor space come back to life.
Tree it Up
Why only keep your magical Christmas trees when you can officially take them outside? We love the idea of having Christmas trees outside, directly on your porch or stairway. Not only does it bring the charm, but it's festive, which is exactly what you want from having an extensive collection of trees. Our perspective is easy, bring as many trees as possible and bring on the lights. The more lights the better!
Poinsettias
A Christmas porch can become that much more by simply using bold shades of red. There's no better form of bringing Christmas and color all at once, than by having poinsettias displayed throughout your porch. Furthermore, poinsettias are great for the outdoors as they need little sunlight and water so they're perfect for the cooler months. Hang wreaths with red elements to make your outdoors cohesive with your decor.
Bright White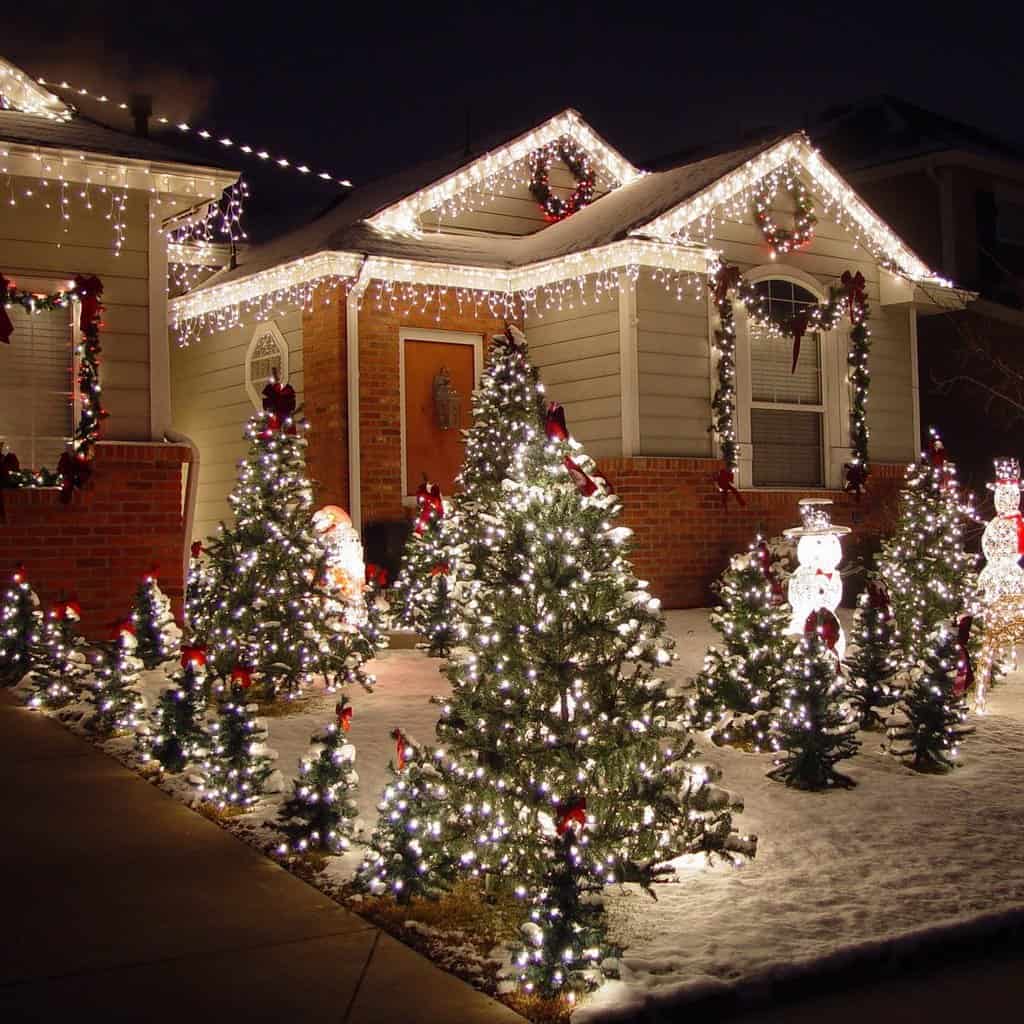 Take cues from traditional candy canes by bringing in bright white lights. You can use them around poles, your door or even both to create that magical appeal that feels sleek and charming without taking away from any decor you might already have. Keep in mind, if you truly want to bring a candy cane touch work in hints of red for the best outcome.
Greenery and Pinecones
Do not be fooled by cooler months, pine cones and greenery are still a thing, and we are obsessed. Dress your outdoors with luscious greenery to make the home feel charming, almost as if it was a cabin. Pair with pine cones to truly drive in the idea of having a bright display, that makes your decor come to life. This works exceptionally well when you have wooden bits displayed throughout.
Make it Cozy
Sometimes your decor needs a bit of a cozy touch and that is where creating almost a magical outdoor hangout will come into play. This will work best as part of your backyard Christmas decor. Take as much decor as possible and make it feel almost like a living room. You want to make the room, come to life overall, while still being sleek and charming. Bring in a fireplace to truly seal the deal.
Consider Pastels
If you truly want to keep a festive look yet want to add a feminine touch going the pastel route. Pastel might not be as festive, but it sure is a statement piece in any space it is placed in. Furthermore, you can consider bringing a touch of pastel when you don't want to constantly change your decor. Bring in pastel Christmas balls for that holiday feel that is oh so chic. You can even use it as part of your wreath.
Faux Snow
Whether you are looking forward to a white Christmas or not, there are plenty of ways you can decorate to give you that faux snow feel. A simple form to do that is to play with the idea of having a snow dusting on top of your porch decor. Furthermore, bringing a few items that have a white finish will create that look seamlessly.
When it comes to decorating your outdoor space, consider one of these ideas and allow them to be the main focus. Share with us your ideas below.