Those side tables by your bed are not only functional but they're an extension of you so it's perfectly acceptable – and expected – that you personalize them! We've collect 15 bits of nightstand décor that we're swooning for and completely in love with. From fresh flowers to DIY coasters, there's inspiration for everyone to brainstorm with.
The Suite Life Designs begins our journey through the nightstands with this extra chic, black and white setup. We love the prints and powerful edition of the gold. If you're looking for a way to stylish your space with contemporary flavor, this is definitely the way to go.
Check out this eclectic mix from Because I'm Addicted! Display and organize your jewelry, add some pretty fresh flowers, and throw in some beautiful colors to represent you boho spirit. If you've got the space, make it personalized and textural!
Here's another more traditional setup that we found while scouring Apartment Therapy. Black and white, with a pop of gold, this is a more subdued look that's more functional as well. There's a touch of femininity inside the pieces chosen as well, making it a bit more welcoming.
Clean and neat represents this Emily Henderson style. We love the modern nightstand choice and the fact that there's some storage opportunity involved as well. The complimentary lamp and the white and glass accompaniment make this a well thought out plan and decor choice.
This nook has a bit more going on because there's more spots to "put things." Found on Pinterest, the small cubby system is perfect for utilizing smaller spaces. Display, organize, and keep things fashion-forward with your choices.
Maybe you like vintage spirits and pops of colors, if so, this nightstand design from Elle Decor is right up your alley. We love the antique additions with their purplish accent. And we love how everything is still neat, tidy, and has its own "place" among the scheme.
This peek we found at Homedit has a tinge of masculine energy attached to it. We love the natural elements they've included in the design, like the antlers and neutral tones. Again, some fresh florals and greener add a bit of extra "life" to the area as well.
Another beautiful and feminine setup that we're drawn too, the silver and hot pink combination adds a glam pop! The Every Girl always has fabulous inspiration, especially for a girl boss pad.
The Every Girl gave us this sweet setup as well. Matches for the candles, our favorite reads, glasses, and a pop of fresh petals gives a well-rounded and personalized space for its owner. This one is so easy to recreate for yourself!
We're loving how Bikinis and Passports used a tray table as its nightstand foundation. Then, it's packed with goodies. Some typography, books, photos, and more, it's just a great idea for those that want a bit "extra."
Miou gave us this vibrant and bedroom to fall in love with and that's exactly what we did. This bohemian beauty is filled with life and just the right amount of style. That nightstand has a bit of everything – a  bit of surprise, color, and nature, – and it's perfection.
If you really do love antiquity and that throwback kind of spirit, then this space from Camille Styles is exactly what you need to inspire your own. Natural colors set the tone, a bout of masculine edge, and pieces that look like they may have been plucked from the downtown museum. It's quite special.
Hello Lovely Living gives us another chic and clean space to adore. The terrarium is a special addition, adding life in an unexpected way. And the pop of gold among the crisp whites are always a great idea too.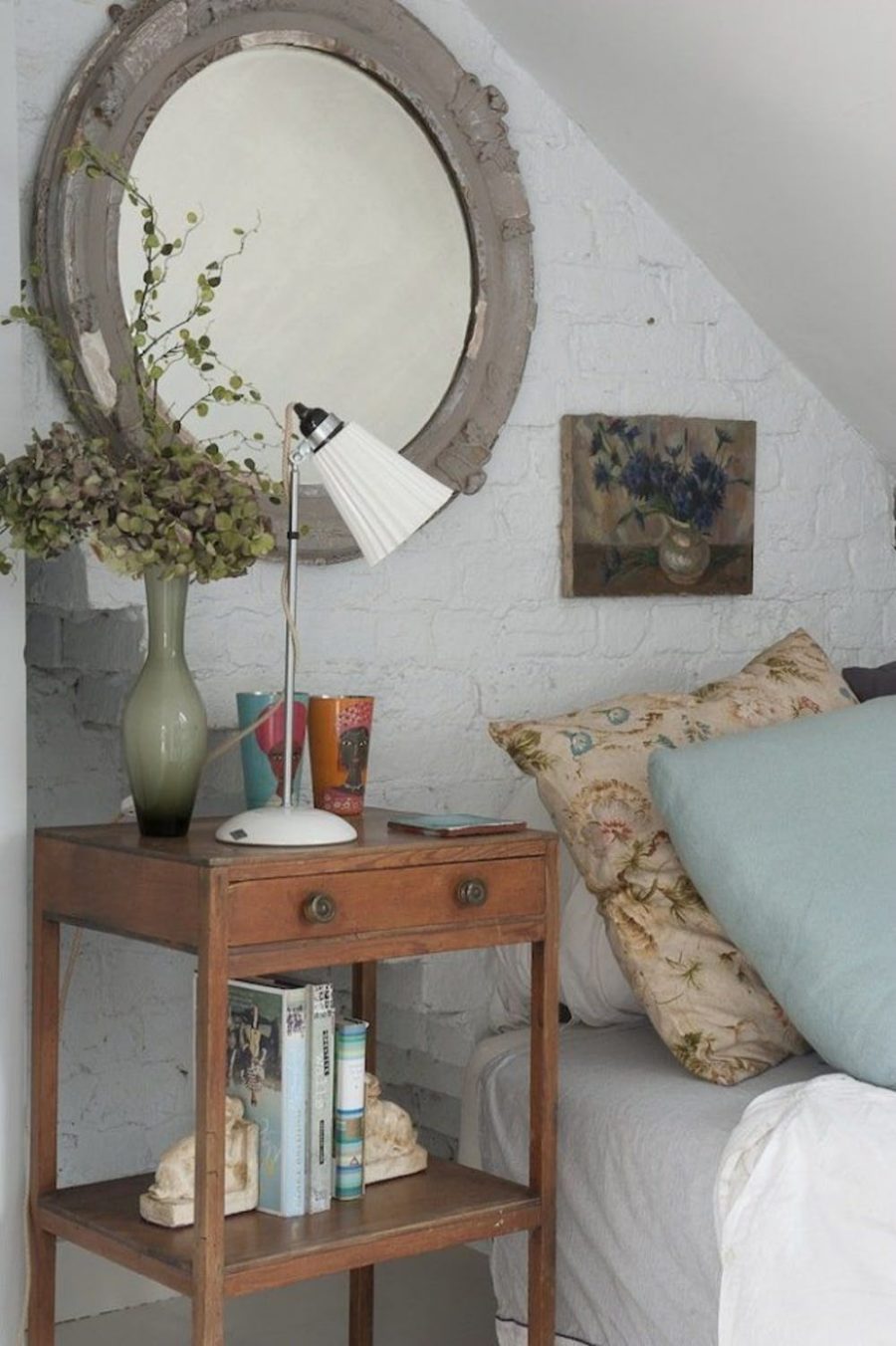 We're digging this cottage style space as well. Mom Toob featured this cozy space and we love the tradition and welcomed appeal. It's definitely got a more subdued sense but we know there are those out there that could definitely use this homey inspiration.
And finally, visit Because It's Awesome for more inspiration like this! We love the offbeat nightstand choice. Books, crystal pieces and photos to add a personalized taste, it's a great spread.
SaveSave