The cuteness of modern poufs cannot be under-estimated! These soft poufs will look great in your living room or any other room, and we've got them for indoors and out. Such handy little objects, aren't they? Use them as extra seats, use them as side tables – use them to prop up your tired feet! They're simple to move, rearrange, or store. And these days, they come in such a wide variety of styles and colors and patterns. Something for everyone, as they say. The loft dweller, the organic modern, the eccentric modern, the mid-century modern. The traveler, the stylist, the primary color fan – there's a pouf for every person – and every living room. Here are the 50 coolest designs to source from.


The Offect O2ASIS Collection allows for plants in your pouf! Talk about green furniture.

Emporium's Satori pouf is made from recycled plastic. It's revolutionary.


Klipper (above) is designed by Samuele Mazza, and is sure to elicit a smile from all who see it. What a great poodle pouf for a child's room.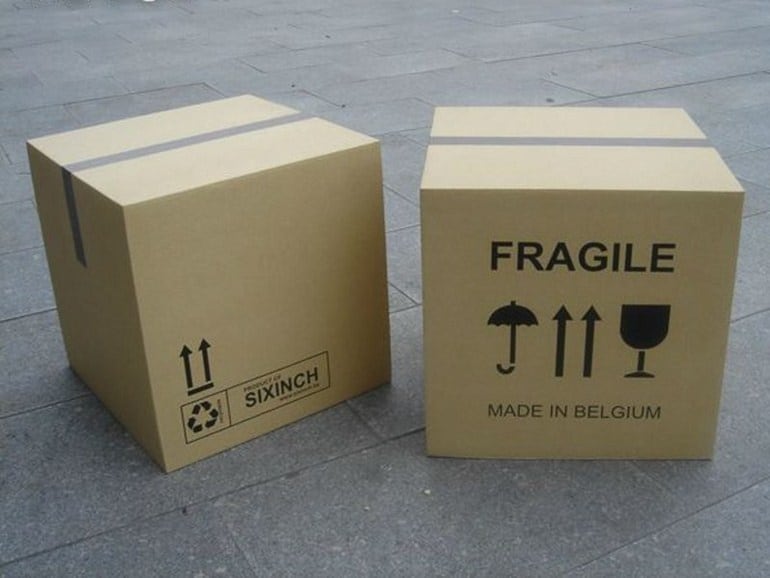 Do you miss your college days? Recreate them with the Box pouf by Pieter Jamart. Just the answer – but more comfortable. These poufs are upholstered coated foam.


By Offecct, The Carry On Pouf – it's the portable seating solution.


From Gan – the Ruff Pouf. Functional and poetic, it is reminiscent of origami design. Imagine these in your living room.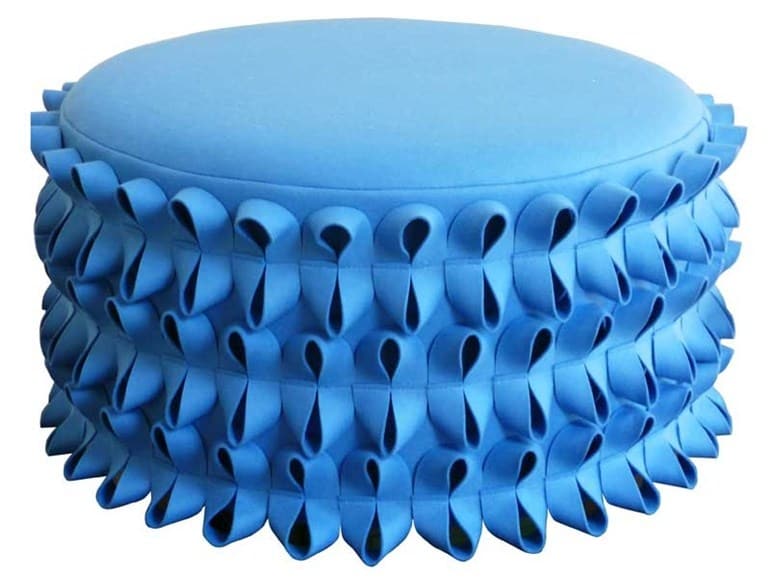 Lola, by Ann Kyyro Quinn, also has that origami flavor. The wool felt pouf is handcrafted in her London studio and shipped worldwide.


The Mandarin pouf is an eight-segment fruit pouf from Russian designers. Zippered for easy reassembly into an orange (other fruits available).


Source


Another Russian Pouf – Fatboy's Baboesjka Russische Matroesjka is modelled based on Russian nesting dolls.


From Aqua Gallery comes the Gladis collection. The first inspiration was a fingerprint and the pre-shaped fabric cover is upholstered over ergonomically shaped polyurethane foam.


The Trap pouf comes from Darono of Portugal – with the inspiration coming from the coastal fishing industry.


The Ergo Cushion from Area Declic is the Zen seating of poufs. Great for yoga!


Cute like a button, this colorful pouf Polsino by Alessandro Damin is not just cute – it's also a magazine stand.


Romantic in pink, above is the Cora pouf designed by Manrico Freda. It's extremely soft and cozy with its 4 solid beech legs and a natural wool felt top.


Myo from Italian design company Morelato, is a pouf container. It has a removable top with storage inside. A storage pouf, with modern style. Bravo.


The Bright Woods pouf from Giancarlo Zema combines wood and luminous resin to create a seat that lights up at night. Available in several colors and styles.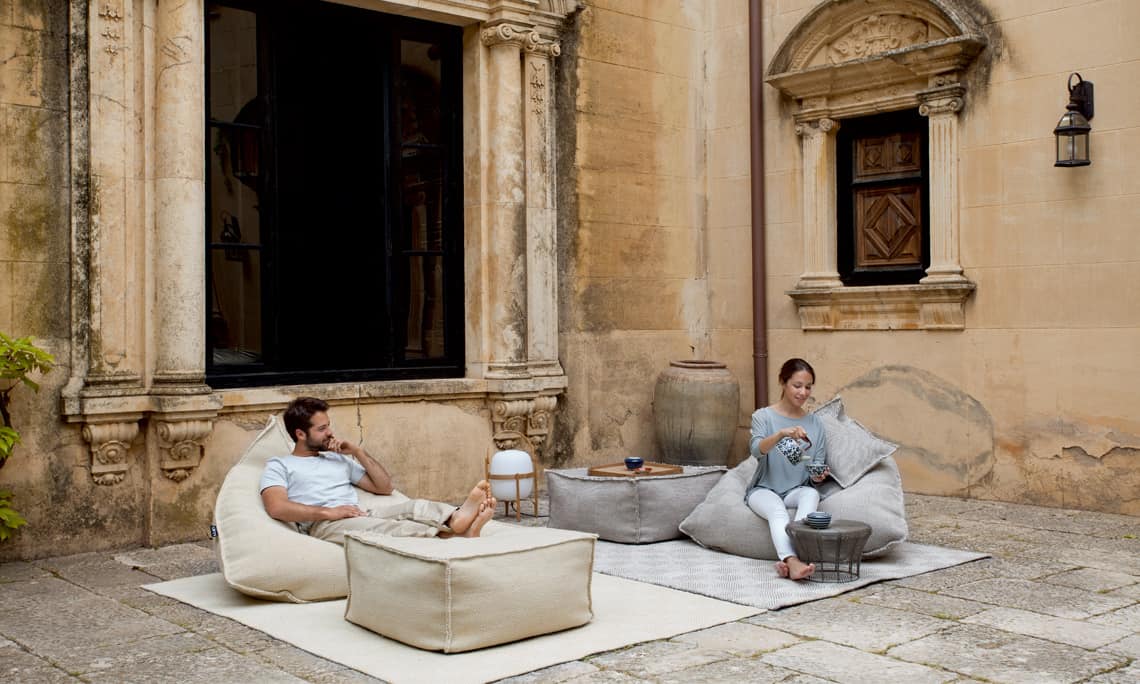 Gan wool pouf – Sail – has European casual modern style. It would be perfect in a living room with exposed brick walls or in an outdoor living room as shown.


The funky looking Slumber poufs by Casalis are made in a three-dimensional elastic fabric and their shapes are highly flexible. It's like sinking down into a piece of furniture made just for you. And when you get up, it bounces back like magic.


Pace by designer Piter Perbellini is an upholstered aluminum garden pouf for peace.


From Casalis, the cool soft pouffes Bonnet BI by Liset van der Scheer are knitted in merino wool and available in dozens of colors and shapes.


The Air Puff by Claudio Melo for Mambo Unlimited. It's light and airy. And hairy.


The 456 FOUR.SIX Leather pouf by Vibieffe design Niko Gottsche has that distressed leather look that is so magnificent. It looks appreciated. Imagine this piece in an modern industrial loft setting with old reclaimed wooden floors.


These are not marble spheres – but they sure look like it! These soft and cushy poufs are covered in carrara marble patterned fabric. The Tato Collection is by Cerruti Baleri Italia.


The Bag, from My Home Collection of Italy, is a leather upholstered pouf fashioned after the hobo handbag. Now, that's creative.


Livingstone Galet Poufs look just like stones don't they? But don't be fooled. They are extremely comfortable and will take your living room to a whole new level. We think these would make great coordinated seating spots around a water feature with river rocks.


This Soft Stone pouf is a work of art – the square shape looks like it's made of pebbles – such a contradiction between the visual and sensual with its soft landing. Source.


And then we have the Pave' Stone outdoor garden pouf. They look like real rocks, don't they? By Enzo Berti.


Stefano Giannoni's Pillow collection includes a pouf (above and below)- and it lights up at night! Great for out on the patio.


Source


Another glowing recommendation: Serra Lunga's illuminated poufs.


Vibia's Meridiano by Jordi Vilardell & Meritxell Vidal doubles as an outdoor light – and a pouf. The wire cage housing is an airy industrial look for the patio.


Bovist is a decorative pouf from Vitra featuring large embroidered patterns and a knitted handle for easy rearranging. A pair will help to make your living room real cozy.


The famous Pompom Pouf from MYK is so much fun and so colorful. It could become the statement piece in an otherwise neutral room.


MYK's latest Pompon Pouf Roses is even more amazing, made entirely by hand in Germany out of 150 merino wool pompons.


The Droog Urchin pouf is made from 100% New Zealand wool – and is hand kitted in the Netherlands.


The Diamante poufs (above and below) from Missioni Home are uniquely designed seats covered in jacquard with Lurex effect.


Source


The Mushroom is one of Pierre Paulin's most famous designs, and is exhibited in the Museum of Modern Art in New York. Now presenting: The Mushroom Pouffe.


The contemporary round Windmill Pouf by Constance Cuissat for La Cividina is available in three different formats and a multitude of colors. We like this rainbow island pouf.


The Porada Pouf is an elegant piece of furniture with European flair that would look sublime in any modern living room.


The Locanera Pouf is a floral explosion in a chair – detailed appliques make this a charming addition to a powder room or bedroom.


The beautiful design for Puntaspillone upholstered fabric poufs (above) is a blend of pastels with metallic hues, from Missoni Home.


Taiko pouf, by Tomoko Mizu, is a contemporary rattan pouf that can be used indoors or out.


Designed by Paola Lenti, these are outdoor poufs. But with that kind of style – nothing says you can't bring them indoors, too!


The Heater Pouf by iRadium takes poufs to the next level. Especially outdoors, into the fall. Around now, for example.


Pix by Arper, combined with simple occasional tables, can turn your room into a pouf cafe.


This transforming pouf by Steiner becomes a chair. When you sit on it, chair arms will appear. Transforming, dual purpose furniture saves space and resources!


Design House Stockholm's Bjork Pouf has an organic style. The expression in the woven structure is inspired by the black and white trunk of the birch tree and the leather represents the inside of the bark.


This recycled Canvas Globe pouf is perfect for the traveler. It's subtle, and understated. We like that.


Then we have GrottoMap from Grado Design – another pouf for the world traveler.


The Suri pouf design has a playful image – reminds us of Belgian chocolates. Comes in many color choices.