Here is one of the coolest loft design ideas we've come across. Located in… where else but New York?! The trend-setting town is home to the Morton Loft by LOT-EK Architecture & Design, which is itself a groundbreaking concept. What began as an old petroleum tank has been slices, painted, mounted and repurposed into a newfangled private nook within this otherwise open concept apartment space, which fittingly was itself once a parking garage. From its unusual origins into this recycled house with an ultra contemporary look and smart, functional design, this is one modern loft not to be missed!
Photo credit: Paul Warchol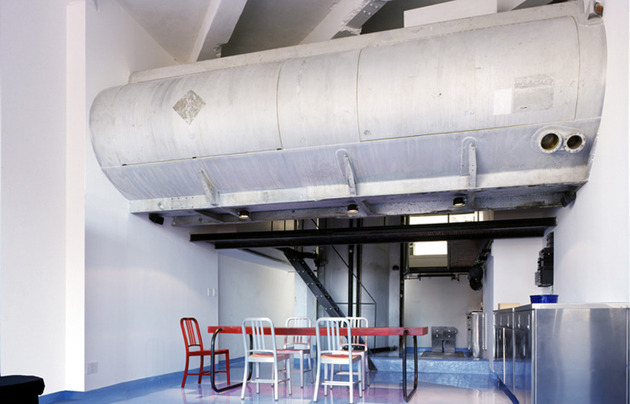 Four large hatchback doors are operated by hydraulic pistons that open and close with the simple push of a button, letting natural light and air flow through.
A fire escape leads up to the grated catwalk, which circles around the open two-storey space, leading to the contemporary loft with open views below.
We love the industrial style of the space in its entirely, and the tanker loft is the jewel in this warehouse-chic crown. Within these minimalist interiors, the yellow-painted interior of the tanker is an instant attraction.
These luscious, lemony interiors won't be ignored, and beg to be explored!
The apartment has a, dare we say it, cold quality about it. There are actually two tankers used in the home – one placed horizontally on the upper level housing two sleeping pods, and another tanker positioned vertically, like a tube, containing two stacked bathrooms – one accessed by the lower level, one by the upper.
The bathroom tanker's yellow interior is actually an automotive enamel coating (harking back to the home's original purpose as a parking garage) and all the plumbing mounted to the tanker's exterior.
Here it is from the outside. Now that's what we call "service on wheels"!
Here's a shot of the tanker as it makes its grand entrance into its permanent, proud home.
This diagram illustrates how the tankers are places inside the open apartment, highlighted in yellow, with the steel stairs and upper-level walkways indicated in blue. Too cool!
LOT-EK