This modern residence in England is the result of a tight collaboration between its owners and Davy Smith Architecs. Though the setting is rural, the owners wanted a totally modern house, however with minimum impact to the site. The other most important requests were for them to be able to display their burgeoning art collection, and also for the house to be dog friendly, as their dog was an important member of the family. The owners wanted to privilege the size of the rooms rather than the number thereof. Thus the final layout consists of an open plan kitchen and living/dining area, plus three bedrooms. The response to these requirements took the shape of a modern building clad in black zinc, with bright yellow accents for some of the doors, shutters and window frames. Though the house is resolutely modern, its high pitched roof gives is a familiar feeling that integrates it completely to the neighborhood. The black color also makes it somehow reminiscent of the traditional local barns, which contributes to an even higher degree of integration to the surrounding landscape. Despite its dark color on the outside, the house is filled with light on the inside, a must in order to display art in optimal conditions. Low level glazing lets the dog see and feel outside even when he is in the house.

The continuous zinc cladding with hidden gutters makes the house reminiscing the traditions of local barns, while looking modern and mysterious at the same time.


It is the combination of dark and bright contrasting colors such as black and yellow that makes the house look modern.


Inside the walls are white in order to evidence the displayed art work. The double height o the ceiling over the entrance and living areas emphasize the gallery-like feeling.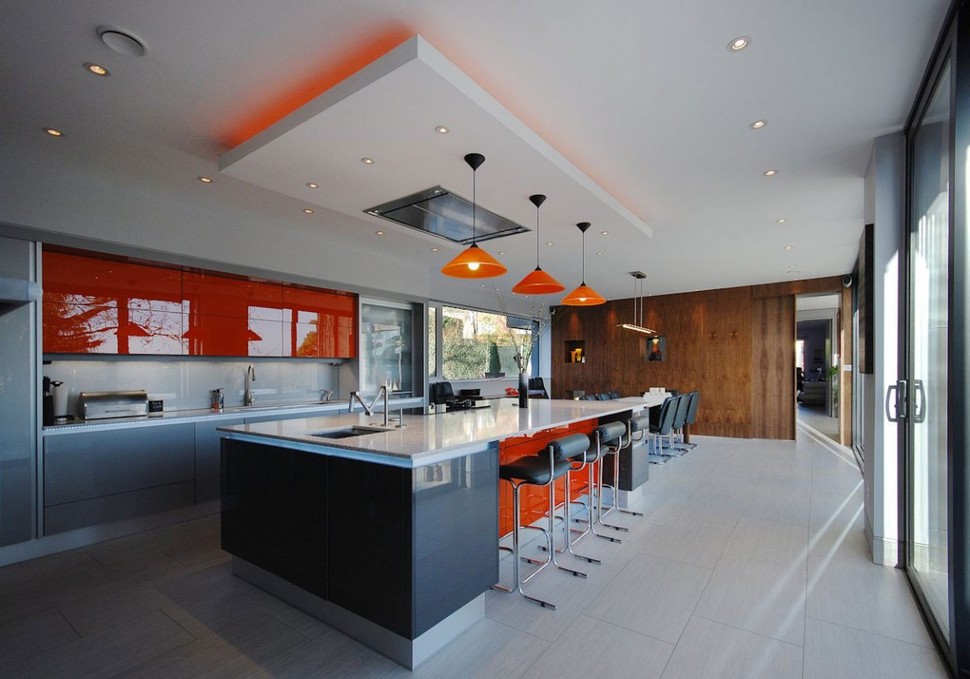 The kitchen with its long counter is a social space for casual get-togethers.


The staircase with the niches in the walls and the glass balustrade is a perfect spot for displaying some of the art objects of the owners' collection.


On the top floor natural light is brought in through roof windows.


The extensive glazed surfaces serve to both connect the house to its natural surrounding but also to let light flood the inside.