This unusual modern-day hacienda is located in the Jalisco region in Mexico, in a rural setting. When I say unusual I refer mostly to the materials employed, which are not the most typical for this type of building. Architects Elias Rizo have chosen local stone to build most of the structural walls. The stone is left exposed on the outside and on the inside, and the craftsmanship involved is extraordinary. The residence consists of two distinct blocks, connected between them by a vestibule. The south block houses the night areas, organized on two floors. The ground floor has three bedrooms with en-suite bathrooms and a family room, while the upper floor box is dedicated exclusively to the master bedroom. The bottom block is built in stone with a flat roof consisting of a concrete slab. The upper box is different from the rest of the house, being clad in local wood. The front of the box is a continuous glazed surface in a metal frame, offering beautiful garden views.

The front of the house has little openings, and from this side the residence resembles to a well guarded fortress. The opposite is valid for the back side of the house,that opens up completely to the landscape.


The two boxes of the night block are set perpendicular to each other,and they also contrast in terms of materials. The element that gives them unity is glass, which covers the front of both modules.


This vestibule takes only half the with of the building, the other half being landscaped as a small patio with a shallow pool and a tree in the middle.


The north block is dedicated to the day activities and it subdivided into two areas, an indoors and an outdoors living and dining space.


The indoors and the outdoors areas are separated by a retractable glass wall that, when open, it disappears completely uniting the two spaces into one.


The coldness and starkness of the stone is warmed up by the use of wood, like the stairs in the vestibule and the wooden beam ceilings in the bedrooms.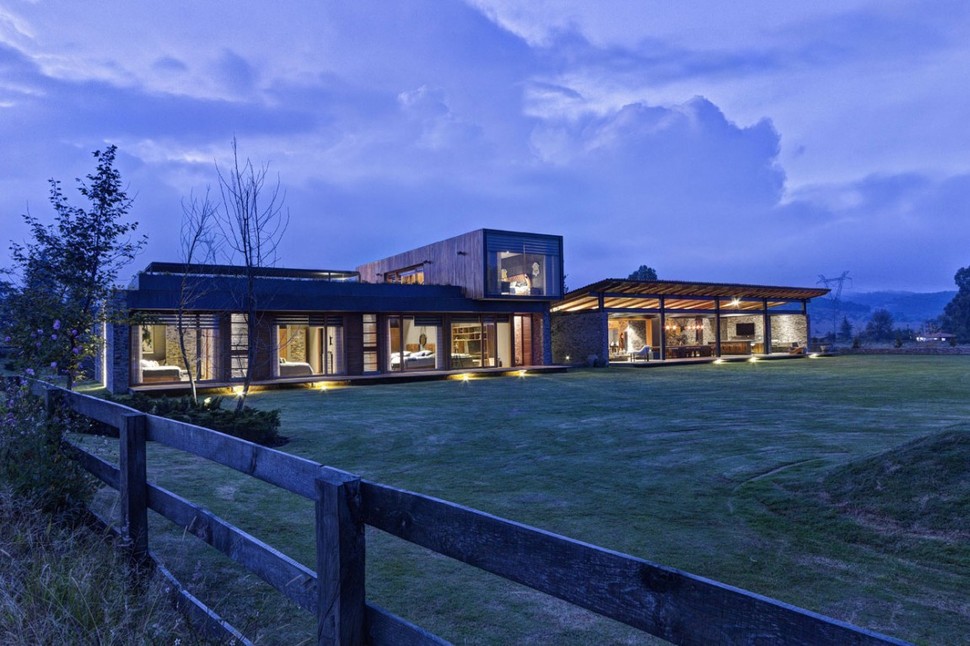 The third material used quite extensively is metal, which serves both as structural material for pillars, beams and railings,and also for accents such as window frames.