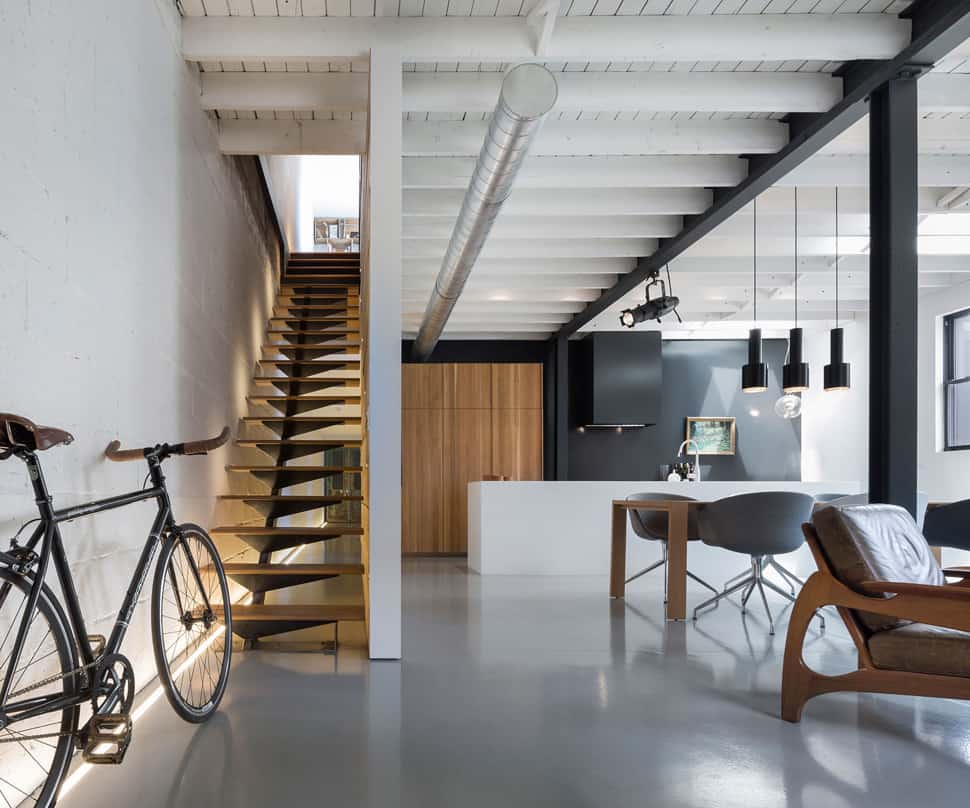 Montreal-based design firm Moderno created this modern industrial home for a designer, his two sons and dog in Montreal's Mile-Ex district, where houses share fences with factories, body shops and restaurants. The melting-pot pocket provides perfect inspiration for this home, which is a conversion from a former workshop and combines elements of its commercial past with a contemporary, creative edge. Le 205 makes an impactful first impression with a bright, open interior showcases the structure's original industrial elements, like the exposed brick walls, duct work and ceiling joists, painted white in at attempt at subtlety. Bold black framing elements provide support and punctuation. The open concept spaces offers continuous sight lines through the modern kitchen, living and dining area. What could have easily taken a cold turn, this interior is warmed up with natural wood details throughout, in the staircase, cabinetry and furnishings.

Polished concrete floors spill through the open concept main living area, visually connecting the living room, dining area and kitchen. According to Moderno, the kitchen is a space "where each element asserts its modernity with absolute conviction," like the stainless steel cooking area, a central island in white Corian, and a large storage module and table in solid white oak.


Modern design meets contemporary art, finishing this commercial conversion with a classic-contemporary touch.


Through the doorway, a separate den provides privacy from the main living area, perfect for lounging, watching television ad warming up by the fire – a traditional description in a setting that's anything but. The large modular sofa features contemporary color blocked cushions, with its modules arranged to face forward, backward and sideways overlooking the large window. Meanwhile, the fireplace is a sleek, clean-lined fixture.
<div class="assetylene-img" style="text-

<div class="assetylene-img" style="text-

The single stringer staircase looks like a spine, rising against its white backdrop and highlighting every vertebrae.


Damaged, or deliberate? Layers of peeling paint showcase this weathered, worn door and the home's industrial origins.


A private bath combines painted concrete, wood, porcelain, stainless steel, glass, water and believe it or not, fire.


Tinted glass walls provide privacy without closing off the separate areas in the space. A small but cozy fire in the brazier is a luxurious touch.


The bathroom is separated from the master bedroom by a tinted glass wall.


For the shower people of the household…


And here's a great spot for some work and inspiration, overlooking the rooftops of the surrounding buildings.
Atelier Moderno
Photo credit: Stephane Groleau